Kris Ducett Wagner needs your help!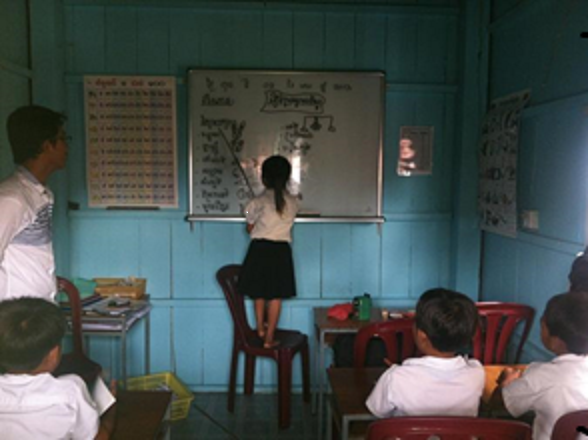 Hello friends!  
I have an incredible opportunity to travel to Cambodia with Biola University Education faculty and help with teacher training to empower precious children.    Crammed in a tiny classroom with 15 other children in the sweltering heat, this six-year-old girl, in the pic below, is happy to lead her class in recitation. Her parents are happy too…happy she has a chance at an education, so she can one day earn money using the skills she learned in the classroom. Unfortunately, many children like her are exploited in harsh child labor conditions and in some cases sold to child traffickers in the city.   The poster below is an actual sign posted in the classrooms to urge desperate parents not to sell their children:(
I 
Working with Asian Hope, a Christian school system in Phnom Penh, Cambodia, we will train the teachers with state of the art curriculum and make a difference in the lives of thousands.
https://www.youtube.com/watch?v=O6Q0LV1IakE
If you partner with me, your gift will help me to help these precious children to flourish!  
Your gifts will be used for:
Flight 
Lodging
Food
Transportation
Educational Supplies
Off setting costs for Asian Hope, the host Christian school system.
I'm pursuing my MaEd with an emphsis on curriculum and international, and some of you know that I've been praying to have an opportunity to show God's love to children in a majority world country for years.   Thank you so much for your kind consideration of this request!  If you join me in this journey,  I will take your love with me and give it to the children:)   I'll also make sure to update you with pics along the way:)
The Biola team members are booking their tickets now, so I need your help ASAP!  The trip will be from November 7-15, 2017.
Organizer