Noodhulp verwoesting stuwdam Oekraïne
ENGLISH BELOW
De Leeuw Kyiv brengt al sinds het begin van de oorlog humanitaire hulp naar plekken in Oekraïne waar de nood het hoogst is. Onder andere hebben afgelopen winter we meer dan 1200 generatoren vanuit Nederland naar Oekraïne getransporteerd en daar gedistribueerd naar ziekenhuizen en klinieken, waterzuiveringsinstallaties en burgers. Vaak op plekken die pas net bevrijd waren of nog in gevaarlijk gebied liggen. Ook voedsel en waterfilters hebben wij verdeeld.
Dam van Dnipro verwoest
Vandaag, 6 juni is de dam in de Dnipro bij Nova Kachovka door russische troepen opgeblazen wat rampzalige overstromingen tot gevolg heeft. Huizen, winkels, fabrieken en ziekenhuizen komen onder water te staan. De drinkwatervoorziening voor honderdduizenden mensen in Kherson en dorpjes en steden in de omgeving komt hierdoor in groot gevaar of valt helemaal weg. Door het drinken van vervuild oppervlaktewater liggen verder ernstige infectieziekten op de loer.
De Leeuw Kyiv al ter plaatse
Vrijwilligers van De Leeuw Kyiv zijn direct vertrokken naar het rampgebied met de eerste hulpgoederen: etenswaren en waterfilters. Er is echter nog veel meer nodig om een catastrofe te voorkomen: Grote industriële waterpompen, meer waterfilters en transportmiddelen!
Er zal de komende maanden een enorme inspanning geleverd moeten worden om de gevolgen van deze ramp, die boven op de oorlog komt, te boven te komen.
Wat is er nodig?
Waterfilters, waterpompen, transportmiddelen, en meer!
Doneer! Zodat wij de Oekraïense bevolking in het rampgebied maximaal en structureel kunen helpen.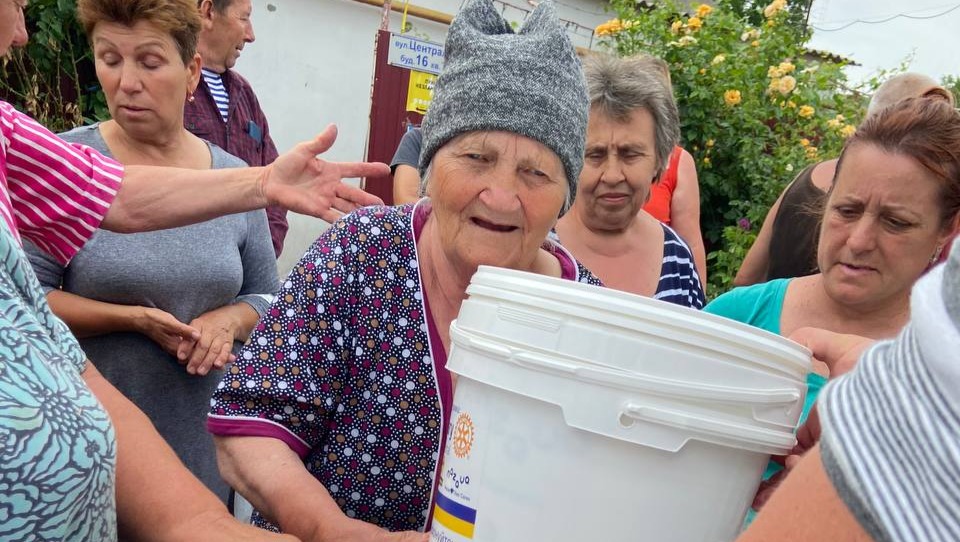 Onze collega Emmeke Vierhout heeft al eerder gesproken in Wageningen Talks over de situatie in Oekraïne en de Nazava waterfilters die we hebben geleverd en waarvan we er nog vele nodig hebben! (In English)
Voor het uitvoeren van onze noodhulpprojecten werken we samen met de Oekraïense humanitaire organisaties Unbreakabe hearts uit Irpin en SaveUA van het Ukrainian Agri Council in Uman en met Salland voor Oekraine in Nederland.
ENGLISH
De Leeuw Kyiv has been bringing humanitarian aid to places in Ukraine where the need is greatest since the beginning of the war. Among other things, last winter we transported more than 1200 generators from the Netherlands to Ukraine and distributed them there to hospitals and clinics, water treatment plants and citizens. Often in places that were only recently liberated or are still in a dangerous area. We also distributed food and water filters.
Dnipro dam destroyed
Today, June 6, the dam in the Dnipro near Nova Kachovka was blown up by Russian troops, causing catastrophic flooding. Houses, shops, factories and hospitals are flooded. The drinking water supply of Kherson and villages and towns in the area is also in great danger or is completely lost. Serious infectious diseases are lurking due to drinking polluted surface water.
De Leeuw Kyiv already on the spot
Volunteers from De Leeuw Kyiv immediately left for the disaster area with the first relief items we had in stock: food and water filters. However, much more is needed to prevent a catastrophe: Large industrial water pumps, more water filters and means of transport!
An enormous effort will have to be made in the coming months to overcome the consequences of this disaster, which will come on top of the war.
What is needed?
Water filters, water pumps, means of transport, and more!
Please donate! So that we can provide maximum and structural help to the Ukrainian population in the disaster area.
To carry out our emergency aid projects, we work together with the Ukrainian humanitarian organizations Unbreakable hearts from Irpin and SaveUA from the Ukrainian Agri Council in Uman and with Salland voor Oekraine in the Netherlands.

Fundraising team: Inzamelingsactieteam (2)
Stichting De Leeuw Kyiv
Organizer
Raised €6,310 from 62 donations
Emmeke Vierhout
Team member
Raised €7,520 from 41 donations
This team raised €27,646 from 329 other donations.