Please donate to protect Hill Country waterways from sewage pollution!

The Texas Hill Country is under attack, from developers and municipalities dumping their treated sewage into our creeks and rivers, turning pristine waterways into smelly, algae-filled slime-pools. The south San Gabriel River has been completely ruined by the City of Liberty Hill's treated sewage discharge. Now scores of other wastewater discharge permits are seeking approval by the state to do the exact same thing to Barton Springs, Barton Creek, the Blanco River, the Guadalupe River, and almost every other Central Texas waterway. Worst of all, right now what they're doing is perfectly legal, as current Texas state law actually ALLOWS this dumping of treated sewage into our beautiful creeks and rivers. Clearly, the law needs to be changed and the treated sewage dumping needs to stop (watch video below).  


The No Dumping Sewage campaign works on two fronts: confronting these polluters with organized community responses to block the permits and supporting legislation to modify Texas state law so that treated sewage must be either reused/recycled, or land-applied so as not to ruin our waterways. Funds will be used by the No Dumping Sewage campaign to 1) help educate and organize local communities, and 2) support legislation to change our polluting laws.

Treated sewage may LOOK like regular drinking water, but it contains high levels of Nitrogen and Phosphorous, which saturate waterways and lead to heavy algae/eutrophication. This wastewater also contains bacterial and chemical pollutants: hormones, pharmaceuticals, and carcinogens have all been detected in treated sewage discharge. In cases like Liberty Hill,  unsafe levels of e Coli bacteria are sometimes also discharged into waterways. Because Central Texas streams feed our underground aquifers, these contaminants eventually end up in the drinking water supply.

While current law prohibits treated sewage discharge in the Recharge Zone where Hill Country streams flow into the Edwards Aquifer, the law needs to be extended to protect the much-larger Contributing Zone (see map below), since this water not only flows through residential areas but also eventually ends up in the aquifers, wells, and drinking water for millions of Texans.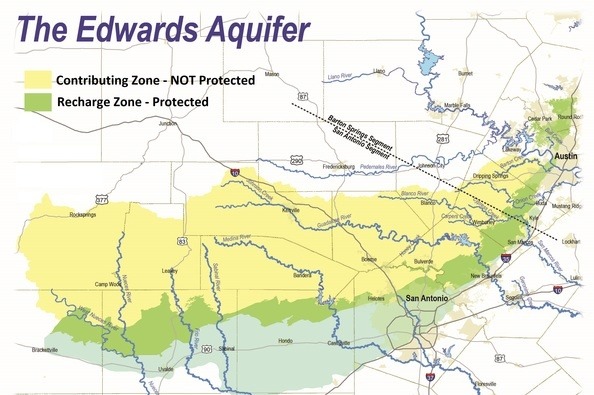 We can't let the very thing that draws people to the Texas Hill Country in the first place, our gorgeous clear-running streams, be fouled by developers and towns who are just looking for the cheapest way to dispose of their treated sewage. And we can't let the drinking water supply for millions of Texans be contaminated just so developers can save a few bucks. Please donate whatever you can to help this important cause and sign our petition at www.nodumpingsewage.org - as the video above states, our future depends on it.  
Organizer
Mike Clifford
Organizer
Austin, TX