Welcome Friends
Thank you so much for taking the time to visit our GoFundMe site. We feel excited, humbled, and blessed that God has led us down this path of adoption. His Providence is all over this in so many ways.
The Best Part of Waking Up 
The best part of waking up is…..well, OK, a cup of coffee in the morning is a wonderful (dare we say essential?) thing. But that's not what we were thinking. For us, the best part of the morning is having our two alarm clocks, our children, wake us up. Luke, 5, and Joshua, (almost) 2, share a room, and we hear them begin their day talking and singing through the baby monitor at about 6 am in the morning.  We are reminded how much we prayed to hear these voices and are filled with so much gratitude and joy. But the road to this joy was filled with much sorrow.
After getting married well into our 30's we were very excited to begin having a family right away.  But after some time and help from a NaPro doctor, our first pregnancy ended in miscarriage. While we were devastated as you might imagine, we were also hopeful of what God could still do.  Then came Luke!  Pregancies are difficult for Michelle and take alot of extra care and hormone injections, but he arrived healthy, although a bit early.  We knew not long after having him that our family was not complete, and so we were delighted to hear that we were pregnant with twins when luke was almost a year old.   Then the regiment of care began again. 
More Loss
"Your babies have died."  Those words from the doctor in the second trimester of the pregnancy will live in our hearts always.  It was one of the worst days of our life--and on our wedding anniversary on top of it.  Over the next 2 years, we would go on to lose 2 more babies (4 miscarriages, 5 babies total).  We mourn the five children that we have lost : Joseph, Catherine  and Kateri (twins), Kolbe, and John Paul.  Most were far enough along that we needed to bury them. We have hope that we will be reunited in heaven, and that brings joy. We have also experienced God's presence in the midst of all of this.  While it is sad to reflect on these losses, we had hope of more children and  were thankful for the gift of Luke!  
All of the pregnancies have had a physical and emotional toll, and the thought of another pregnancy felt overwhelming to Michelle, so the story began to take a slightly different turn. 
The Journey of Adoption
Our journey of adoption began about 3 years ago shortly after the last miscarriage.  We were praying very intensely after we lost  those babies.  We were sincerely and very specifically praying  for the Lord to
open the door
  for another child or children.  One day, amidst the time that Michelle was praying this "open door" prayer, someone gave her a phone number to inquire about adoption.   Michelle called the number and was greeted with, "Hello, this is An Open Door!"  Michelle was immediately taken off guard.  "Where did I call?" she asked. The women on the other end of the call replied, "This is an Open Door Adoption Agency."  "Of course you are!"  Michelle exclaimed.  We were thrilled and amazed at how clearly the Lord opened this door for us! 
The door to adoption was indeed opened that day, but the timing wasn't quite right as we found ourselves pregnant with Joshua (our almost 2-year-old), and so we put adoption on hold.   At 12 weeks of pregnancy with Joshua, Michelle began to have a similar feeling she's had with other miscarriages…suddenly she didn't feel nauseous or pregnant at all. We went to the doctor's office preparing ourselves for the worst. But with much delight, we were relieved to see an active little guy on the ultrasound machine. He was born many months later on our wedding annniversary---the same day that we lost our twins (yes, God is good!).  On that  day, we learned ever more that every heartbeat and every moment we have with our children is a gift.  God is the author of life, and we have to trust in him.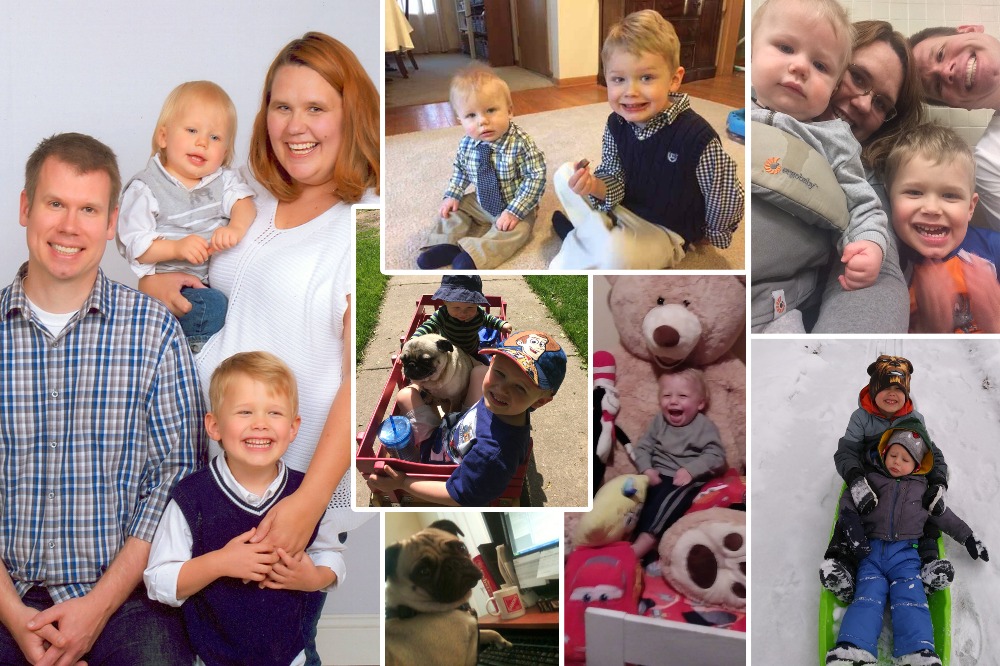 Moving on with Adoption
Now, as we have moved forward in life, we again begin to feel  the Lord calling us to expand our family once again but are aware that with Michelle's health, it may not be possible to do it again in a biological way. 
So our hearts immediately returned to the door God opened 3 years before--Open Door Adoption Agency in Thomasville, GA.  We have spent much time in prayer and talking to everyone we can find who is adopted or has adopted a child.  We have fallen in love with this journey and are especially grateful for this agency that spends so much time helping women to have this choice to give life to their children.  Our time with them has been blessed and filled with so much wisdom and grace. 
We are convinced that God may already have a child chosen that he wants to be part of our family! We have also discovered that adoption is a beautiful gift that has been entrusted to us.  
So, we have been  praying for the birth mom and baby daily and thanking God for giving her the strength to choose life for this child. We invite your prayers and support for this wonderful and exciting journey! For the ways you can help, see below….
A Word of Thanks
First and most importantly, we are so grateful to all of you who have been so encouraging and supportive to us.  You have journeyed with us through all of the loss and the joy!  Your presence in our lives has been the greatest gift of all!  
Please
pray for us,
the birth mom, and the child God has chosen to become part of our family!
If you feel the Lord calling you to assist us in the financial aspects, that's another way you can help as well. The total costs for the adoption are a little over $46,000.  We were able to borrow the costs for the adoption but find the repaymet to be very difficult.  We fully expect to assume the cost of this, but so many have asked to help and offer assistance and that support is such a gift to us!
May the Lord bless you and keep you. May the Lord make His face shine upon you, and be gracious to you. May the Lord lift up His countenance upon you, and give you peace.
We love you all, 
Matt and Michelle Nilsson