Nelson Hughes medical, unemployment & housing fund
Please help our friend Nelson Hughes with bare necessities & housing costs through unexpected illness and sudden unemployment during New York City's COVID-19 pandemic.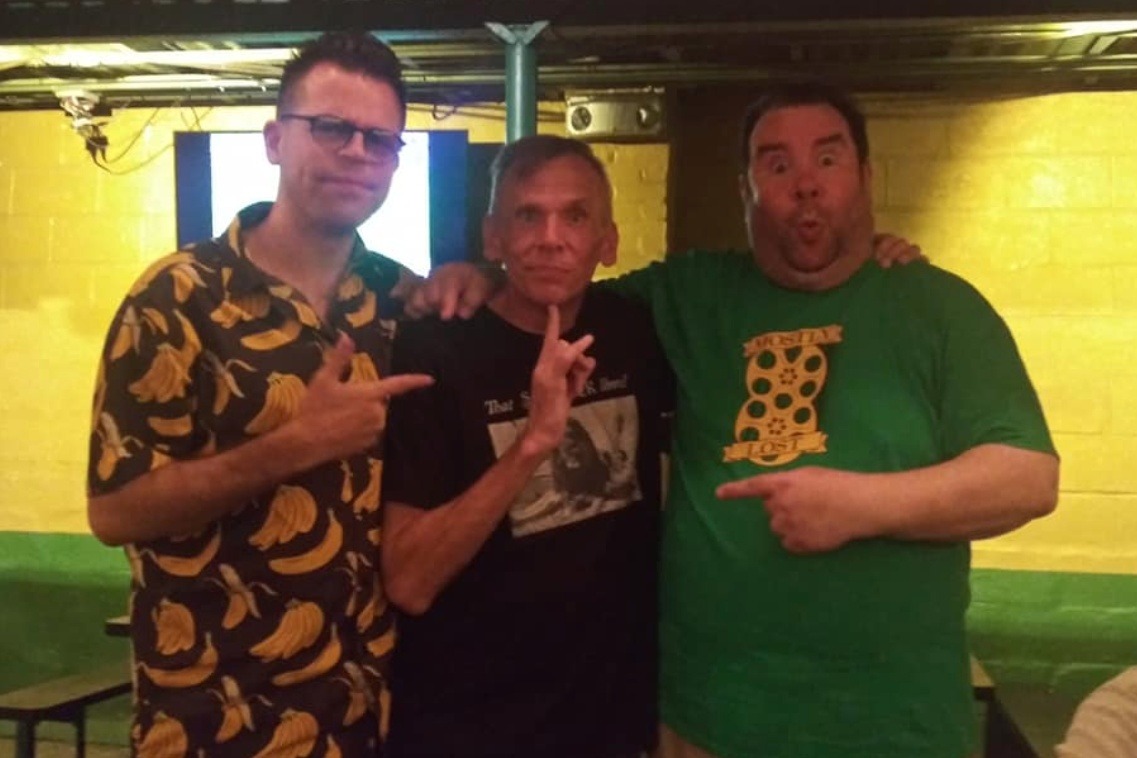 My very good friend and professional colleague of 15+ years, Nelson Hughes, needs help from our community. Nelson has brought countless laughs, kind words, acts of support, gestures of generosity, as well as loyalty and camaraderie to those who are lucky enough to call him a close friend. Nelson has also provided the New York City public with many hours of entertainment through his archival film series, That Slapstick Show!, which presents rare silent-era and early sound comedy films to new audiences. Mr. Hughes has a strong character and sense of pride, and tends to be somewhat private about his personal affairs. He is a bit embarrassed both by what has unexpectedly happened to him over the past week and the resulting need for help. So, I will do the explaining and fundraising* on his behalf. 
We have to rewind a bit, first.
To better express the gravity of the overall situation, I'll give a few notes on Nelson's living situation prior to his current need. Nelson began experiencing a set of personal and financial setbacks several years ago. First, he was forced to leave his family apartment, under duress, immediately upon the sudden passing of his beloved mother, who had been quite ill and for whom he had provided primary care for a couple of decades. Afterward, and at the very last minute, Nelson was able to find stable housing for awhile—through a room sharing situation with an elderly and disabled family friend. Unfortunately, this roommate and primary tenant passed away rather suddenly in the late summer of 2018. Nelson was once again forced, very quickly, to leave the premises as he was not easily or legally able to stay in that apartment either. By this point in time, Queens rents had soared to unbelievably high levels; amounts that most of our working class friends and pre-existing residents simply could not easily afford at new market rates. With no other options at hand, Nelson was forced to rent a very small bedroom in the subdivided SRO basement of a private dwelling elsewhere in Queens, with common spaces like kitchen and bathroom shared with other tenants. The cost of renting this room is much higher than the expenses Nelson incurred in his previous two living situations, and without most of the benefits he once enjoyed. There is now barely enough room for Nelson, his beloved cat Pookie, and his personal possessions—but desperate times called for desperate measures. Additionally, Nelson's work as a dispatcher and courier for a courier service provides an income that hardly covers the monthly cost of this room, utilities, his daily commuting costs, and bare necessities such as food. There is practically nothing left over after a month of expenses are paid up. Unfortunately, Nelson had not been able to build up much savings over the years because of his various sets of circumstances. This is very much a hand-to-mouth living situation,
Now, everything has suddenly gotten worse.
A little over a week ago, Nelson began experiencing facial drooping and other discomforts, which he initially thought were the result of an allergy or possibly even a mini stroke. Relying heavily on his weekly income as he normally does, and not having felt completely disabled by the symptoms, he continued to go to work for a few days. This past Wednesday, after work, Nelson tried going to an urgent care facility to get his medical situation checked out. The facility informed him that there was a hold on his medical insurance—which, as he later found out, was the result of the New York State of Health insurance marketplace having incorrect financial information on file for Nelson—all unbeknownst to him. The urgent care would charge $200 to see him, and he had to decline the visit. Later that evening, Nelson's partner Dara found a more affordable online medical care provider that could speak with Nelson and diagnose some medical problems remotely. The remote doctor determined that Nelson was suffering from Bell's Palsy, and prescribed medications to help treat and hopefully cure the condition sometime within the next month or so. Apparently, his health insurance coverage should reactivate sometime next month.
But that's not the worst of it...
Unfortunately, on the same day as the urgent care and health insurance fiasco, Nelson was informed by his workplace that he would be laid off immediately and until further notice. As the COVID-19 pandemic is underway and New York City currently has most of its non-essential (and some essential!) businesses closed down, his work was deemed expendable. Nelson will attempt to file for unemployment benefits next week and we are hoping for success with that, especially in the midst of millions of fellow citizens now having to apply at the same time. Hopefully there will be no great delays or hiccups, but we can't be sure of anything at this highly unpredictable moment. This layoff could last for months, depending on how our positioning in the current epicenter of this pandemic continues to play out.
A mixed bag, but still a mostly negative one.
In one way, the layoff may have been a temporary blessing in disguise. While a large number of Bell's Palsy patients go fully back to normal in a few weeks, some do not, and the prescribed medications apparently help with a faster recovery and with lowering the chances of lasting or permanent effects. However, these medications lower one's immune system capabilities. Nelson's job had him commuting through the NYC subway system all day, five days a week, meaning he would continue to come into constant contact with potentially coronavirus-ridden surfaces or sufferers, no matter what precautions he would take to protect himself and disinfect his belongings. It is a good thing that he is currently able to shelter in place at home while he takes these medications to recover, and risk far less exposure to COVID-19 as a result. It is a bad thing that he is now losing his paycheck and that there may be a gap in income with unemployment benefits possibly being complicated or delayed.
What now?
In any case, it's time to help our dear friend—not only guarantee that his rent and basic living expenses will be covered through this stressful, risky, and economically devastating pandemic, but that he can also enjoy some comforts during this time of illness and lost work on top of that as well. Nelson is a hard and relentless worker, in a job with few benefits and no real financial or job security. He deserves some rest and comfort at this time, and it's an honor for me to assist with this effort. This need is immediate.
Funds raised will help Nelson toward all of his essentials, for which there are *no* backup savings to rely on: monthly rent on his bedroom, food for himself and his beloved feline Pookie, his utilities, and other miscellaneous medical or personal expenses he may incur in the coming weeks and months—all at exorbitant New York City prices, mind you. Our initial goal for this fundraiser assumes that Nelson will need assistance, on top of unemployment benefits (if and when they should be initiated), through the summer season as our city will likely continue to be dealing with the pandemic for at least that long.
Nelson and I are incredibly grateful for your kind and generous assistance.
*Note: This fundraiser has been arranged so all donations are directly deposited into Nelson's bank account. I am acting only as a communicator and fundraiser on his behalf—not as a middleman with regard to finances. Nelson will benefit promptly and directly from all donations. Thank you ever so much!
Donations ()

Organizer and beneficiary
#1 fundraising platform

People have raised more money on GoFundMe than anywhere else. Learn more

GoFundMe Guarantee

In the rare case that something isn't right, we will refund your donation. Learn more

Expert advice, 24/7

Contact us with your questions and we'll answer, day or night. Learn more