First let me thank you for taking the time to read this page, and allowing me to share memories of my nephew, Christopher Freeman, who lost his 4-year battle with brain cancer on Feb 27, 2018.  
When a family member dies from cancer it is devastating, and I know we've all been touched by this experience.  When it's a young man of 34 who leaves behind a 6-year old son with autism, the need for support is amplified and urgent. 
Chris a was a caring and thoughtful single dad, wholly devoted to his son, Nathan.  Chris faced many challenges throughout his life and was an inspiration by how he adapted and succeeded.  The cancer caused him to go blind during his last few years of life, which would be a terrifying experience for most of us.  But Chris continued to enjoy life with grace and determination.  He learned new skills, continued to pursue his dreams and was very proud of the gold medal he earned as part of the Vancouver Eclipse hockey team for blind athletes.   
More than anything, Chris loved his little boy. Nathan is a sweet and charming child who loves to read.  He loves to ride the Sky Train and buses and knows every stop by  heart.  When Chris received the news that the second round of treatment was unsuccessful, his first thoughts were about Nathan's welfare.  Knowing the struggle that Nathan has with emotions, he was adamant that he did not want anyone to be sad around him.   
If there is any mercy in this situation, it is that Chris' mom, Sandra, will be caring for Nathan, her grandson.  Sandra has a heart for children with special needs, and well before Nathan was born she devoted her career to working with children with autism.  She adores Nathan, and he adores her.  There is no one better to provide little Nathan with the love, patience and support he needs and deserves.  She fully understands his needs, both as her grandson and as a child with autism.   She knows how important it is for Nathan to maintain the stability of his current home and school community so he can flourish, and she is determined to provide it for him. 
Nathan's necessary care includes physical and occupational therapies to address anxiety, improve his motor coordination, and improve his social skills.  Knowing that he would need help with Nathan while he underwent surgery, chemo and radiation, Chris made the wise decision to move back home.  Chris and Nathan have lived with Sandra since he was diagnosed. 
Now that Chris has died, Nathan misses his dad and best friend terribly and doesn't quite understand that he isn't coming home. Sometimes he sits by the window looking for him in heaven, other times he asks when daddy is coming home. Sandra is so loving and patient with him, even while working through her own grief of losing her son so young to this terrible disease and the painful knowledge that Nathan will grow up without his father to play with him, take him to hockey games, spend quiet time with him, and celebrate his achievements.  She is a truly remarkable woman and my heart breaks for her.  
Obviously, this has been a trying time for the entire family, but everyone's focus is on a long-term plan for Nathan and Sandra.  Collectively we will be relying on Sandra to be Nathan's primary support.  Raising Nathan is a serious and long-term commitment, and it's difficult to estimate the amount that will be needed. Our goal is to raise $50,000 cover costs for the first few years to help meet Nathan's needs and permit Sandra the time and funds to ensure that can happen.   
Not all of Nathan's medical needs are fully funded, and Sandra has to make up for the loss of Chris' financial contributions while dedicating more of her time to Nathan.    These funds will be used to augment the therapies that are not fully covered, and to support Sandra in managing Nathan's care, school and home needs, which will allow her to continue working.  
We've been asked if Chris had insurance, but unfortunately he did not; he was a young single dad with a toddler, and as with many young men, he thought he had time to address that … who expects a devastating diagnosis at such a young age?  When he found out about the cancer it was too late to get life insurance.  Chris poured all the money he had coming in while he was alive into providing the necessities of life and caring for Nathan.  Without Chris' income, that money is no longer available, which adds to the financial responsibilities that Sandra must bear.   
All monies raised will be used by Sandra to provide care for Nathan.  In future there may be specific critical needs for Nathan that need to be addressed, but in the short term, we estimate that this campaign would sufficiently meet the need for the next 2-3 years. 
For almost all of Nathan's life he has been surrounded with illness, surgeries, uncertainty, and now the loss of his father.  These circumstances would be difficult for any child. For a child with autism the challenges are multiplied.   Our family's wish is that Nathan remains surrounded by the love and positivity he needs to help him flourish, and that he can face all his challenges with the same grit and faith as his Dad did.  
Your support will bring comfort to a little boy who has lost his Dad far too young, and a wonderfully caring grandma who is dedicated to raising Nathan in a loving, stable and supportive environment.  To reach our goal and be able to provide some consistency and comfort would be a blessing.   
Please consider if you can offer any support, every little bit helps.  And please share this page and keep them in your prayers.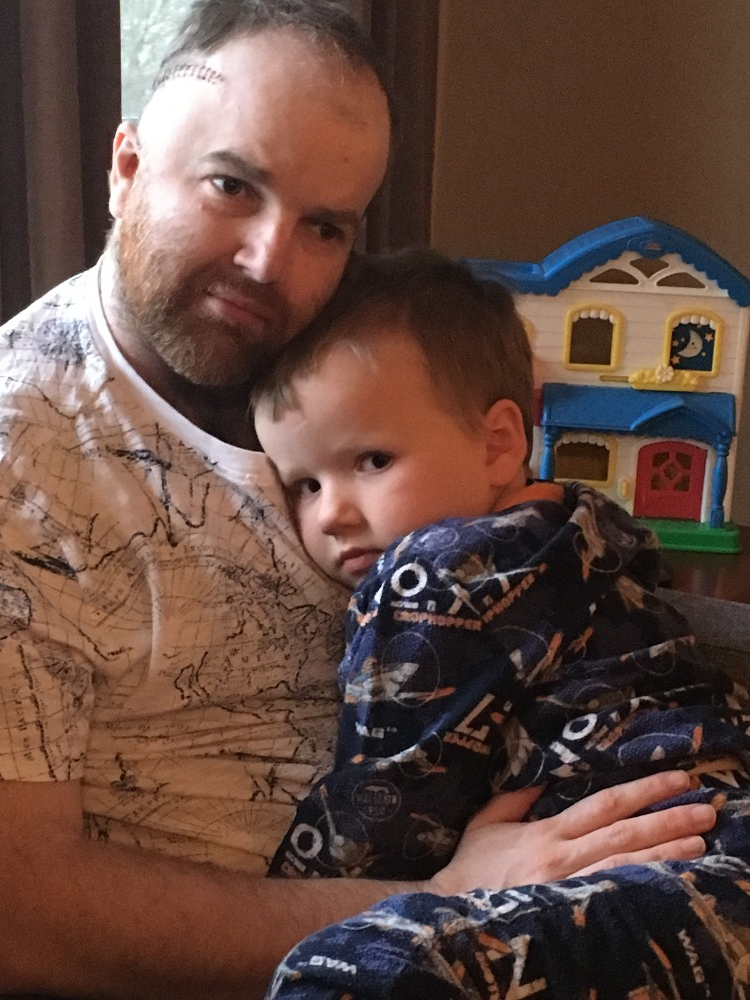 Chris and Nathan after Chris's last surgery.
Rest in peace, Chris.  We love you.
Nathan and Daddy

Organizer and beneficiary
Elizabeth Rankin-Horvath 
Organizer
Richmond Hill, ON
#1 fundraising platform

More people start fundraisers on GoFundMe than on any other platform. Learn more

GoFundMe Guarantee

In the rare case something isn't right, we will work with you to determine if misuse occurred. Learn more

Expert advice

Contact us with your questions and we'll answer, day or night. Learn more