Hi!


I'm Bella! I'm a mixed breed dog and only about 5 months old. My friends Xena and Zoe are letting me live at their house until I find my furever home. The nice veterinarians at MSU told me that I was born with a severe disease called pulmonary stenosis. Apparently, that means that I am not getting enough oxygen to my lungs from my little heart and I will need surgery at MSU to get it fixed as soon as possible (their prognosis is copy and pasted below). They are not sure if I will make it to my first birthday party if I don't get this surgery :(
I heard my foster moms say it would cost around $5,000.
WOW!
That would be a lot of treats! I know it's a lot to ask, but I am hoping some nice humans can help me raise the money for the surgery so I can live a long happy life with my furever home. My human friend Holli is starting a Go Fund Me account to raise the money for the surgery. She comes over and plays with me a lot. She says there a lot of nice people out there that would love to help me! 
I want to thank everyone in advacne for helping save my life. I have a big wet kiss for everyone that donates!!
**Bella**
BELLA'S NOTES FROM MSU:
Attending Clinicians: Dr. Augusta Pelosi, Delia Blaschka (Senior Student)
Dismissal Information:
Bella presented to the cardiology department on 2/17/14 for evaluation of a heart murmur. On cardiovascular examination a grade V/VI, crescendo-decrescendo, harsh murmur was appreciated best near the second intercostal space along the left sternal border. To help determine the cause of this murmur, an echocardiogram was recommended and performed.
The echocardiogram did show some abnormalities today. These findings are consistent with a diagnosis
of severe pulmonic stenosis (narrowing of the pulmonic valve decreasing the amount of blood reaching the lungs). As a consequence of this narrowing, the cardiac muscle on the right side of the heart has to work harder and, as a result, has thickened over time. In addition to her thickened cardiac muscle, Bella also has secondary tricuspid valve regurgitation due to the increased pressures within the heart. This regurgitation of blood from the right ventrical to the right atrium may eventually allow for backflow of blood out of the heart as well, and may result in ascites (or fluid within the abdominal cavity).
Based on echo results, we have recommend intervention via surgery, balloon valvuloplasty, and additional medical management.
If surgery or balloon valvuloplasty is elected, an angiogram will need to be done first. This procedure involves use of an x-ray and a special dye that allows for the visualization of blood flow within the pulmonary artery so that the stenosis can be better characterized. The estimated cost of this procedure is $1,200-1,500.
With the surgical procedure, the chest is opened and the stenotic pulmonary artery is directly visualized. The artery is then widened via an incision and placement of synthetic tissue is done so that the degree of stenosis is reduced. Since Bella's pulmonic stenosis is so severe, this option would likely provide the best outcome and also be a permanent
solution. The estimate for this procedure it $3,000-4,000 (in addition to the cost of the angiogram).
With the balloon valvuloplasty procedure, a flexible catheter is inserted through an artery and then threaded into the heart. Once the tube reaches the narrowed pulmonary valve, a balloon at the end of the tube is inflated in the hopes of ultimately widending the valve opening and reducing the amount of stenosis. There is risk that the this procedure may need to be either repeated in the future or that surgery may need to be done to furter relieve the stenosis. The total estimate (including the angiogram) for this procedure is $1,500 - 2000.
If the above options cannot be pursued, we recommend starting Bella on medical management via the use of betablockers and diruetics. These medications will help decrease the thickening of the ventricular muscles and also help allieviate symptoms of congestive heart failure. If this option is chosen, Bella will likely continue these medications indefinitely with regular scheduled rechecks through cardiology to monitor the progression of the disease. Changes in medications and/or intervention will be considered based on the response and the long term control of the disease.
It is important to begin one of the above treatment options as soon as possible, as the progression of Bella's disease and symptoms will continue to progress and become harder to manage. Please monitor Bella and look in particular for episodes of collapse, weakness, exercise intolerance and abdominal distension.
Here are some photos of me having fun and hanging with my freinds!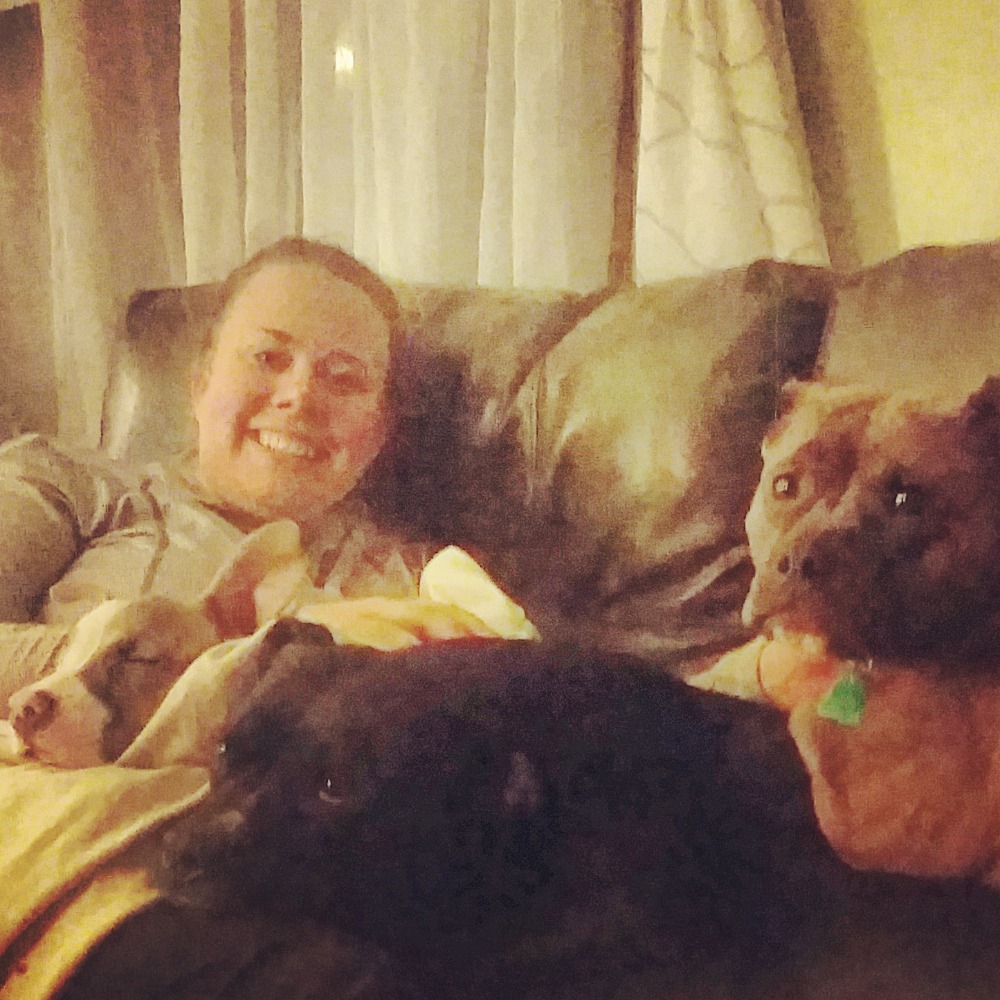 For the Love of Petey aka Luv Bug 
Organizer
Holli McPherson 
Organizer
Grand Rapids, MI
#1 fundraising platform

More people start fundraisers on GoFundMe than on any other platform. Learn more

GoFundMe Guarantee

In the rare case something isn't right, we will work with you to determine if misuse occurred. Learn more

Expert advice, 24/7

Contact us with your questions and we'll answer, day or night. Learn more