MTM is screaming, "Please HELP!"
MTM- Youth Theatre of Mostar, Bosnia and Herzegovina NEEDS Your Help!
What is MTM?
MTM operates under The Center for Drama Education of Mostar. Its main goal is using drama and theater as a pedagogical & methodological tool. One way the goal is reached is through the theatre's work in its own independent work, and another is through bringing programs of drama education into schools, relying on the power of educational dramaturgy to develop inclusive and open-minded individuals. MTM was founded in 1974 by Sead Djulic, a young man with a vision, and that young man, despite the years passed, continues to inspire and guide young generations of actors not only to perform, but also to be proud, tolerant, and contributing citizens of the 21st century.
Figure 1. MTM Youth during Practice
Figure 2. MTM Youth during Practice The role of drama/theater

The educational value of drama is undisputed, but its role in healing trauma at the individual and societal level may not be as well known. Targeting the youngest among us, our children and youth, the performing arts teach them, in a safe environment, to cope with challenging life situations, social reality, and many individual and societal problems in a post-war reality. Educational dramaturgy has a preventive and transformative effect, contributing to the growth of these children and youth into tolerant, peace-nurturing generations, countering the consequences of war and post-war trauma, building peace, resolving conflict, building a team, and overall building tolerance, which is so desperately needed in Mostar.


What happened in Bosnia and Herzegovina?
Bosnia and Herzegovina experienced a savage war that officially lasted from 1992-1995. Politics of division that highlighted differences and used them as fuel for hatred led to the war, and although the war officially ended in 1995, it left behind not just physical scars, but fear of differences, fear of one's neighbors, trauma, violence, feelings of helplessness and hopelessness, etc. These consequences are easy to neglect because, after all, there is no more bombing and life seems to have gone back to normal. However, young people who were growing up during the war are parents today, and their own disrupted youth inevitably affects their children. This is exactly where the arts can play an incredibly therapeutic and educational role – guide the development of these future generations towards healing, understanding, verbalizing and channeling emotions, appreciating others, and ultimately building a society of well-adjusted and productive citizens who will see our differences as a source of strength and a thing of beauty.
Figure 3. Image of Destroyed Mostar, with View of Former MTM Theatre HomeHow active is MTM?
To get a glimpse of MTM's activity, below are some items JUST from 2016:
-        performed 309 productions (plays and other programs) among which 5 were premieres;
-        participated at 15 theatre festivals;
-        received 19 awards;
-        reached the 25th performance of one production and the 75th of another;  
-        performed in 100 cities and towns in B&H
Impressive numbers, especially considering that they reflect only one year; unfortunately, not impressive enough to those in charge of distributing city funding.
Figure 4. MTM Youth Conducting a Workshop at a SchoolWhat's the money for?
The money would be used for:
-        the annual electricity bill, to avoid having the electricity shut off the night before a performance, which happened recently because of unpaid bills that the theatre simply had no funds to pay
-        building a toilet/changing room – MTM does not have a changing room or a toilet!
-        carpeting to replace the current, filthy carpeting
-        new stage lighting system
-        gas for travel to destinations where the theatre performs and holds workshops
-        development and promotion of educational drama programs
-        development and promotion of speech and public performance culture, with the help of specialists appropriate for different workshop age-groups
-        development of methodology of dramatic education, including sending the drama director and a couple of actors to drama education conferences in the region
-        assistance in the work and supplementary education of youth within the theatre to prepare them to work with younger members of MTM
-        turning an existing but destroyed room into a small office by repairing the walls and painting them, and carpeting the room
Figures 5. & 6. MTM Puppetry Practice
Figure 7. & 8. MTM Improv Practice

Why am I creating the GoFundMe campaign?
I am a retired teacher who has worked with children in former Yugoslavia, Germany, and the USA for more than 40 years. Nowadays, I am volunteering at the Youth Theatre of Mostar, my home city, and am in absolute awe of the job MTM has been doing, both thanks to their relentlessly enthusiastic drama director, Sead Djulic, and the youth involved. Seeing and realizing the impact on children and youth that MTM has, I wish to do everything in my power to support this work. I would be more than grateful for any donations that would help keep such a crucial establishment alive because performing arts' power to build self-confident, conscientious, and tolerant citizens who appreciate differences and nurture healthy relationships is often neglected, and here, in the post-war reality of built up anger, trauma, and politics of division, the power of theatre is a source of energy and hope for the future.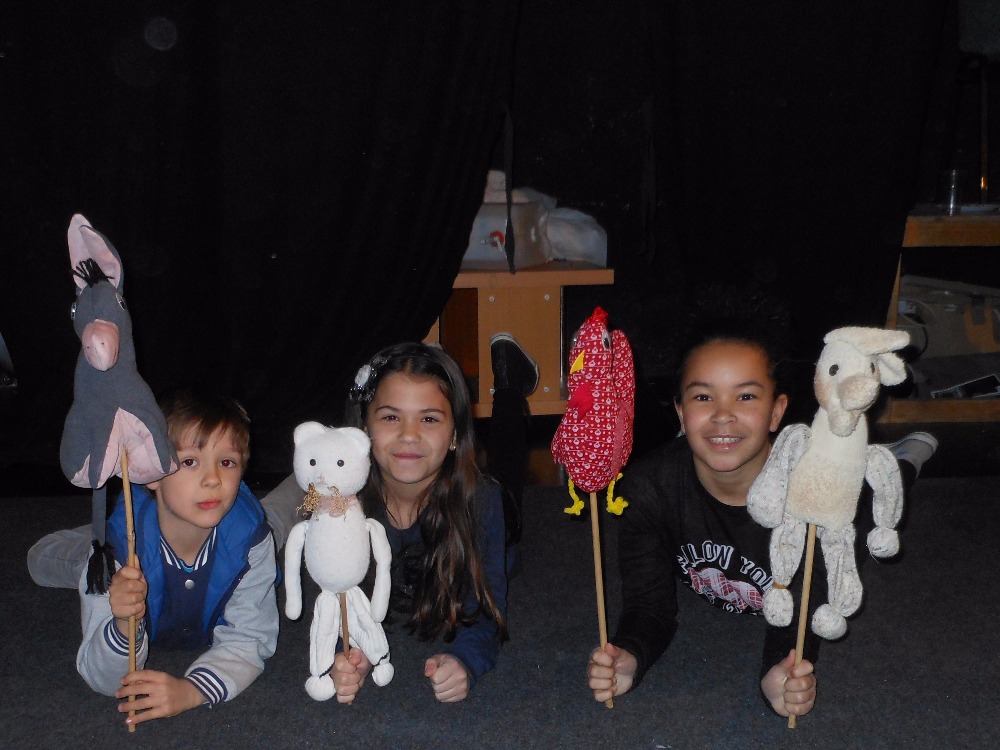 Figure 9. MTM's Youngest Talent
Organizer