Monument to Mexican-American Partnership
Hi.
I am raising money to build a monument to the long-standing partnership between the United States and Mexico and to honor the asylum seekers, refugees, and immigrants who have contributed to the dynamism and strength of both our great countries. The site of this "
Bandera Monumental
," a flag representing collaboration between Mexico and the United States, will be an 8 acre parcel of land I own in the middle of Trump Winery in Charlottesville, Virginia. It is urgent that we send a signal to citizens in both the United States and Mexico that we stand together, united in our common future and bound together by history, culture, and family, regardless of whatever political winds may blow.  
A Collaborative Effort
This project honors the collaboration across borders and between communities. The funding, design, build, and execution of this project is by necessity of purpose, collaborative.
The Mexican American Designers and Engineering Collective (
MADE Collective
) has generously agreed to design the monument. MADE Collective is made up of 15 architects, engineers and designers (5 from US and 10 from Mexico) and are 8 women and 7 men. Their designs have included
BorderBnB
, a trans-national home-sharing system for divided communities and
Otra Nation
, a re-visioning of the U.S.-Mexico border corridor as a regenerative co-nation.
Martin Horn
has generously offered to provide in-kind concrete and support in the build effort.
Stonegate Rentals
has offered to provide in-kind services for the opening celebration.
We will have a Mexican-American band perform at the opening ceremony.
DimodaPR
is providing in-kind communications services.
Have land. Will hoist. But we cannot do this without you!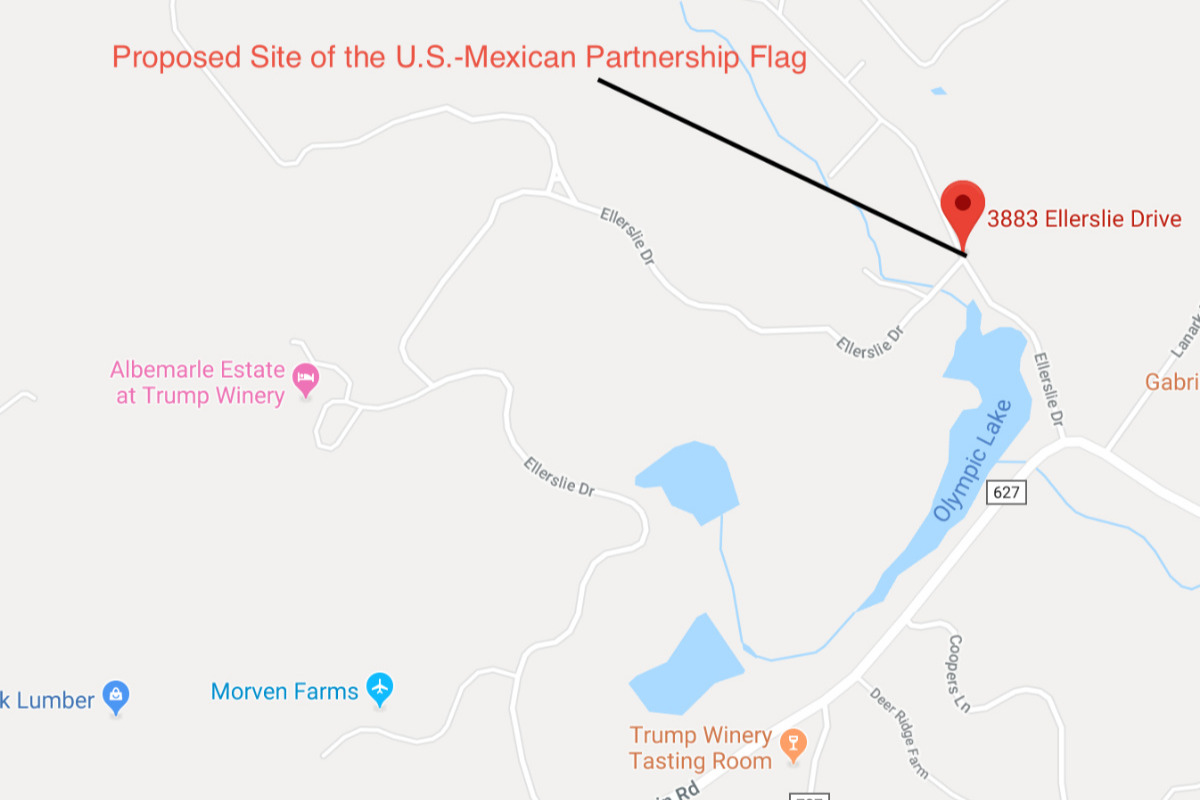 Use of Funds:
-Purchase a steel flagpole of at least 100ft/30M in height (quoted at $16k at the "American Flag Superstore");
-To commission Latinx and local artists to design the flag and site and;
-To commission a Mexican-American roots and folk band to play at the hoisting ceremony.
Any funds raised in excess of the specific project needs will go to support entrepreneurship opportunities for refugees, asylum seekers, and other forcibly displaced people in Mexico, who, when given the chance, are some of the greatest contributors to the communities that welcome them. Just consider that over 40% of the founders of Fortune 500 companies are immigrants or displaced people.
*This campaign is not a replacement for the critically important efforts of direct services organizations and individuals working to support displaced or migrant communities.  To do so, please consider any of the following organizations: 
Sin Barreras
-a small local NGO offering services to the immigrant, mostly Hispanic community
Charlottesville Immigrant Bond Fund
-assisting local families in obtaining release and legal defense for their loved ones held in ICE (Immigration and Customs Enforcement) detention
International Rescue Committee
-one of the leading international organizations providing emergency aid and long-term assistance to refugees and those displaced by war, persecution, or natural disaster (there is a Charlottesville chapter);
Movement Law Lab
-building power in black and brown communities by incubating legal projects that combine law and community organizing to protect, defend, and embolden racial justice movement;
Kiva
- providing 0% loans to refugee and displaced micro-entrepreneurs in Mexico, Jordan, Rwanda, Uganda, Lebanon, and Colombia.
Welcoming America
-leads a movement of inclusive communities becoming more prosperous by making everyone feel like they belong.
For additional resources, check out
Grantmakers Concerned With Immigrants and Refugees.
Fundraising team (12)
John Kluge 
Organizer
Raised $2,751 from 37 donations
Charlottesville, VA
Jamie Dyer 
Team member
Raised $45 from 2 donations
Hunter Smith 
Team member
Raised $20 from 1 donation
See all