Mezquita Delicias Zaragoza
Assalam Alaikum hermanos y hermanas del mundo! 
Iniciamos esta campaña para la recolecta económica, que necesita nuestra mezquita. Necesitamos 180.000€, para la compra y renovación de nuestra mezquita.
Disponemos de más de 300 alumnos inscritos, de todas las edades. Niños y Niñas, Padres y Madres, etc...  Sin embargo estas instalaciones no son las adecuadas, para el confort y el estudio.
Esta suma irá destinada a la mezquita.
Para cualquier otra consulta pueden ponerse en contacto con nosotros al numero 663621481.
FRANçAIS 
Assalam Alaikum frères et sœurs du monde!
Nous avons lancé cette campagne pour la collecte économique, dont notre mosquée a besoin. Nous avons besoin de 180 000 € pour l'achat et la rénovation de notre mosquée.
Nous avons plus de 300 étudiants inscrits, de tous âges. Garçons et filles, pères et mères, etc.
Cependant, ces installations ne sont pas adéquates pour le confort et l'étude.
Cette somme ira à la mosquée.
Pour toute autre question, vous pouvez nous contacter au numéro 663621481.
ENGLISH 
Assalam Alaikum brothers and sisters of the world!
We started this campaign for the economic collection, which our mosque needs. We need € 180,000 for the purchase and renovation of our mosque.
We have more than 300 registered students, of all ages.
Boys and Girls, Fathers and Mothers, etc ... However, these facilities are not adequate for comfort and study.
This sum will go to the mosque.
For any other questions, you can contact us at the number 663621481.
Muchisimas gracias por vuestro tiempo, que Allah swt os recompense.
Merci beacoup pour votre temps, qu'Allah swt vous recompense.
Thank you very much for your time, may Allah swt reward you.
ARABE 
طلب المساعدة لترميم المسجد وفرشه*
السلام عليكم ورحمة الله وبركاته،،،
إخواني وأخواتي في جميع أنحاء العالم،،،
عندنا حوالي 300 طالب وطالبة في مدينة زراغوزا (أراغون) في أسبانيا (Zaragoza Aragón Spain) في مسجد سعد بن أبي وقاص الذي يحتاج إلى ترميمات وفرش. نتمنى من سيادتكم وفقكم الله المساهمة على قدر الاستطاعة في ترميم وفرشة المسجد. علماً أننا نحتاج إلى 180 ألف يورو (€180000) لشراء المواد الضرورية وترميم مسجدنا.
أهداف المشروع: - توفير احتياجات المسجد للمسلمين. - إقامة الشعائر الدينية الإسلامية وإقامة الصلوات الخمس والجمعة والعيدين. - تعريف المسلمين بمبادئ الدين الحنيف (الإسلام الصحيح) من خلال الدروس والمحاضرات والندوات.
لأي سؤال آخر يمكنكم التواصل معنا على الرقم: 0034663621481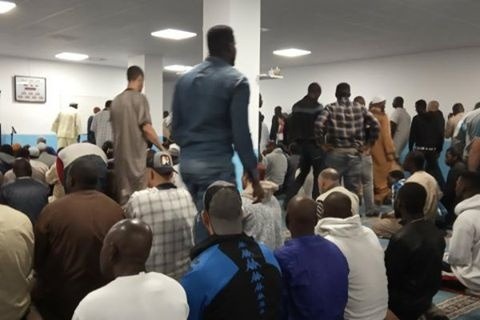 Fundraising team: Equipo de recaudación de fondos (2)
Mezquita Delicias 
Organizer
Raised 160 € from 9 donations
Zaragoza, AR, Spain
#1 fundraising platform

People have raised more money on GoFundMe than anywhere else. Learn more

GoFundMe Guarantee

In the rare case that something isn't right, we will refund your donation. Learn more

Expert advice, 24/7

Contact us with your questions and we'll answer, day or night. Learn more