This is Megan Dunn's story. My wife and soul mate, the person I will be spending the rest of my life with, as I vowed 8 years ago. I'm hoping and praying this isn't the last story we'll tell. A lot of the people that reach this page will already know of Megan and me, but if you don't know us, I ask only that you read her story before passing it over, I'll try to make it brief.
We were married 8 years ago, in October. We've been together almost every day since then. We don't argue, we never yell or get upset, we need each other. When I say soul mates, it is a real statement. She was doing what she loved. She enjoyed cooking for others, we were part of a monthly pot luck with friends. She loved designing and making dresses. The pictures here show some of her work. 
She had also started taking up embroidery and was doing very well. She was always crocheting as a hobby to pass the time.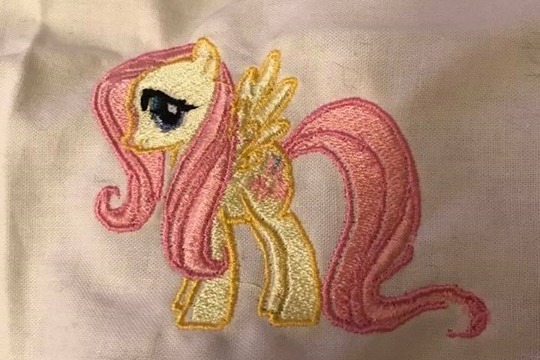 Basically art, either culinary or clothing, was a passion she enjoyed and had worked hard over the last few years. Unfortunately, she will not be able to do this anymore.
The last few months have been a living nightmare every day. She was diagnosed with a blood clot in her brain, causing increased pressure. She started losing her vision and having crippling migraines. This lasted for two weeks. It took a total of 2 weeks to go from artistic hobbyist to completely blind. While resolving the blood clot, something went wrong and she suffered a cerebral hemorrhage. After surgery to resolve this, she didn't wake up from anesthesia. She was in a coma for 24 hours. After which, her only change was opening her eyes. This vegetative state lasted for 2 weeks. She's made very slow progress since then over the last month or two. I've been with her every day through every step, helping to take care of her and keep her muscles moving. At this point, she can't move her arms or legs on her own. She can nod and shake her head and seems to understand conversation and be fully conscious. Unfortunately, that's about it. She can't talk, she still can't see after all of this, and she's restricted to a bed. We're hoping with extensive physical therapy that we can at least get her in a wheelchair, which will unfortunately be her life from now on. She's going to have permanent disabilities and the doctors say it's unlikely she'll ever recover her eyesight.
After months of work and basic PT that she can handle, she was able to finally sit in a chair for the first time. 3 months in bed and this is the best we have so far. It's going to be a long road ahead, but we have no idea how much recovery she can make.
I'm doing the best I can as her husband, but I have limited ability to work because I have to be by her side. PT only happens once a day, meaning 99% of the time she has severe muscle cramps and no way to move herself to work them out. She is unable to hold herself up at this point, so we can't even use a wheelchair to take her outside. She can't watch TV, occasionally she listens to it, but she's lonely and scared. Me being there is the best I can do for her. Which brings us to the point of this page.
Last Friday (8/24/18), I was hit head on by a truck going through a green light.
Thankfully, I'm okay, save for some back and neck pain. Both of us were insured. The car itself had significant engine damage, as well the entire wheel well falling. They declared it a total loss. Unfortunately, the insurance company will only pay for what the vehicle was worth, not the amount I owed and nothing towards a replacement. I'm still going to be about $6,000 in the hole. I have no transportation. I can't work what few hours I had. I can't make it up to see Megan. For the first time in our lives together, I can't be there for her, and this is when she needs me the most. I have no family, save for her mother/step-father, but they have their own work/lives to do. I have no money for a rental. I have no money for a taxi/Uber. I am down to one meal a day, which is provided by her parents.
This is why I'm starting this. I need help, and I'm out of options. Please, if you can donate anything, it will be going to the care of Megan. Be it medical bills, or helping me support her. The goal set here is just to get transportation up an running again. While I don't expect to, if the goal is hit and you can still donate or spare anything, it will still go to her and be appreciated. I don't know how I'm going to handle all this because I'm doing it alone, but I'm out of choices.

Organizer