Help New get relief from chronic pain & illness
Thank you for visiting this page. I made it to help me get the only treatment that has ever worked for my debilitating chronic pain/fatigue, illnesses, and PTSD.
☆Please consider donating. If you can't, please share.☆
1st goal: $446 for first 8 treatments* GOAL REACHED! Treatment has started.
2nd goal: $2,352 for 1 year of treatment
3rd goal: $4,704 for 2 years of treatment
↓Please read my story below for more information↓ 
(Gallery at end of post!)
tldr; I've lived with debilitating chronic illness and pain for 9 years and I'm now even more disabled and can barely work or sit up without major consequences. Unfortunately, one of the only medications that keeps me somewhat functional not covered by my insurance, so this fundraiser is to help me get the medical care I need for relief and to help me stabilize long enough to get the extensive pelvic surgery that I need.
My name is New. I'm an artist and creator. Since 2011, I've been diagnosed with ulcerative colitis, gastritis/esophagitis, type 2 narcolepsy, fibromyalgia, myalgic encephalomyelitis, degenerative disc disease, cervical bone spurs (osteoarthritis), two cervical disc protrusions, atlas subluxation, scoliosis, sciatica, and a handful of other comorbidities such as anemia. Since 2019 I have been in a weird "suspected for multiple sclerosis" limbo with multiple repeated tests but no confirmation. I am now also suspected for endometriosis, adenomyosis, and cancer originating from my bowel related to my history with ulcerative colitis. On top of this, I'm a survivor of abuse so I have C-PTSD and I am neurodivergent. I'm usually in the ER and urgent care anywhere from 1-6x a year (where many time I've been bullied and not given adequate treatment because they do not believe my pain).
My symptoms are many, with excessive tiredness from chronic fatigue and things to manage such as nausea, weakness, insomnia, chronic fevers, depression, bleeding from the colon, and more.
My most significant barrier, though, is chronic pain. I live with daily debilitating pain radiating from my cervical spine, thoracic spine, and pelvis into my back and extremeties. It gets worse as the day goes on, often keeping me up at night. I usually wake up at a pain level of 4.5, and by noon it's a 7. By bedtime, it can jump up to 9. It's burning, gnawing feelings and quick sharp, throbbing electric shock-like pains. I have spasms, numbness, tingling. In my lower spine, there are flare-ups that cause burning nerve pain, leg weakness and spasms, numbness in the pelvis. I basically have period cramps in my spine 24/7.
I've done my best to manage all of this for so long. I've had small improvements in some areas because of my hard work at self-care and advocating for myself at doctor appointments. But even then, I'm still worn down by debilitating pain every day and I've developed new symptoms. In order to keep affording all of the medications, supplements, and out-of-pocket treatments that give me short-term relief, I worked up to 3 jobs at once. As you can imagine, that was incredibly hard on my body.
As a result of pushing myself so hard, I've gotten worse over the past several years. I've had to quit jobs and take long leaves from acting and modeling. I've also had to leave behind or seriously reduce the amount of time spent on hobbies or other means of making money such as content creation. I'm just too sick and in pain to keep up. I can only work 1-2 days a week at my current day job, and when I flare up I usually have to take an entire month or more off. I can no longer sit up for more than 20 minutes at a time without the pain getting worse, so I spend most of my time on the floor, reclined, or in bed.
This is no longer sustainable for me. My body is buckling under it all. The problem is, the government doesn't see me as "disabled enough" to get benefits. I've got a Patreon and ko-fi, and I work so hard on content such as vlogs, let's plays, J-Pop translations, and more, to get donations. But now I'm barely able to keep up with content even with my custom floor-desk that allows me to work reclined. I'm just in too much pain.
I have a disabled parking placard and a cane for bad days, but on a daily basis I now wear a back brace and a posture corrector to help lessen the pressure on my spine. In 2021 I needed a wheelchair for the first time. If I sit up too much, I pay for it for several weeks to months. Running one errand immediately causes a high pain level, and driving is so painful that I have to rely on rides from friends and family most of the time. I'm seeing a psychiatrist and psychologist to have support for depression caused by 9 years of preventable pain and disability, in addition to a lifetime of abuse.
For the past 9 years, I have done all of these different methods for my pain: prescription anti-depressants/stimulants/anti-seizure/muscle relaxants, opiate painkillers (which are no longer given), chiropractor, acupuncture, cupping, gua sha, massage, trigger point therapy and injections, traction, inversion table, back brace, posture corrector, yoga, meditation, diet, Ayurveda, cryotherapy, heating pads, Epsom salt, pain relief creams, craniosacral therapy, various supplements for joint health/inflammation, cannabis daily. Some are helpful, but they still only give short-term minor relief.
In late 2021 I had an epidural steroid injection which didn't give any relief and instead caused a higher level of disability. Because of this, my pain management doctor has indicated me for spinal surgery, but the neurosurgeon I saw doesn't believe my protruding discs or bone spurs have anything to do with my pain. So I'm getting a second (and possibly third) opinion and will try to get some fresh MRIs done, but I still want to avoid such a major surgery if I can.
However, my focus has shifted to addressing whatever is going on in my pelvis. It's looking like I will need removal of my complex ovarian cyst (most likely an atypical endometrioma), endometriosis excision surgery, partial hysterectomy, bowel resection, and removal of mesorectal lymph nodes.
This is a major surgery, obviously. I've been put under before for colonoscopies and such but have never actually had a surgery. I'm still in the process of being assessed for Medicare and disability benefits. 
★The only treatment that has given me profound relief and allowed me to process all of this is ketamine therapy. My insurance let me have 3 spread-out infusions in 2020. Even not having the full experience, I was able to work 4 days a week and sit up more for about a month and a half. My pain decreased, my energy increased, I slept well, and my PTSD/depression were basically gone. I felt like a different person.
I believe this is the safest, most effective way for me to get relief, get my strength back, and become independent. But my insurance won't cover any more of it.
I've worked so hard to "earn" my donations all these years, and now I'm ready to say that I can't do it anymore and that I need help.
Thank you so much for your support. Please don't forget to share. I will post updates.
Gallery:
New's spine in an MRI from 2020 showing C4-5: 1.5 mm central disc protrusion and C5-6: 1 mm central disc protrusion.
Axial view showing the 1.5mm protrusion. It's small but the suspicion is that there could be an annular tear of the disc, which would mean my pain has a mechanical and chemical cause. When there is a tear, disc material leaks where it's not supposed to be, causing an inflammatory response. This could explain why after (and during) any activity, I'm in terrible pain.
New's bone spurs (osteoarthritis), which add to the pain.
After 5 months, finally got updated cervical spine MRI, except they didn't do contrast even though it was on the order. But the protrusions are bigger. C4-5: 2.1mm, partially effacing the ventral thecal sac resulting in mild central canal stenosis. C5-6: 1.7mm protrusion. 
A 2021 x-ray of New's lower spine, showing mild (but painful) scoliosis and a curve of the lower back. ̶S̶t̶i̶l̶l̶ ̶h̶a̶v̶e̶ ̶n̶o̶ ̶M̶R̶I̶ ̶o̶f̶ ̶t̶h̶i̶s̶ ̶a̶r̶e̶a̶ ̶t̶o̶ ̶s̶h̶o̶w̶ ̶e̶x̶a̶c̶t̶l̶y̶ ̶w̶h̶a̶t̶ ̶i̶s̶ ̶c̶a̶u̶s̶i̶n̶g̶ ̶s̶o̶ ̶m̶u̶c̶h̶ ̶p̶a̶i̶n̶.̶
**UPDATE: 
2022 MRI of lumbar spine actually looks good, except... see anything weird in the pelvis? My left ovary is enlarged.
Ultrasound has confirmed this. Awaiting my pelvic MRI and OGBYN exam.
I've had issues with this ovary, as far as I know, since age 15. Back then ultrasound revealed a complex cyst. Because of family history of endometriosis, we're thinking I also have adhesions. This could explain my deep, intense back pains and numb legs since the sciatic nerve is in there, not to mention complications with my colitis and everything in that space. Will update when I have more info.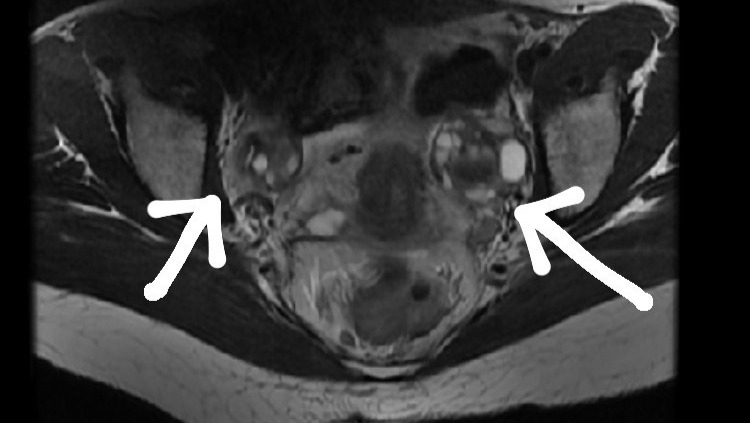 **Update** Pelvic MRI: Complex lesion of left ovary (right side, image is flipped) compatible with endometrioma versus hemorrhagic cyst. Need another ultrasound now. 
Anteverted uterus not leaving a space for my bladder or between the colon and cervix. Possibly explains a lot too. Thickening of endometrium has been noted on imaging since 2017. 
"Multiple prominent subcentimeter mesorectal lymph nodes that are of uncertain etiology or clinical significance."
I saw an an oncologist about the MRI findings due to risk of colon cancer, lymphoma, or leukemia. They agreed with my theory about this all being endo-related but ordered a lot of labwork and a PET scan just to be safe.
No alarming activity was detected in my slightly enlarged mesorectal lymph nodes. There was a little bit of tracer activity in the stomach, abdomen, and colon, which is likely inflammation from my colitis/IBD/endometriosis. They also noted bone islands in the pelvis. I do see some activity in my right kidney which is not so abnormal for a PET scan, however it does make me think back to a previous CT in which my right collecting system was noted as "prominent". Even though I'm clear, they still want to see me in a few months to double-check my blood count and all that. On my file they still have me as "suspected lymphoma" and "B symptoms" but again, autoimmune + endometriosis is my theory.
I still have to fight for my surgery. My OBGYN recommended me to the "best endo surgeon in LA" but they don't even take insurance. They're a rich person's doctor. Next I'll be seeing a gynecological oncologist who technically does some kind of endo surgery, but likely not the kind I need. I'll have a big list of questions to ask them to figure out if they're right for me.
Still waiting on the decision about Medicare and disability benefits. I really wish I could rest but I have to get back to hustling. Every donation allows me more time to rest. Thank you to those who have helped.
2016 x-ray showing degenerative disc disease and bone spurs.
2013 photo of New being tested for narcolepsy. The result was type 2 narcolepsy (formerly called narcolepsy without cataplexy or atypical narcolepsy) and severe insomnia. New has episodes of sleep paralysis often, but not as often as before she started medicating with cannabis.
New was hospitalized in 2021 for the worst IBD flare-up of her life. She's still recovering and sticking to a mostly "baby-food" diet consisting of rice porridge, bananas, yogurt, etc.
Fun nerve conduction test bruise.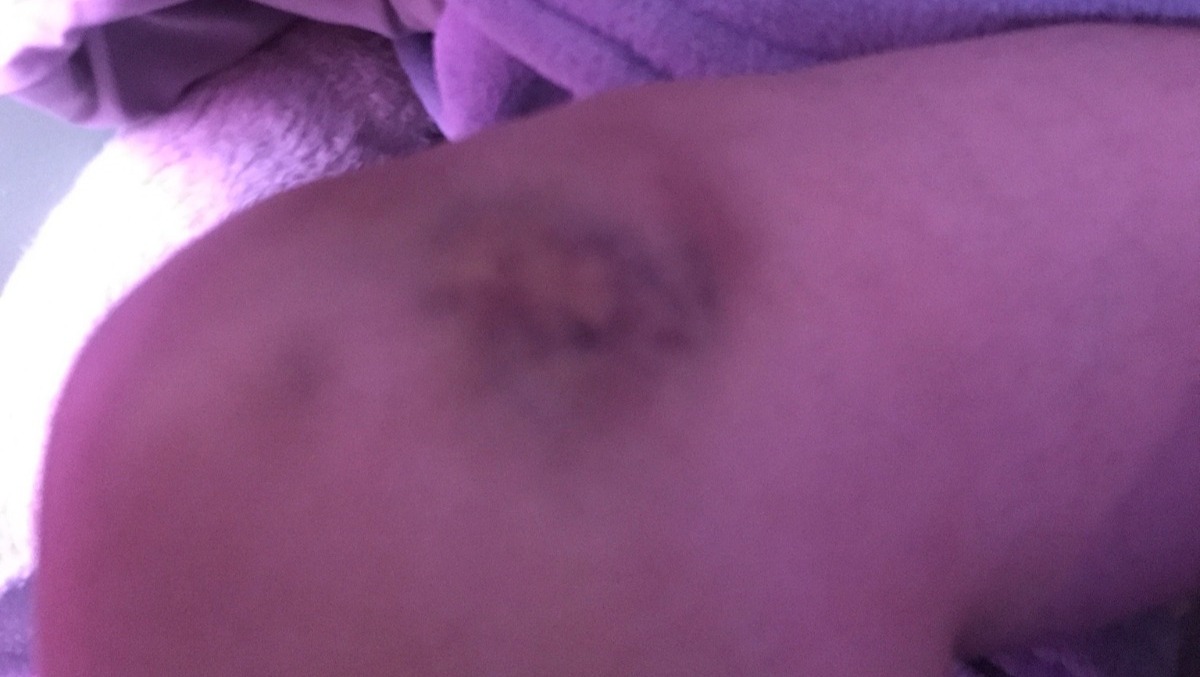 Knee bruise from fall. 
Organisator
New Hologram 
Organisator
Los Angeles, CA