Medical flight get Arij Altai home
With a heavy heart, we wanted to let you know that Areej passed away over the weekend. She spent some very happy times with Ali, Ahmed and her wider family over the past few weeks for which she was grateful beyond words. Thank you so much for making that possible. D.
MONDAY 5th NOVEMBER 9pm GMT

I'm sure many of you, like me, are overwhelmed at the events of the last week.

One of the most heart-warming aspects of this story has been the way in which so many people have supported Areej, Ahmed and Ali in their journey.

The oncology specialists and the team on Ward D3 at Southampton General Hospital have cared for Areej with dedication and compassion at every stage, as they do for so many people day in, day out. They have carried her through some very dark days this year and we would like to offer them a heartfelt thank you for all of their work and care, especially over the last month.

One thousand five hundred and thirty seven individuals & families supported the campaign financially and thousands more supported Areej (and I) with kind words, prayers, good wishes and visits, which were equally encouraging.

Many thanks to the local Highfield community, including staff and families from Highfield School, The University of Southampton and the Southampton University Student Union, the Muslim, Christian and other faith communities, Iraqis throughout Southampton and beyond, and friends from all over the country united in their efforts to support Areej and raise funds and awareness.

Ed and Doug from BBC South Today covered the story with sensitivity and kindness and helped Areej's story spread globally – with @a_bdullah6 and friends from Saudi Arabia getting the story trending on Twitter throughout Wednesday, using the hashtag #Saudis_stand_with_Areej. I know many people were glued to the GoFundMe page on Wednesday evening as the story went viral and donations came in every few seconds!

Mark, Jonny and Paige at IAS Medical worked tirelessly around the clock organising the transfer and GoFundMe offered support and advice throughout the week as the campaign gathered momentum.

Thanks to all of this support, we find ourselves in the unexpected and wonderful position of having more funds that we needed to pay for the medical flight. Ahmed and Areej are safely home, and with the guidance of the GoFundMe team, and for transparency, I wanted to update you on how the finances are looking.

The original target for the flight was £56,538. As a gesture of goodwill and support, IAS Medical reduced the cost to £55,000 last week. The amount raised via the GoFundMe platform was £62,020 before payment processing fees; £59,839.53 after fees. Private donations given in cash or straight into my account total £500, and one donor also generously gave £800 cash to Ahmed personally, having made a verbal pledge to the campaign earlier in the week.

We received a generous donation of £22,000 from the University of Southampton towards Areej's medical flight, which was confirmed and transferred directly to my account the morning after the GoFundMe campaign target had been reached. (The University donation is restricted to paying for the medical flight only).

All this means that after GoFundMe's processing fees are deducted, we raised a total of £83,139.53.

Absolutely incredible!

Because the University donation is paying for the first £22,000 of the flight, it means that only the first ~£33,000 of funds raised on GoFundMe are needed directly toward flight costs. As I mentioned in an edit to the campaign story on October 31st, if we were to reach over the target amount, the remaining funds will be offered to Ahmed and Areej to pay for medical care back in Iraq, supporting Ali through school, other medical, personal and practical costs, etc. (At the point of writing that edit, I was unaware of the University's donation).

There are still a number of unknown costs for the family – including returning the contents of their UK home to Iraq, an extensive range of medication, and other practical, personal and medical costs – and we would love them to have the additional funds to help alleviate some of the pressures of their situation at the moment and in the coming months.

We are grateful to every one of you for supporting this family and having such an impact on their lives. Gratitude also to the University staff who were involved in the donation decision and transfer; Sammy Jordan for liaising with the BBC and University; IAS Medical for everything; the Iraqi Cultural Attache for their visit to the hospital on Friday; hospital staff in Iraq for their help overnight on Saturday; the GoFundMe support and communications teams for speedy help and advice; Bristol Ambulance Service, the Signature airport ground staff and IAS flight crew for their patient and reassuring professionalism, Andrea Rayner for wisdom and support and, finally, Team FC for standing strong beside me, Areej, Ahmed and Ali throughout the last year.

Thank you.


❤️
SUNDAY 4th NOVEMBER 2pm GMT
Areej is doing well and has been reunited with Ali. They are without internet at 
the
 moment, but will send some pictures over as soon as possible. Thank you for all the good wishes and support. Here are a few pictures from yesterday morning.


SATURDAY 3rd NOVEMBER 12pm GMT
They are on their way home. We did it ❤️

THURSDAY 1st NOVEMBER
 WE DID IT!!

Aiming for a flight on Saturday - just finalising paperwork and arrangements. A message from Areej and Ahmed:"Thank you for making our dreams come true and for the reunion of our family. Without your generosity and help, we would not be able to do that. God bless you all and may God give you all peace and most importantly, good health. We will always remember you in our hearts and prayers and the kindness you have shown us."A message from Deborah:I know I am not alone in my amazement at the response to Areej's situation. To watch the total go up by the minute throughout the day yesterday was overwhelming! I feel united with sisters and brothers around the world - from Southampton to Saudi Arabia - in friendship and support for our dear friend Areej and her family. As we are now well over the total amount needed for the flight, I have closed the donations (as advised by GoFundMe). I am liaising with the flight company about logistics, who are being extremely supportive, and hope to have more information soon about when Areej will fly home.Thank you.
Thank you to @BBCNews and @edwardjsault for the sensitive and moving interview with Areej and Ahmed. * * * * * * * * * *EDIT - WEDNESDAY 31st October 1724 GMTUnbelievably, it looks like we may hit the target amount needed to pay for Areej's medical flight! Amazing! I never thought I'd have to write this, but in the event that we raise more money than is actually needed for the medical flight, we will give every bit of cash that is left over to Ahmed and Areej to pay for medical care back in Iraq, supporting Ali through school, other medical, personal and practical costs, etc.  Thank you for your support.Headline
Areej has has secondary breast cancer that is now in her bones, lymphatic system and lungs. It is progressing rapidly. Due to visa/sponsorship issues, her husband and 8 year old son had to return to Iraq a few weeks ago. I am trying to raise funds to pay for a medical flight home so she can be with them and her wider family, having explored and exhausted all other options.
About Areej
Areej has been in the UK since 2013, studying for a PhD in linguistics at the University of Southampton, along with her husband Ahmed. They have an 8 year old son Ali, who has been at Highfield school since Year R. They were sponsored to be in the UK for 5 years (ended September). Areej is one of the kindest people I know. She is hopeful and faithful and optimistic. She is a really good laugh and her hospitality is boundless. She has become more than a good friend; she is like a dear sister to me. 
Areej, Ali and Ahmed earlier in the year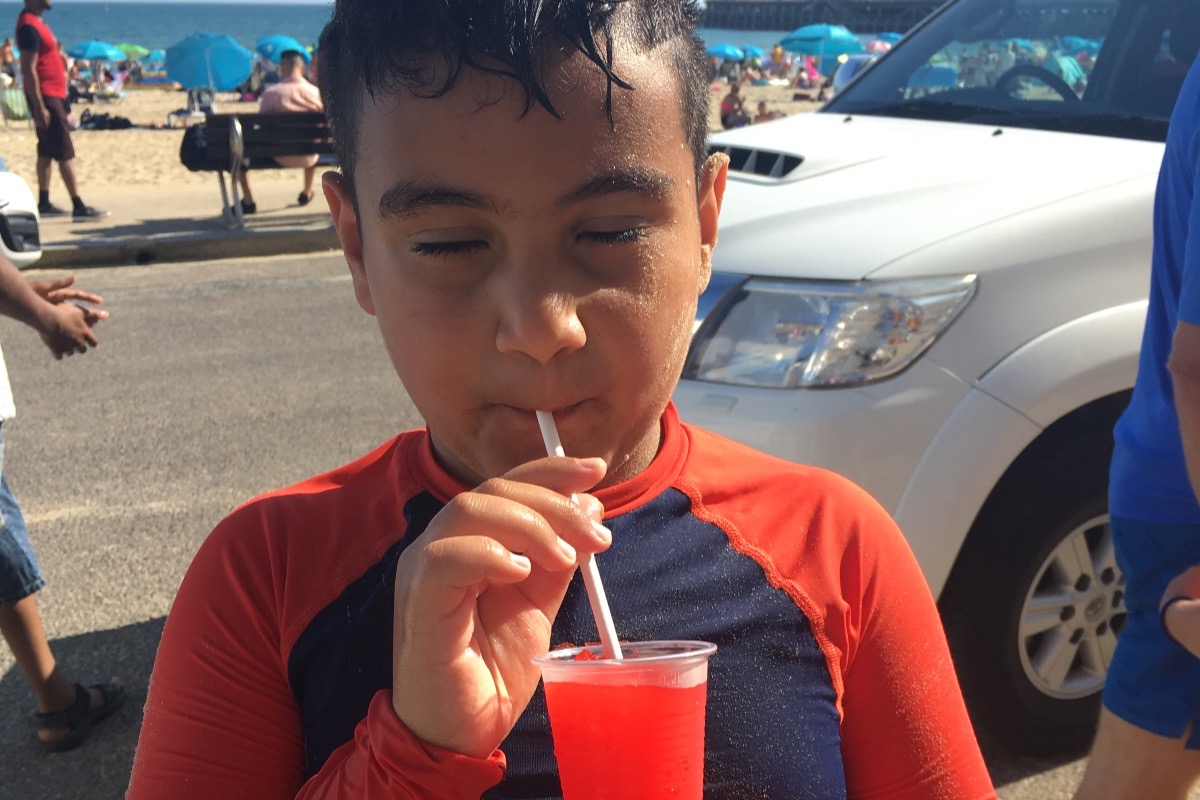 Ali, 8 years old, pictured here in the summer in Bournemouth, now in Iraq
Areej a couple of weeks ago when she was able to get outside at the hospital  


Ali saying goodbye to Mummy before going back to Iraq
About Areej's condition
Areej was diagnosed with secondary breast cancer in February of this year. It has metastasised and is aggressive. Her condition has worsened significantly in the last few weeks and there is no more medical treatment available to her, apart from palliative management of her symptoms. She has pleural effusion (cancer in the lining of the lungs) and breathing is becoming more difficult each day.
Getting Areej home to Iraq
Areej's wish is to get home to Iraq to be with her family. Her husband has managed to get back from Iraq to accompany her home and the aim is to do this as soon as possible. Until yesterday, we were still hoping  and trying to plan for taking a regular flight to Iraq next weekend (along with oxygen, medications, etc.). However, as Areej's condition has worsened, her entire medical team are in agreement that she is too unwell to fly on a regular flight and that there is a high risk of complications or death. 
The only option remaining to us is a medical flight, which we would have to fund privately.
I have contacted countless air ambulance services and charities to see if there is charitable funding for situations such as these, and I have not had any success. Most of them suggested that we try crowdfunding - so although we are conscious that it is a massive amount of money to raise in a short space of time, if we don't try then we will never know.
The best quote I have found is £56538.00

As Areej is getting more poorly every day, we need to get the flight booked as soon as possible. I would like to raise this money by Thursday 1st November, so that we can book flights and get her home by next weekend.
Other ways to help
I understand that you may not have any money to donate - but is it possible you could help in another way? Here are some ideas I've had:
- share on social media
- are you twitter savvy? would you know how to get this to the attention of someone well-known who could publicise Areej's situation?
- do you know anyone in the medical flight industry who may be able to help?
- do you know anyone at the University of Southampton who could help?
- do you know any Imams / Mosques / other faith communities who would be willing to support Areej and her family with a financial donation?
- does anyone have links to people involved with Stand Up 2 Cancer? would they help?
- could you improve what I've tried to explain on this gofundme page? (not sure if I've included all that I should, or put too much).
The small print
I'm trying to raise the exact amount needed to cover the medical flight and every pound raised will go directly towards that.
Gofundme charge a payment processing fee of 2.9% plus 25p per transaction.
In the event that we don't raise enough, or that Areej becomes too unwell to take even a medical flight, my default option will be to refund whatever you have given unless told otherwise (e.g. if you wish to donate to her other medical expenses or husband's flight / rent costs or son's schooling, etc., I can pass the money on to them towards those).
Refunds have to be done through GoFundMe and may take up to 10 days. I'm not sure that they refund the fees.
Thank you for anything you can do to help.
Organizer
Deborah Fulcher Cornah 
Organizer
Osborne Road North, Southampton