Miss Massachusetts World America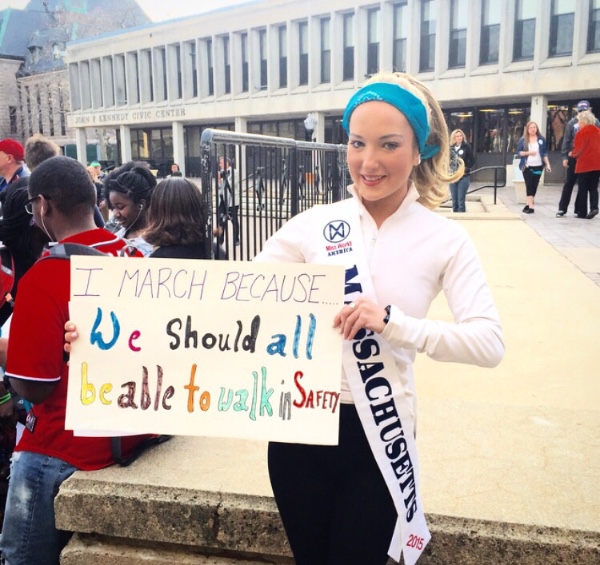 My name is Maude Gorman, and with extreme gratitude, I am excited to announce i am a contestant for the title of Miss World America 2016. 
I am 22 years old, and currently entering my senior year at Stonehill College, where I study Communication and Anthropology. I serve full-time with Americorps and dedicate over 60 hours/week towards helping low-income, first-generation students in the Boston Public Schools get into college. 
As competition approaches, financial assistance is crucial in my ability to compete and I ask you to consider supporting me in this journey. Right now, I ask for your help in covering the cost of my entrance fee ($1750). 
Through the Beauty with a Purpose initiative, I've had the honor of representing my beauty with a purpose project of spreading sexual assault awareness throughout the nation. 
I've had opportunities to speak at several violence and trauma healing conferences; including the new directions in violence prevention conference, the international battered mother's custody conference, the trauma hope and healing conference, the National Organization for Victim Assistance Conference, as well as the End Violence Against Women International conference. 
While not attending conferences for professional development, I serve as the Youth Ambassador for the Center for Hope and Healing's Youth Access To Support Services (YASS) program and volunteer as a certified rape-crisis counselor and medical/legal advocate. 
Continuing, as shelter has a direct role in violence prevention, I work as the official spokesperson on behalf of Habitat for Humanity of Massachusetts and diligently work on build-sites across the state. 
In addition, I've volunteered as a public policy associate volunteer for the National Alliance On Mental Illness through the Greater Boston Consumer Advocacy Network at the MA Department of Mental Health. Have worked with Casa Myrna, Save our Streets Boston, Jane Doe Inc and was appointed a Local Ambassador for the international non-profit networking organization Atlas Corps. 
Should I win the title of Miss World America, I would only further my work in service, as that is what being Miss World America truly means.
From victim to
survivor,
Maude Gorman