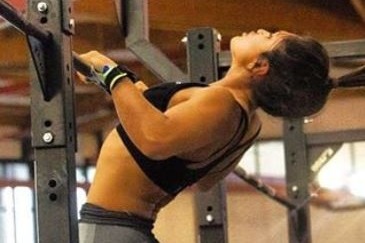 PT (EN bellow)
É com um orgulho que não cabe no peito que partilho convosco: eu me classifiquei para os
Reebok CrossFit Games de 2019
!!!!!  Muita gente não faz idéia de quanta dedicação e trabalho estão por trás da realização deste sonho de representar a
Bolívia
, meu país natal, e
Portugal
, meu país de coração, nos Games! E isso é apenas o começo! Ainda estão por vir imensas horas de treinos e cuidados para estar pronta e encher minhas nações de orgulho.
Mas, para este sonho se tornar realidade,
preciso de ajuda
.
 Tenho pela frente um imenso investimento, desde a inscrição nos games, Visto Americano, passagens, alojamento, alimentação, equipamento, etc. Infelizmente para isso, vontade e dedicação não são suficientes... e peço a sua ajuda! Qualquer doação é extremamente bem vinda e muito apreciada.
Já deixo aqui um grande
OBRIGADA
a todos vocês que fizeram, fazem e ainda farão parte da caminhada #RoadToTheGames. Prometo dar tudo de mim!
Por favor, partilhem também esta campanha GoFundMe com todos os vossos amigos e nas vossas redes sociais.
Muito muito muito obrigada!
PS – qualquer dúvida ou dificuldadepor favor falem comigo pelo do meu Instagram (@marthikaberrocal.09)
IBAN: PT50 0035 0145 00000694300 66
Quem quiser usar Mbway, ou qualquer outra via, por favor me mande uma mensagem!
 OBRIGADA!EN
It's with great pride that I share something amazing with you: I qualified for the 2019 Reebok CrossFit Games !!!!!
Some people have no idea how much dedication and hard work lies behind the realisation of this dream of representing Bolivia, my native country, and Portugal, the country my heart chose, in the Games! And that's just the beginning! There is yet to come many hours of training and care to be ready and fill my nations with pride.
But for this dream to come reality, I need your help. I have an immense investment ahead, from the registration fee in the Games, American Visa,  air plane tickets, accommodation, food, equipment, etc. Unfortunately, for this, will and dedication are not enough ... and I asking for your help!
Any donation will be extremely welcome and much appreciated.
I leave here a great THANK YOU to all of you who has become a part of my #RoadToTheGames journey. I promise you I will bring it up! Ever fibre of my being! 
Please also share this GoFundMe campaign with all your friends and on your social medias.
Many many many thanks!
PS - any doubt or difficulty please speak to me about my Instagram (@ marthikaberrocal.09)
IBAN: PT50 0035 0145 00000694300 66
Anyone who wants to use Mbway, or any other way, please send me a message!
THANKS A MILLION!