Emergency housing expense to hold off foreclosure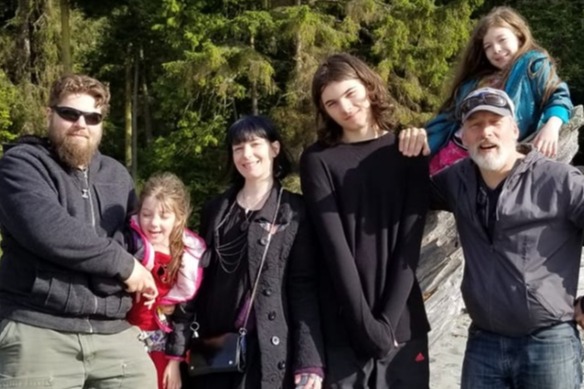 Due to medical issues our family is trying to stay one step ahead of losing our house. We (my expectant wife, my three children, and myself) will be attempting to sell our home in March, but need to come up with funds to pay our mortgage in order to stave off foreclosure during this process. 
Where to begin...
 Well, I guess I will begin with what I wish I was writing. I wish I was writing to ask for help with an artistic endeavor (of which many are currently on hold, Including but not limited to the first draft of a 100,000 word manuscript) or a budding entrepreneurship, but unfortunately I am here requesting help in keeping that which is the most basic of human needs... a roof over my family's head.
Adventures in medicine...
For the most part my family has been able to keep ends met, until I became sick that is. In September 2016 I started to suffer extreme pain every month, this pain came in waves and with bouts of fatigue which kept me from functioning the way one normally does. To come to some semblance of a diagnosis I worked closely with my doctor and her medical team, unfortunately that diagnosis came with more questions than it did answers, "fibromyalgia". (And further diagnosis that turned out to be more than just fibromyalgia, but I'll get to that in a minute).
In May of this year, after complaining about stomach discomfort, my doctor found lumps in my colon, thankfully after surgery and removal of these lumps they were determined to be precancerous, though I am not out of the woods yet. Within the next six months I will still need to have another operation, to make sure there is no new growth. My Gastroenterologist also found that my gallbladder was not functioning, thus this summer I had to have it removed as well. To add to these two concerns my thyroid has a lump that has been steadily growing for the last two years and my doctors are concerned that this to will also require removal.
On top of these medical problems, someone absentmindedly rear-ended me at a stoplight causing a back injury (I now have scoliosis due to impact injury), which still has not yet resolved as I have not been able to start physical therapy due to the healing time for the aforementioned surgeries. So, in short, I am a mess. 
Fighting the corporate Dragon...
Since I've gotten sick my wife has been the sole breadwinner. Though we had been able to keep up with all of my medical bills we were in danger of falling behind with our mortgage company, it was at this point my wife and I started to work with our lender get some financial relief. Our mortgage company had a forbearance program which would allow for us to get some breathing room, all the required was that we stop paying and submit Financial and medical documents to them. As per their request we stopped payment and submitted all paperwork and documentation, almost immediately getting stuck in a feedback loop where they would ask us for the same documents over and over claiming they had never received them. What we did not know was that while we were attempting to take the forbearance program our mortgage company was dual tracking us for a foreclosure. Thanks to friends, family, and the Northwest Justice program (and a long negotiation process) we were able to successfully fight the foreclosure and renegotiate a contract... Unfortunately, this renegotiation ended with us forced into a 5% rate (Increased from 2.8) and a new mortgage nearly $1000 a month more than our original payment scheme. The increase was simply more than we could afford, we had no choice but to put our home on back on the market. 
A miraculous and beautiful obstacle...
Here's where things go from being unfortunate to just sort of comical. Out of nowhere, and though the proper precautions were being taken, my wife and I found out that we are set to have our fourth child. If I am anything, a writer, a photographer, an artist, what I am most is a father and loving husband. I regret that this child will be born into turmoil, but if they are anything like their siblings, they will be nothing short of a gift to this world. The pregnancy however has been incredibly difficult on my wife, so difficult in fact that her doctor thinks she may have to go on full disability (until birth) starting January, possibly February 2020. Fortunately, my wife's company is understanding, and her job is secure. 
The beginning of the end...
In the time since agreeing to the mortgage company's new rates we have saved, begged, and borrowed to keep the plates spinning, plates that are now wobbling and in danger of tipping right off their spindle.  We attempted to get our house sold quickly, having put it up on the market in May, but because of my surgery we had to pull it down and reinsert it in September. As anyone who has been keeping an eye on real estate knows, From July to November 2019 there was a sudden downturn of the WA housing market. It wasn't so much a matter of our house being rejected, as much as there simply weren't as many people looking (even listed at a price under the regional market) ... But there was a light at the end of the tunnel, someone saw the potential in our house and made an offer. My wife and I were elated, we immediately started making plans, she got a job across the country in an area much cheaper than Seattle Washington, and I had a few stay-at-home jobs lined up. We passed the first inspection; the inspector was certain that financing would not be an issue... Until, four days before closing, financing completely fell through. As a result of the buyers having to back out My wife lost the job (Fortunately she had not yet given notice and was able to keep her job here) and we were back at square one. 
Low on gas and out of options, our plan now...
We've made it this far, and with the gracious help of friends and family, who have pledged their skills and labor to help us lightly remodel the house (i.e. fix the ugly) we will reinsert it back onto the market during peak buying season, it's getting to that buying season where you, gentle reader, comes in. The mortgage company is nipping at our heels, we have exhausted every resource, we have tightened our belts, we have sold belongings, and yet we are still not quite across the finish line. We are asking for help with the next two months mortgage (January and February) if any more than we are asking for is pledged it will go towards prepping the house to be inserted in March and keeping us from going into foreclosure during the sale process. Fortunately, the house has a good foundation, good electrical, good roof, nice plot of land, perfectly functioning septic system, and perfectly functioning utilities, it just needs light remodeling in order to entice buyers. we are in a buyers' market, just outside of Seattle, and we (as well as our realtor) are certain that the house will sell quickly once the minor cosmetic issues have been addressed. 
Times have been hard...
In a perfect world we would not be forced to sell, but it's better to leave than be forced to leave. This Christmas will be especially hard on our children, everything we own is in storage, our children occupy empty rooms and a hollow house, devoid of decorations, but they are patient and resilient, never ceasing to be excited about the next adventure. And with your help we will make that next adventure happen. 
Thank you for taking the time to read this. If you can help financially, we thank you. If all you can give are thoughts and prayers, we thank you just as much.
Donations

Organizer
#1 fundraising platform

People have raised more money on GoFundMe than anywhere else. Learn more

GoFundMe Guarantee

In the rare case that something isn't right, we will refund your donation. Learn more

Expert advice, 24/7

Contact us with your questions and we'll answer, day or night. Learn more