Love for Joanie Giangaspro
As everybody knows by now, my mother, Joanie has been placed under hospice care. This has been an extremely hard decision for my sister and I.  Dealing with death is never easy, regardless of circumstances but watching our 
mothers life slip away is even harder. But let me start with her story and how we ended up where we are today. On June 26, 2018, I received a phone call from my mother's
girl friend
, Brooke, saying she had found my mother on the floor laying in her own feces and urine, unable to move and her body was very tense (according to her friend). My mother was staying with this older, male, friend of hers who failed to report or seek medical attention for TWO whole days while my mother laid on the floor in this condition. Brooke was the one who had to call an ambulance because her male friend said: "Ohh, she'll snap out of this." Meanwhile, this is the same man who had another woman (in her 30's) die in his house a month earlier and he didn't report it either. That woman laid dead in his home until her mother came to check on her and he answered the door saying "Ohh I think she is dead." They were awaiting autopsy results for her but until then the cause of death was a stroke. My mother also had a severe right-sided stroke and anoxic brain injury (brain deprived of oxygen) that left my mother in a comatose state for over 3 weeks. (I will mention that when I got to the ER to see my mother, her blood pressure was around 206/164 and the ER had not addressed this. Her first CT scan was clear.) During that time she was on a ventilator and a trach and feeding tube was placed to sustain her life. All of her movements were involuntary and although she would periodically open her eyes she would not track anyone. Her pupils were also non-reactive. After 3 long weeks of this, I met with a hospice nurse to discuss our options. Low and behold, a couple days later my mother was suddenly opening her eyes and tracking (following) everyone who was in her room. She would light up and smile at everyone. She would blow kisses and wave and even able to walk with a walker with the assistance of a Physical Therapist. She was also feeding herself her own meals, very slowly of course due to her weakness and limitations caused by the stroke. Due to lack of insurance and the application of Medicaid pending for months my mother has spent the past 3 months in the hospital because she could not be placed in a rehab or nursing facility until Medicaid was approved or if a facility accepted a charity case. During Joanie's stay in the
hospital
she had multiple seizures and even a fall after being left in a chair, unsupervised. She also had aspirating Pneumonia as swallowing can be difficult after a stroke. In the past month, Joanie has been declining neurologically and no longer able to walk, smile, or feed herself. Any time we would be visiting she only appeared to be in distress, with facial grimacing and constantly kicking her legs all over as if she was extremely uncomfortable. This leads my sister, Samantha, and I to come to the final decision of hospice care to keep my mother as comfortable as possible until she naturally passes away. 
Joanie may have not made the best decisions in life but everyone knows that she had a HUGE, loving heart! I know there is nothing that she loved more than her kids and grandkids. Xavier, her grandson, has been the closest to her over the past 10 years of his life. She would do ANYTHING for him. They had a bond that is impossible to break. No matter what my mother had going on she was there for him, picked him up from school, visit him during lunchtime at school, took him and all of his friends swimming at the Rec center and to the park all of the time. If someone picked on him at school then my mom would go there herself to directly speak to the child picking on him. Joanie gave him everything she had to offer and she always said that he was her reason for living. She spoiled him rotten, Akai as well. Joanie was so excited to finally have a granddaughter but she will never get to play with her now or show her the love she had to offer. Watching Xavier feel this pain of losing his grandmother, best friend, is even harder than the pain I am feeling myself over losing my mother.
I do not want anyone to feel obligated to donate anything as we all know times are rough for everyone but if you do decide to donate we would be extremely appreciative. My sister and I have had to request a lot of time off work and traveling back and forth has also been costly. And during all of this, I have had to try to find joy in bringing a new life into this world, which also required me to be off of work. My sister and I are trying to make ends meet and not even sure how we will be able to afford any kind of funeral or service for our mother. Joanie's wishes were to be buried with a burial site so people could visit but that just won't be possible. Cremation is the cheapest option and that is what we will probably have to decide on. And even that is going to be hard for us to find the funds for. Creating this account was already extremely hard for me to do as I am not one who likes to ask others for help, especially when it comes to finances. Please know we will be extremely thankful for anything anyone has to offer, even a shoulder to cry on. 
If anyone would like to visit Joanie in the hospice facility then feel free to contact me for more information. 
Thank you. <3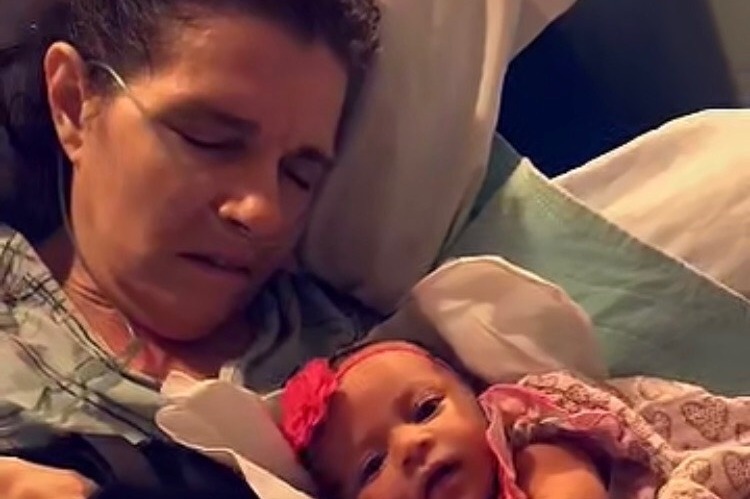 Organizer
#1 fundraising platform

More people start fundraisers on GoFundMe than on any other platform. Learn more

GoFundMe Guarantee

In the rare case something isn't right, we will work with you to determine if misuse occurred. Learn more

Expert advice, 24/7

Contact us with your questions and we'll answer, day or night. Learn more