Building healing space infrastructure on our land
Living Collective
is a decolonial coalition rooted in care, symbiosis, and visions of liberation as habit, not destination.  We nourish ourselves through art-making, sharing ancestral healing practices, raising our collective political consciousness, and cooking, eating, & laughing - together. 
From this place of collective care,
we are seeking to build a new community ecosystem; a place for the mind to exist. 

We currently own
5 acres
of land in Southern Arizona (near occupied Tohono O'odham territory) and are seeking to build a
community regeneration center
. A place for immersive art installations, workshops, residencies, and educational programming centered in
holistic wellness, regenerative farming, multimedia art-making, self-defense, and critical thinking.
We believe that concentrated focus in these areas of experience, through ongoing collaboration and network building, can create vital offerings to the landscape of decolonial possibilities. 
Between the three of us, we are gifted with years of experience in permaculture design, construction, photography & video production, performing & visual arts, curriculum development, youth education, and various healing modalities passed down from our families and cultural communities.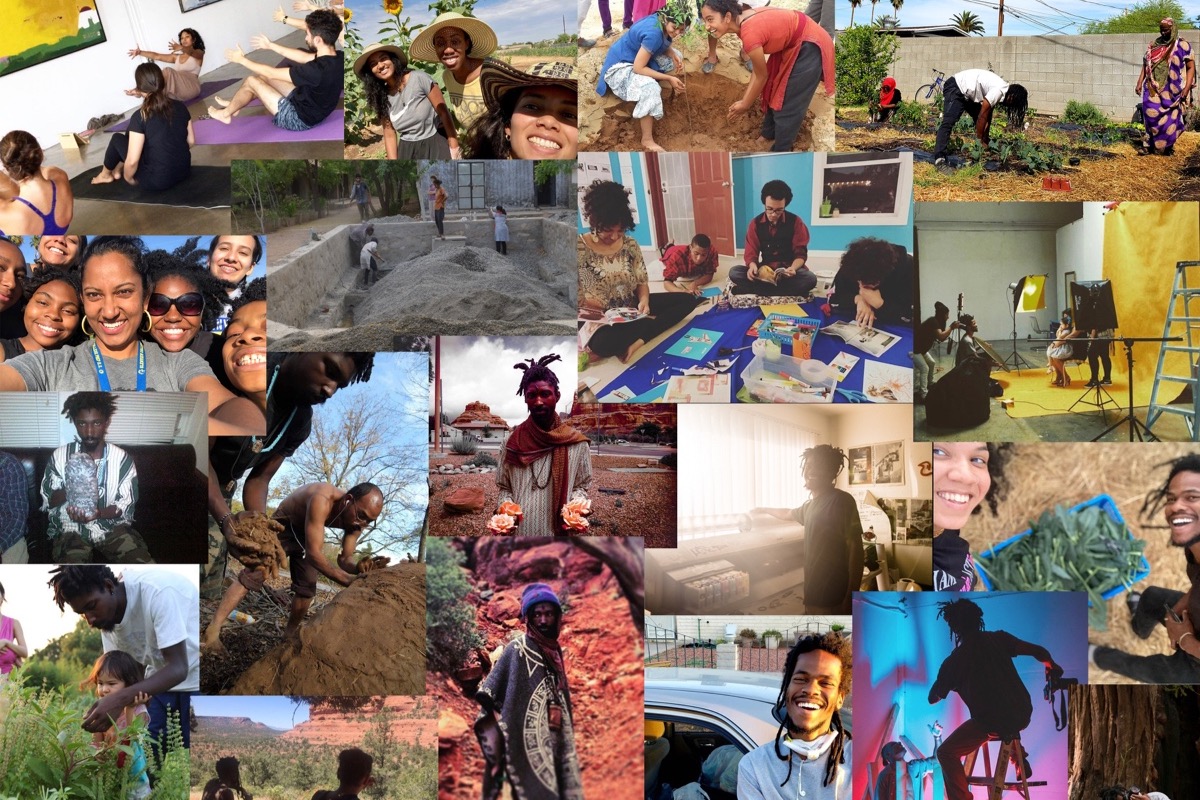 Since meeting the land and beginning our building journey, we have watched the Coronavirus pandemic drastically effect future possibilities. COVID-19, like any public health crisis in this settler colonial nation, has been weaponized against poor people of the global majority here & abroad. The effects of economic collapse, environmental degradation, and ever-intensifying military state violence will continue to wreak havoc on the people and places most exploited by capitalism.
It's with this urgency that
we have acquired land, basic building materials, and a mobile home
to begin building alternative and liberated space for Black & Brown folks to
rest, heal, and build power.
With this foundation, we now invite our community to participate in crystallizing the next phase of Living Collective. 
Since regenerative farming is a cornerstone of the space we're building, and a new planting season is approaching, by
January 28th 2021
we're going to start implementing our
permaculture designs
that will allow for not only the ongoing regeneration of the ecosystem at large, but also open up the pathway towards
food sovereignty
,
a wholistic healing practice
, and sow the seeds of
a self sustaining solidarity economy
to fuel the space after these initial investments. 
Your financial contributions will support our continued acquisition of supplies for infrastructure i.e.: 
- water supply & irrigation
- sustainable building materials
- transportation support
- native and ancestral seeds & soil amendments 
- specialized farming tools
- storage etc.
Your financial support will also be used for the foundation of our various new & ancient economies:
- an herbal medicine CSA and education programming
- wholesome merch (lol)
- pasture raised eggs & produce for exchange
Maintaining these various streams of revenue will allow us to offer free & low cost educational experiences (in-person /virtual) for young people, families, and other healers, artists, and thinkers interested in decolonial visions of liberation.
The need for the space we seek to build has been urgent. Conditions in the "American city" are built on anti-Black, anti-indigenous, capitalist oppression, and will continue to become more and more hostile. In the face of that reality,  we see our project as a necessary act of survival for the people we care about. We believe that the rest & rejuvenation required for a liberated future can only flourish in community, with the blessing of open sky, clear air, & loving harvest.
Keep up with the journey on our
Instagram