My grandson Liam was born with a  disease called Myotubular Myopathy. It is an extremely rare debilitating type of Muscular Dystrophy in which the muscles have never developed. Liam is now twelve years old, about 130 pounds, and he has no use of his muscles at all. He is confined to a wheel chair and he is permanently on a breathing tube and a feeding tube. It is very difficult to lift him because of his weight and his equipment. He needs constant 24x7 monitoring to suction his airway when it becomes clogged. When this happens it can be life threatening.
My stepson Scott and his wife Ora have done an amazing job of taking care of their son. They do have some nursing support but Scott stays home with Liam because it takes two people to lift him to make sure the tubes stay in place while keeping his head steady. Also, if a nurse calls in sick or can't get to their house because of storms or other conditions, Scott has to be the backup and stay up around the clock to fill in. Scott and Ora give Liam the very best care when it comes to participating in the world. He attends a collaborative in the morning with his nurse. Scott and Ora take him to movies, go "camping" in a tent in the back yard, read to him, do activities with him, and take him to family events as well as public ones.
Ora is legally blind but is still able to work as a physical therapy assistant. She works per diem in three different places: Malden, Dorchester and Lynn. These are all part time jobs, and as a result, Ora is unable to receive insurance for herself and Liam. Also, because they are part time, there is no guarantee of long term job stability. Ora is unable to drive because of her poor vision and usually spends two hours each way to commute to work.
The family has one vehicle, a ten year old full size handicapped van which is in need of significant repairs.
They currently have a sizeable mortgage on their small condominium which is in a four unit converted house in Quincy. They are cramped for space with all of the equipment and supplies they need to take care of Liam and are in need of a larger living space.
Liam has been on Mass Health and SSI for many years. The state is now threatening to take away his Mass Health because Ora makes too much money. Since she now makes more than $2000 a month (which is still low income), the state is changing Liam's eligibility and his insurance plan.  Many of his services are only paid for by Mass Health and they are vital to Liam's life. The expenses for supplies (vents, suctioning equipment, tubes, chucks, diapers, medications), which he constantly needs, are considerable. Liam loses a lot of his services during these transitions and at times Scott and Ora have to pay for his insurance or suppplies out of their own pockets. They also have to pay for personal expenses every time they take Liam to Children's Hospital, an average of once a month. They have considerable personal debt. Scott and Ora should not have to fight this battle and struggle financially.
Whenever Liam gets sick, which can happen frequently, Scott and Ora take him immediately by ambulance to Childrens' Hospital which always gives him the very best of care. Recently Liam needed to have his gall bladder removed because of persistent pancreatitis. The hospital had to reschedule the operation three times due to the complexity involved. Whenever Liam is in the hospital one or both parents stay overnight with him. The care they receive at Childrens' Hospital is part of their lifeline to keep this child alive.
In addition to all of their other challenges, the family is in serious need of new living quarters. Liam will soon outgrow his wheelchair. His current wheelchair is just barely able to make it through the doors of their small condominium in Quincy.  The family has outgrown the space in their living quarters and will need to find a larger house  where they can have the proper space to take care of Liam as he grows. They need assistance to raise money for a down payment so they can begin their search for a larger home, compatible to Liam's needs. Once they have found one, they will need considerable funds to equip the house with hoyer lifts, highly specialized handicapped bathrooms, bedding, and other special modifications that Liam will need in his living space to live an active and interactive life..
Scott and Ora have never asked for any help in the past. When asked what they want for Christmas, Ora and Scott say to "just make a donation to charity in their names." Scott has an interest in setting up a foundation to help other families with special needs in similar situations.
Scott and Ora need  your support to make sure they can continue to keep Liam at home. Please help this worthy family make a better life for themselves and their special son.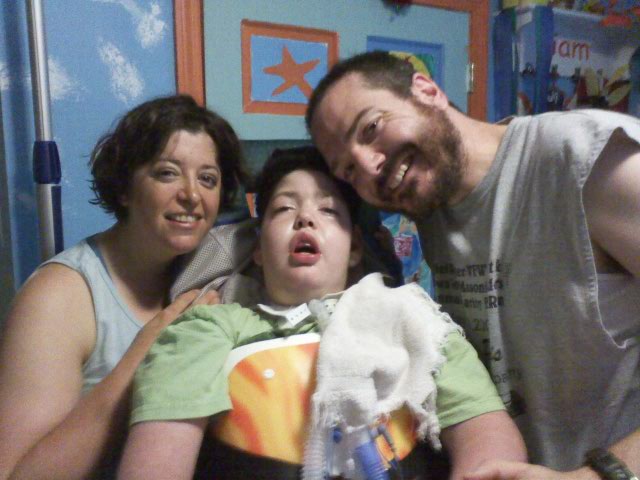 Donations

Organizer
#1 fundraising platform

People have raised more money on GoFundMe than anywhere else. Learn more

GoFundMe Guarantee

In the rare case that something isn't right, we will refund your donation. Learn more

Expert advice, 24/7

Contact us with your questions and we'll answer, day or night. Learn more