Let's Get Caroline Cruising
I would like to introduce Caroline Hill.  Likely if you asked her to describe me she would likely say, "She's my mom's friend who never stops talking."  I will try to keep this brief!!
Let me tell you about Caroline because I love her and she inspires me.  Last week was her 13th birthday!!  She was born at 26 weeks and spent her first 11 weeks at Blank Children's Hospital.  At her 6 month checkup, her doctors informed her parents and family that there was a suspicion of Cerebral Palsy, as with many preemie babies.  A MRI confirmed this and since that news Caroline has undergone 22 surgeries and persevered through all of the necessary recoveries, with the attitude of a champ and support of her family. 
This week, she will begin 7th grade at Riverbend Middle School just like her peers, but unlike them, she is confined to a wheelchair or motorized scooter and spends countless hours per week at PT and exercising at home.  Her family's goal is and always has been to provide her the best life possible, even if that means they make sacrifices.
When Caroline was younger she had a three wheel cycle that gained her much independence and brought her much joy, but she has outgrown it.  It was amazing therapy for her muscles, yet fun for her.  The time has come for her to shop for an adult sized bike.  The bike that they are looking into can also be converted into a piece of exercise equipment for indoor use to strengthen her muscles year round.   We all know that manufactured things have smaller price tags and when we need specific things, we usually pay more; however, the price for a custom bike made for her is well into 4 digits. This broke my heart because I think every kid deserves a bike, not to mention the ability to move and stretch their muscles. 
In a recent conversation with her mom, about the switch to Middle School, I learned that they had submitted a piece of medical equipment for her personal transferring to their insurance and to Caroline's supplemental insurance and the equipment request was denied from both companies.  This would provide her both privacy and self-suffiency.    
The out of pocket cost for these two items is very close to $10,000.00.  I want to make this possible so she can have the privacy that every junior high girl deserves and the independence that everyone desires. 
I will link the websites to both pieces below so that you can see exactly what we desire for Caroline.  I'm getting involved and asking for your help to Get Caroline Cruising!!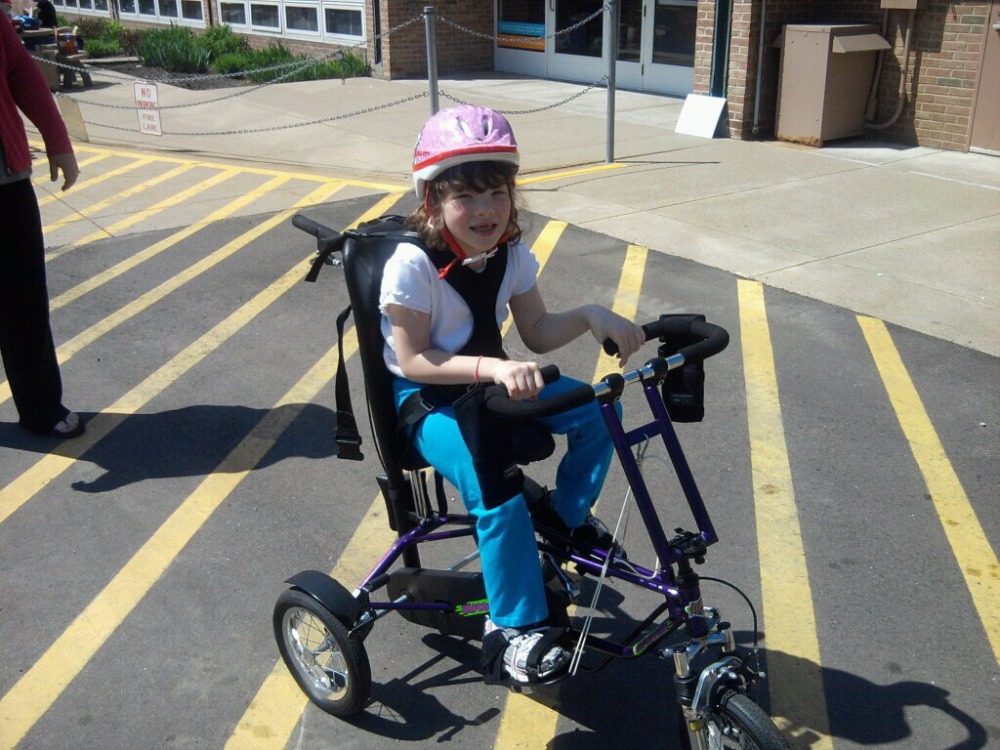 Organizer and beneficiary