Fight Animal Cruelty Happening In Our Backyard!
THE CAT SQUAD RESCUE GROUP
 is currently engaged in a legal battle of 3 (
THREE!
) cases of
SHOCKING
 animal abuse. Just ONE of these sagas would upset any humane, caring person. What is even MORE disturbing is that often local government, police and the SPCA are not facilitating proper rescue protocols, look the other way and not enforcing local laws.
 THE LAW IS ON OUR SIDE
To fight this inequity, The Cat Squad has executed FOIA ("Freedom Of Information Act") requests, filed a formal complaint with the Westchester County Supreme Court and hired a legendary Animal Rights lawyer. All of this we do with with modest funds from small donors.
But the legal fees are adding up.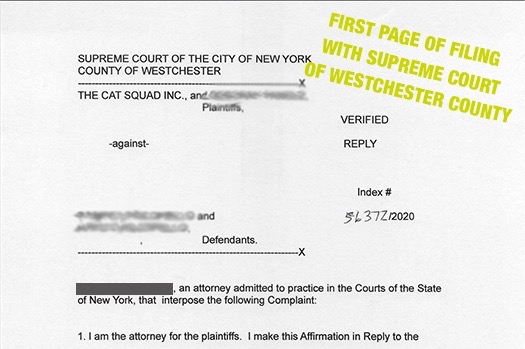 OUR FILING WITH THE SUPREME COURT OF THE CITY OF NEW YORK WESTCHESTER COUNTYMORE ABOUT THESE CASES

CASE NUMBER ONE - "LUNA" - White Husky Tethered for 7 Years:

Luna is a 7 year old White Husky who has been chained for seven years outside in the Village of Ossining, NY". The owner refuses to take Luna inside. We have video and documentation of her left out and abandoned in 20-degree temperatures and also 96 degree temperatures, sometimes with no food and no water.
CASE NUMBER TWO - OPIE - German Shepherd Tethered for 4 years: 
Opie a 7 year old German Shepard in Hawthorne NY has been chained outside for 4 years. Opie's owner is a hoarder, elderly and often drunk. Opie's "dog house" is not even fit for a rat. Opie is very sweet and gentle. The owner's house is unsafe and has been condemned by the town. Opie doesn't go for walks or go inside. 
CASES NUMBER THREE, FOUR, FIVE, ETC - 13 Cats In A Broken Down Van:
An emotionally disturbed man named Luigi had been sheltering 13 cats in a van near the Westchester County Town Center. Through a difficult summer we have arranged loving homes for every single cat and tried to work to get him to release them. But a Humane Law Officer, who refused to arrest Luigi for breaking New York State animal cruelty laws, surreptitiously maneuvered to have the cats taken to the SPCA. The SPCA (which does euthanize healthy cats that can't be homed) has relocated to a temporary location while their current space is being renovated. This location is not sufficient as it is, let alone recently adding 13 cats,
HERE'S A LINK TO A LOCAL NEWS STORY ABOUT THE 13 CATS STUCK IN A VAN:
http://westchester.news12.com/story/42418929/animal-group-calls-on-police-to-rescue-13-cats-living-in-van
ABOUT THE CAT SQUAD

For over 10 years, The Cat Squad animal rescue group has saved the lives of well over 200 cats, dogs ... and a couple of white peacocks. We work mostly in Westchester County, as well as New York City and Duchess and Orange Counties among other locations.
We partner with respected organizations like The Humane Society, Best Friends, Danbury Animal Welfare Society and The New York City Mayor's Animal Alliance
.
Rescue work is worthy and rewarding. Increasingly, we are being called upon to address incidents of animal abuse and neglect. These situations require tough legal wrangling that makes rescuing a kitten seem like child's play.
Please consider a donation today so we can continue our efforts to not only SAVE animals but fight for their rights to a healthy and safe forever home. 
Organizer
Deborah Pangle
Organizer
Briarcliff Manor, NY