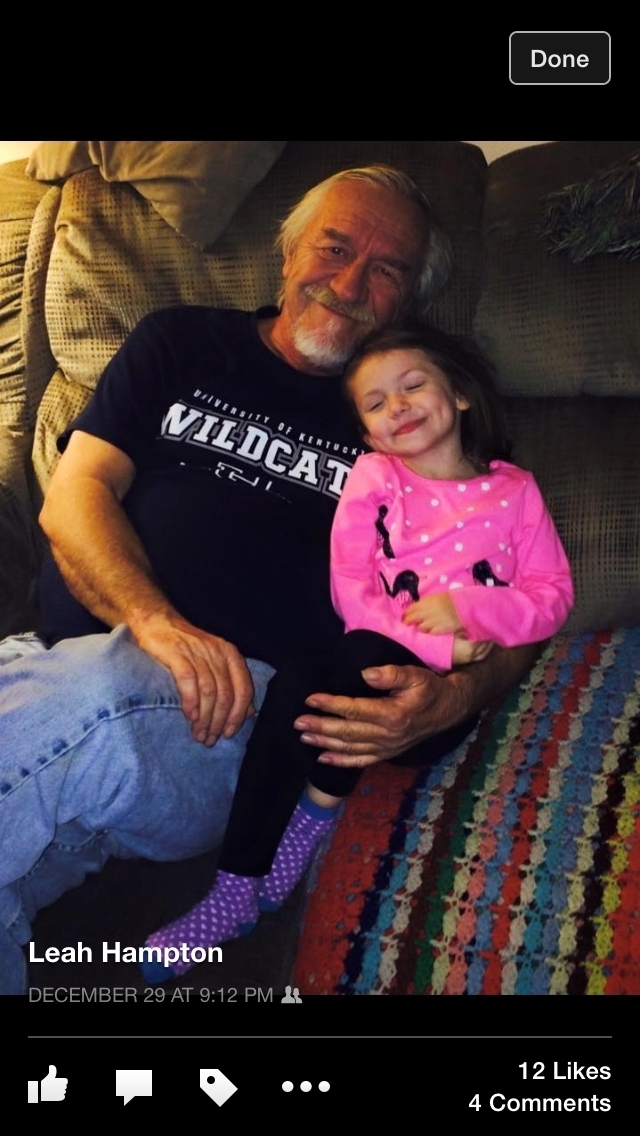 On January 21, 2015, their lives got even worse.
My parents, Joseph and Dahlia H, have worked so hard for my entire life.  As of the beginning of 2015, Mom was working four jobs--sign language instructor at a local community college, program development director for a charity called KY ADAPT, delivering pizzas at night, and throwing newspapers in the middle of the night.  She NEVER takes a day off.  Ever.  My father was let go from a job for unknown reasons about a year ago.  He had worked the same job for many years but his department was being phased out and outsourced overseas.  He finally got up the courage to find a new job.  He was so excited!  He worked one day and was let go.  His old job was gone.  (I personally believe the one-day job release was due to age discrimination.  He obtained the job through a veterans employment agency, and I think the employer thought they were getting a 20-year-old and when my father showed up he didn't fit the bill.)  He took early retirement.  Dad now works with a handicapped adult through Lord's Legacy and acts as that gentleman's caregiver.  He also helps Mom deliver papers EVERY night.  Add to this that I have an older deaf & handicapped brother for whom they have done everything humanly possible and continue to do so.    
On January 21, 2015, their lives got even worse.  My father suffered an aortic dissection on the way back home from their paper route.  It was around 6 a.m. when my father, who was driving, pulled off to the side of the road with chest pains.  He thought he was having a heart attack.  (In retrospect, we all probably wish he were.)  Mom called 9-1-1 and the EMTs came and rushed him to the hospital.  He was taken into emergency surgery after the surgeon explained that he had about a 10% chance to live.  I made it to the hospital just in time to say my goodbyes as they took him into the operating room.  His body was shaking violently, but he was coherent enough to tell me he loved me and I kissed him goodbye.
The surgeon saved his life.  Dad is still with us. Praise God!  I say "Praise God" because the operating room nurse came into work an hour early that day for no particular reason at all and had the OR ready to go way before their first surgery which was scheduled at 8 a.m.  Dad came in the doors and was able to go almost directly into surgery.  It wasn't his time to go.  
However, Dad is still having big problems.  He is unable to swallow and is on a feeding tube.  His oxygen saturation is decent when he is on the BiPAP (with the face mask), but he still needs to be attached to some kind of oxygen or his levels fall to dangerous levels quickly.  I thought he was doing great because he had the lung/chest tube removed from his right lung as well as the tube that went in near his heart.  Today, though, was absolutely awful.  Mom called me in a panic this afternoon while visiting with Dad.  She said that he was talking out of his mind and it was not from medication he is taking.  Apparently, Dad has what is called "ICU Psychosis."  I'd never heard of that.  Basically, he has had a mental break from reality.  I guess the stress to his body and mind has just been too much for him to bear.  He started pulling his tubes and pick lines out and had to be restrained to keep from hurting himself.
Mom is feeling guilty because she can't be at the hospital because she is working her four jobs.  She works four jobs because they are facing foreclosure on their home and she's scared.  We're all scared.  I'm not sure what will happen to them if they lose their house.  The sad part is that with these new medical bills, there's no way in the world they will ever dig out of their debt.  The situation is pretty hopeless.  
Please understand that my parents are hard-working, respectable people.  They live in a house that they bought for about $85,000.  They've just had a rough way to go for the last few years---car wrecks, medical bills (no health insurance because they couldn't afford it), job losses...
I am asking you to please help my parents so that they can return to anything that resembles a normal life.  Mom will end up in the hospital with Dad if she doesn't slow down and quit a job or two.  They are both 65 years old, and you can't work 18 hour days every day.  Please help them get through this.  They won't ask for help.  But they NEED help.  
I can't help but think that part of my dad's latest issue is related to all the external stress he is having in addition to all his health issues.  Mom is so tired and depressed because of all the stress with Dad and their finances.  Please help me provide a little peace for my mom and dad. They really could use a little.

Organizer
#1 fundraising platform

More people start fundraisers on GoFundMe than on any other platform. Learn more

GoFundMe Guarantee

In the rare case something isn't right, we will work with you to determine if misuse occurred. Learn more

Expert advice

Contact us with your questions and we'll answer, day or night. Learn more