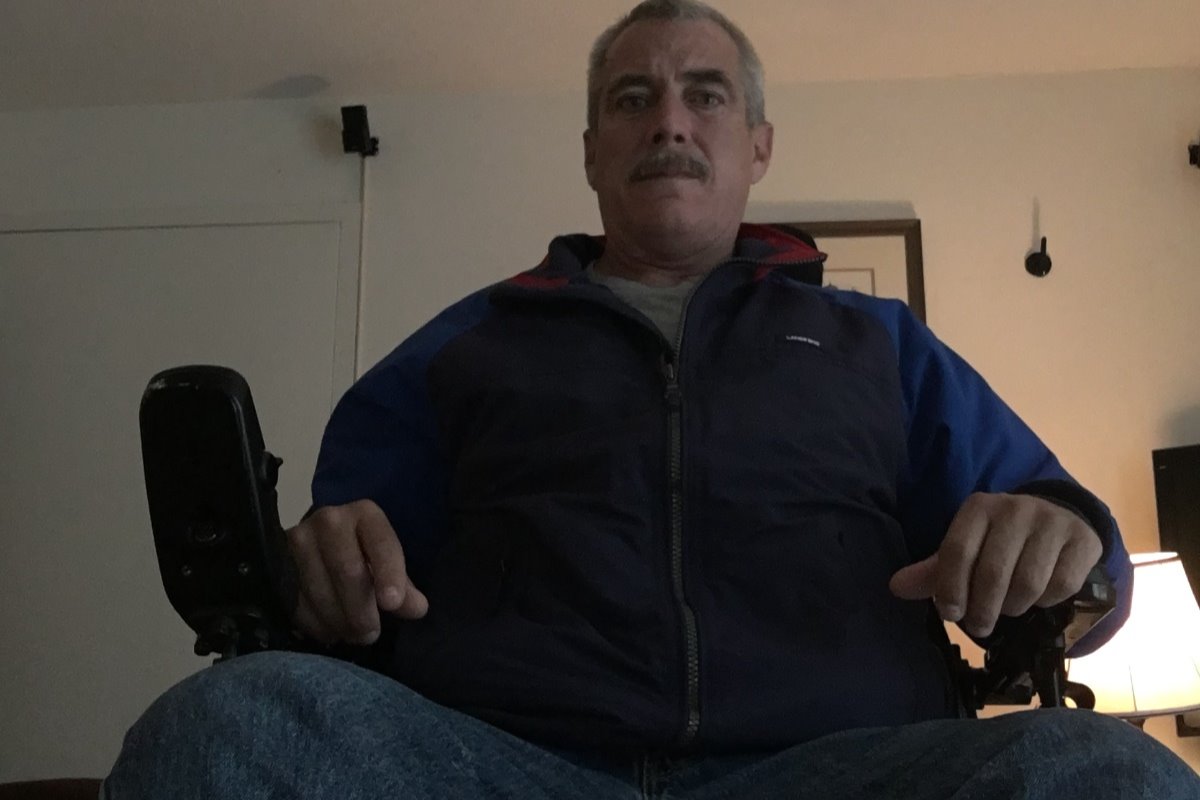 Please help our dear friend, Larry Rousseau make it out to the Cleveland Clinic in Ohio. He has neither the finances to make it out there or much more time with his worsening condition. Larry suffers from several life-threatening aneuryms at the branch of the aorta where this, the largest artery of the body, attaches the entire vascular system to the heart. 

In addition to his living with this frightening congenital abnormality, he also suffers from Lyme's disease, a little understood and controversial diagnosis that often places him and this condition at odds with the medical community that struggles with how to treat this complex condition. Larry has had several complications due to the vascular condition and Lyme's disease which has already effected  him with the lose recently  of his right leg due to his life threatening need to have his heart and Aorta repaired.  
Larry lives on a very tight and fixed income devoting nearly all the remaining income he has--after paying his rent and utilities--to his exorbitant medical expenses. He needs your help funding a life-saving trip to Cleveland where doctors will perform a very risky surgery no other hospital has said they can do with the odds this state-of-the-art cardio team is promising. Larry has told his story below for you to know his full truth if you wish to know more. I encourage you to support this wonderful kind gentleman gain a new lease on his
life.  

Warmest regards,
Larry's medical team
Please help Larry walk again.

_____________________________________________________________________________________________________________________

A comment for support received from Saint Vincent DePaul Of Natick :


The Natick conference of Saint Vincent dePaul has befriended Larry for the past 5 years. Primarily we
helped ensure that he is never without food and has transportation to his many timely medical
appointments. The upcoming expense, for his crucial surgery , is beyond our financial capabilities. As we
continue to pray for Larry's improved quality of life , we also pray for generous donors like YOU that will
come to his financial aide.


_____________________________________________________________________________________________________________________



------ Larry's story:

Hi to all you kind, caring people who are taking a minute out of your own personal time to read my personal plea for help. So that I can have a second chance at life.

With out a doubt this is the hardest thing I have ever had to go through in my life. . I have always considered myself to be a very mentally  strong person who has always tried my best in life to be there for others if I could. And now I am at a place in my own life where I have been hit with medical problems that I am in despret need to reach out to others and try to raise the funds I am in need of to have the surgeries I am in need of so that I can have another chance to keep living. My story is extremely unfortunate and something that no person should ever have to go through but like I have said I have always tried to be a strong minded person and always will try to keep a good positive out look at life. I feel that no matter how difficult life sometimes can get it is extremely important to always keep a good positive outlook about the struggle that we sometimes
are faced with in life. But I am now faced with such serious medical problems that I can't think of a more important factor to help me get through this situation than to keep a positive outlook and to stay strong towards my goal of raising the funds so that I can obtain my needed surgeries. And have a second chance at life.
* #1)  I am so scared of my aorta rupturing. I am not ready to die yet And I certainly don't want to die like my dad that died in his early 60's from the same problem I am faced with. And with your help and with gods blessing I will be able to obtain my medical care that I am in need of. My dad  was aware of knowing about his situation but the doctors at the Cleveland CLinic have told me that There is no reason why my situation has to lead to the same ending as my Dad as long as I have the surgery to repair the aorta when it is needed .And unfortunaitely the time has come that it is needed now. It has been over 5 years of being followed by the Cleveland Clinic Heart and Vascular Center in Cleveland Ohio because  I first went there 5 years ago to see if I might of had the same problems as my dad and when I first went they told me that this problem was something that is usually very hereitary but they said don't worry we will  run some test and let me know and go from there. And that it is not something that a person has to die from. Well the test came back with the same problem but the good news was the anuiseym was not large enough to worry about a rupture and They said they would follow it to keep an eye on the size. So I have done this for the last more than 5 years and it has stayed stable until now.
*#2) I have gone from having one aneurysm on  my ascending aorta measuring 3 cm to now currently  
*#3) Having 3 aneurysms all on the ascending aorta and now over 4.5 cm in size. My condition has changed drastically to the point where
*#4)  Cleveland Clinic  needs me to go back as soon as  possible. 
*#5)  Unfortunately I have been hit with a new serious health problem set back on Feb. 20  I had to be rushed to  a Boston hospital to undergo 4 emergency surgeries because of an ongoing vascular problem in my right leg, which now means I face the  possibility of losing my right lower limb. This may have been caused by the ongoing aorta condition.  
*#6) Well with gods help I made it through all 4 surgeries
 *#7) My aorta problem  has not  given out but it has become a more critical problem and the need for having it repaired as soon as possible has never been greater. And yes I am still dealing with my right limb which I might even lose .But I can live with a prosthetic but I can not live with a ruptured aorta anuiseym on my heart. 
*#8)  Well, I have never needed the help from others more than I need your help now. I need it now more than ever.  I am currently now dealing  with a such   critical medical issues that I should of been out to Cleveland a month ago but I have no money to afford the trip. So I pray and pray and work on trying to find the resources to obtain the medical surgeries  I need and then Hopefully be in a much better situation that I can sometime later this year be able to live my life again without having to worry ever day if it will be my last. 
I need to find a way to take the trip ASAP back to the Cleveland Clinic and have my heart surgery. 
*#9)  My new recent  serious medical problem on my right leg did not turn out well and last week after almost 2 months of healing the right limb has not turned out well  and unfortunately after 2 months my right leg is not able to bear any weight. most likely due to the poor flow of blood from my heart because of my enlargement of my aorta problem.
 *#10)  Last week I had to have a discussion with the doctors about my quality of life and how it has impacted  My life  And how after 2 months  my right leg is not able to bear any weight and so the last thing I ever want to have happen is to lose my right limb but I can live with a prosthetic but like I said I can not lice with a bacd heart.
*#11) It is causing a serious strain . On my Aorta  heart       Problem and I am now dealing with a serious pain problem that is also impacting on my heart.
* Before Febuary 20 when I suffered My new recent health problem I went to every Hospital in Boston to see about the possibility of having my aorta repaired locally.

*#12 Not one hospital out of every Hospital I went to said they could help me. Every Hospital said my chances of making it through such a surgery in Boston was very poor. And that My best and only real option to undergo such a serious surgery as a complete acending aorta repair was  at the Cleveland Clinic Heart and Vascular Hospital .
*#13)  Where they are #1 in the country if not the world  for performing such a serious surgery. And how the Cleveland Clinic Heart and Vascular Hospital they perform  approximately 600 to 700 serious heart and vascular surgeies each year. And it shows in there professionalism when I speak to them about the surgery. They have such an optimistic out look that it makes it a bit easier to go through knowing they are so optimistic of a good out come.
*#14)  Well the time has come that I am in need to of going back out to Cleveland Ohio as soon as possible. But I live on social security income with high medical expenses every month and can not come up with the money to go out to Cleveland Ohio to have my life threatening  operation to give me a second chance at living . 
*#15) I am not the kind of person that it comes easy to reach out and ask for financial  help of others but  I don't want to die yet I have to many things I want to do before I die. Yes, I  am very scared of dying and I know that I have never been in such serious need for help. And I don't go through a week that I don't have one of my doctors asking me how I am doing with going back to the Cleveland clinic. I am doing this fund raiser that like I said is the hardest thing I have ever been forced to do in my life but I want to live and I can not do it alone . So I am reaching out with my heart to try to find some good people that have the ability to make some kind of help to me and if I can find enough people then I can make trip have all my surgeies and get that second chance at life. 
*#16)  So I am reaching out to try to find some good people that might be able to make any kind of contribution. Towards giving me a second chance . At life.
*#17)  Life has never been easy for me but I do not think it can get any tougher than this. And talking about how tough life has been for me is not going to help .and more importantly it definitely is not the attitude I want to have. I want to always be that guy with that good positive attitude at life and be that guy that there is nothing in life that is going to stop me from living and from being that kind loving caring man I have always tried to be. No I am far from perfect and I know that but I can only live my life with trying to always be the 
best person possible to others. And now I am reaching out to see if I can find some good caring big hearted olks that might be able to help me in the difficult life threatening situation  for the medical attention I need to keep living. 
*#18)  I am asking if you would might be so kind to help me have the surgeries I am in need of to have a second chance at living. 
I need to say how the last 2 months were tough and knowing how no  hospital in Boston would be able to save my life if one of my aorta anuiseyms ruptured and I don't want to die like my dad did.  
I don't have any family to help me and am alone so I don't have the luxuary of my family reaching out to help me. I am in a place in my life that nobody should ever have to go through so alone. But My life is what it is and I can not change that I can only keep the faith and keep trying my best to just take one day at a time and never stop the fight to get through this tough life where I do not want to die and I am not the kind of person who finds it easy to reach out and ask for help but if I don't I am afraid I will die. I pray so much for Jesus to give me the strength to do what I need to try to raise the funds so that I can seek the medical treatment I need to have my operations and have a second chance at life. And raise the funds I  need to get back on my feet after all the surgeries I need to keep living. 

*#19) I don't know of a word to truly express my gratefulness to tell you how grateful I am for all you kind caring people who took the time and read my plea for help and for any donation you might have made towards giving me a second chance at life. 
Like I said my entire medical problems are so long and involved. Something else I would like to mention that is most likely some of the cause for my poor medical situation. I contracted Lyme disease in 2000.
Yes it involved treatment and care but right now if I don't have my aorta repaired and my leg amputaed if needed my aorta will rupture and I will die just like my dad.  
Thank You again from the bottom of my heart .God bless you all and thank you again with kind loving thoughts.
Larry Rousseau


Thanks for your time and God Bless.