Landon Scott born on 09/02/18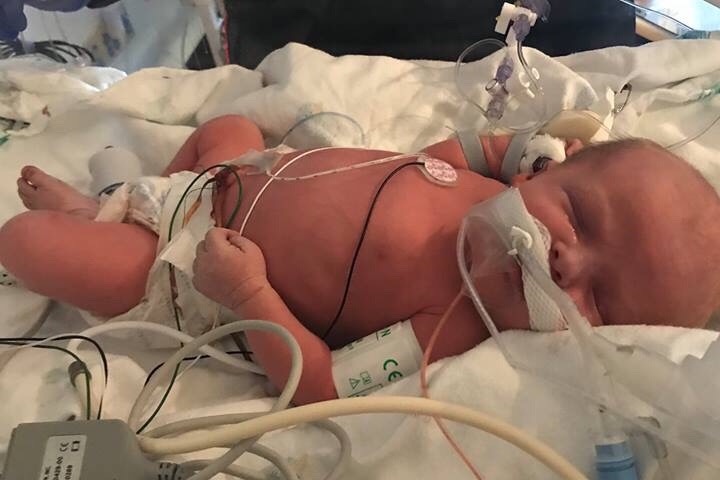 Our daughter Karissa was at 39 weeks pregnant, she felt something was wrong with the baby, so her husband and her went into the ER and found that babies heart rate was dropping. They rushed her in for an emergency c-section. When Landon Scott came into this world on 09/02/2018 he was not breathing, he went without oxygen for 4 minutes as we know, and is now fighting to stay healthy. 
Karissa and her husband Josh are now dealing with unfortunate circumstances they were not prepared for. They need all the prayers and any help anyone can give.
Landon is now in the NICU at the children's hospital in Plano Texas which is an hour in half away from home. They are having to stay in a hotel to stay close to Landon but devastated that their 3 other children are away from them at home so they can continue to go to school. Hotel and food for them is costly and bills are coming up, with Josh not able to work so that he can be by the side of his wife and his newborn son we are asking for any donations to get them through this.
Here is an update of what needs to happen for Landon to be able to go home:
Landon has alot of complications that's keeping him from going home right now.
Breathing
Feeding
Platelets.
Below are solutions that will be options IF THERE ARE NO CHANGES.
Breathing - inserting a trach.
Feeding- if he cant suck on a bottle, swallow, or gag he will be on a feeding tube.
Platelets- his platelets have to come up before he goes home.
Platelets are still low...they did a blood culture and the c proteins were high which could be a sign of infection they are giving him antibiotics and check his culture in 24 to 48 hours.
If he does have an infection were hoping that the aintibiotics will fight it off. He has a lot of lines on him that can cause infection.
He didnt say this is the definite plan but if he doesnt improve within 40 to 41 weeks gestational weeks (which I would have been 40 weeks this Thursday the 13th) then these are the possibilities that will happen so we can take him home. If he does get a trach and a feeding tube the Drs will teach us EVERYTHING we need to know 100% to take care of him at home. We will see about a home health nurse that can check on him weekly. Also refer us to a neurologist for him.
Hospital stay time for him is another 2 to 3 weeks.
Please keep Landon in yalls prayers and share his story!

Organizer and beneficiary