Lahaina Fire Engulfed New Maui Sunriders Bike Shop
Aloha, it is with great sadness that we share that most of Lahaina has been lost along with our brand new downtown Lahaina bike shop. It has truly been a devastating experience for the community and island of Maui. We are heartbroken by the loss of such a beautiful and historic location. The Lahaina community is so special to the islands with its rich history. Many friends and customers lost everything due to the fire. Luckily our employees are safe at home with friends and family. We are creating this fundraiser to help our employees and the Lahaina community.
Donations raised will help cover employees' personal items, cars, bikes, relocation assistance and other belongings lost in the fire. Our employee who was in the bike shop at the time was able to escape just in time via an e-bike which was a godsend as he didn't get stuck in traffic. It was a very difficult ride for him being blown over by 60-80mph and watching the shop he called home become engulfed in black smoke right before his eyes. He will not be able to return to his home and is relocated We are very thankful our entire team is safe. It is a tragic time here for everyone on such a small island, every person knows someone affected. To be completely honest, it feels like COVID combined with 9/11. It's just gutting.
The impacts financially right now aren't even fathomable. As the events that took place are also impacting our other locations with refunds and cancellations pouring in for the bike tour and rental side of our business as travel is not advised for the foreseeable future. We estimate about $75,000 in refunds that we will have to pay back in the coming weeks which we will honor. While insurance will be able to help recover some of the losses it will not be able to cover the $100s of thousand we poured into the building to make it what it was. The loss of tools, inventory, and so much more is hard to imagine. The devastating loss of customers' bikes that burned as well as local art and vintage bikes showing the history of the sport were all lost. Our passion and drive will remain strong and we will push forward as bike transportation will always be important for every community.
We will continue to offer excellent work, customer service and products to keep the local community on two wheels. We love Maui, the community, and all of the visitors that we have met over the years and have become part of our Ohana. Any support and love will be grateful in such devastating times to us and the local bike community. As we look to rebuild in Lahaina which is going to take a very long time, we will also be doing our best to give back to the local community through the projects that we had started as we know our community support means so much to us.
Lahaina town was our newest bike shop that rivaled many big shops on the mainland. We decided to build this new bike shop last fall to give back to our Maui community a spectacular sales, service and rental shop that was comparable to a pro-level shop on the mainland. We put months of blood, sweat and tears into this as we completely remodeled an old historic building on the corner of Lahainaluna Rd and Waine'e, one block from Front St in the heart of downtown Lahaina.
The local community came pouring in to thank us for making the community better in this area of town next to so many homes and businesses. We had many customers and friends that lived directly in the area that also lost their homes and businesses in this tragedy. Sadly, so many of our customers had bikes in the shop when we lost them. The team had been working on many community projects for the kids, bike safety, new bike paths and trails which we will continue to move forward as this is the heart of our local bike community. It is going to be a long road ahead but we the town and community will rebuild in time. Our passion for biking and love for Maui has never been stronger.
Fundraiser Organizers: Jeff & Crystal Robertson, Co-Owners of Maui Sunriders Bike Co.
Google 3D Virtual tour a few weeks before the fire.
Retail Floor - Entrance
Our team
the pit
Our team
Retail floor
Bike Lounge
Owners: Jeff & Crystal Robertson - at the Lahaina shop Grand Opening
Bike Lounge & Pit
Organized Grand Opening Ride
Our beautiful Mechanics Pit
Sale Bikes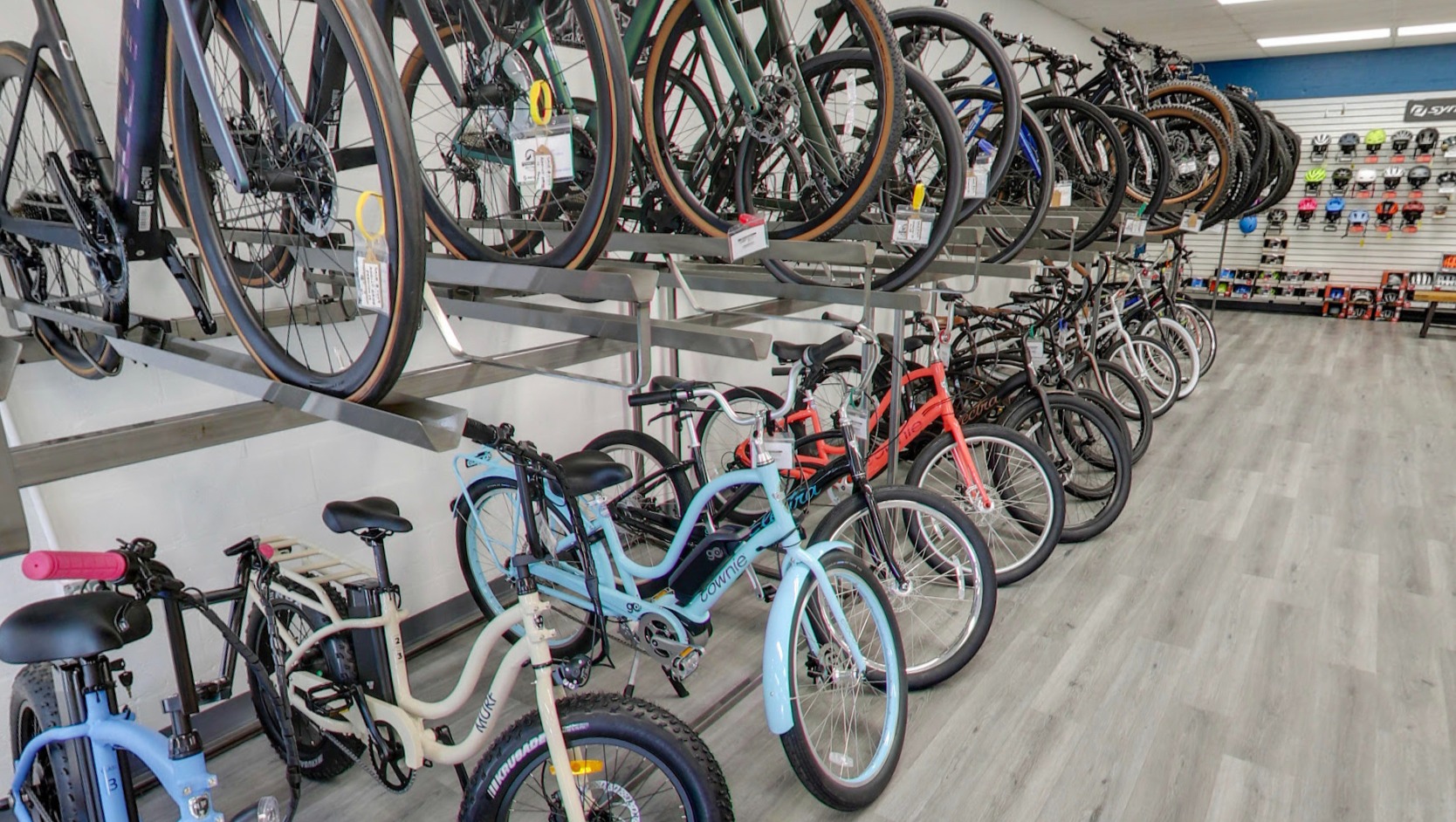 The pit.
Rental bikes
Our building on fire
aftermath.
aftermath.
When we took over the building from the Liliʻuokalani Trust before the Remodel