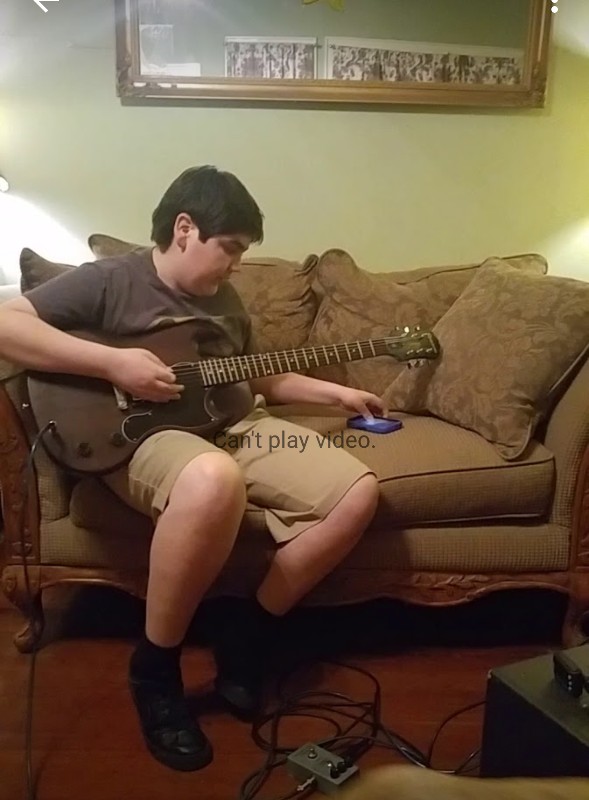 High Voltage Music Program (HVMP) is an after-school educational music program created by Bell Solloa, a
single parent of IDEA South Flores, a Title 1 Charter Public High School, when she was informed the school did not offer any music classes. After getting permission from the school principal to teach music lessons after school with donated instruments and volunteer instructors, in September 2016 applied to be an official after school class named High Voltage Music Program. High Voltage started with electric guitar classes and by the second semester an acoustic guitar class was added. The program has expanded to include a "Band" class which provides seasoned students the opportunity to collaborate and play together in band(s). HVMP has also
hosted over 20 free off-campus workshops during the holiday and summer breaks of 2016-18 for SA teens,
regardless of income or school district serving over 130 students. The initial workshops include electric
guitar, bass, drums, vocals, songwriter, and deejay instruction which are taught by professional volunteer or
grant funded musicians who are invested in contributing to the next generation of musicians of San Antonio.
The Music Workshops are a great way for teens to interact with peers they may not have meet since they
attend different schools and may be from opposite areas of town. Above free classes, students are provided a
healthy lunch to sustain their creative energy. HVMP was created for teens like Bells' son and others who had been initially self-taught, could not afford music lessons or whose parents could not schedule adequate time
for lessons, bur were eager to learn more. HVMP's presence in the southside of San Antonio meets the needs of underserved youth and teens who aspire to learn and play music into adulthood by also teaching the core
values of the program which include building self-confidence, personal responsibility, accountability and fun.

Since its 2016 inception, High Voltage Music Program has received grants from Rackspace, as well as,
instruments awarded by the Charitable Foundation at Guitar Center, Robot Monster Guitars, and Private donors.
The South Texas Museum of Popular Culture had hosted HVMP music workshops and practices, as an off-campus site relieving HVMP from having the expenses of a brick and mortar. The students have been invited to
play numerous events at functions from 2016-2019 including Paper Tiger, Francis Bogside, Southtown 101,
Lavaca Studios, the Carousel Club in Austin, TX and more. Students have performed Live on KSAT's SA Live
daytime talk show in 2017 and were recorded on March 15, 2018. The program offers the fundamentals and beginners class, as well as beginner/intermediate class for those students who advance quicker and are ready to play
live audience events. High Voltage Music Program has become well-recognized throughout the city due to
the commitment of its founder, teachers, parents, and dedicated students. The Program has expanded to 4
area high schools and by offering free Summer classes to teens in the San Antonio area. Ms. Solloa over sees
the on and off-campus program and is committed to helping the Community youth that don't have means or a way to play music to be able to through her hard work and dedication. The program has now produced 5 bands and several students ready to move into the performance category.

Thank You!
Sincerely,
Bell Solloa
High Voltage Music Program
***Note: We accept Monetary, Electri Guitars, Bass, Drums, Cymbals, rides, high hat and stands, amps, cords, guitar stands, guitar straps, cases, gig bags etc., that are needed as this program grows.