Kitten: Juju's Emergency Surgery
(Live video, pictures and updates here as well) >>
https://www.instagram.com/kitten_juju_july/

Instagram will be the only account active from here onwards.
<08/18/2017>====================================R.I.P baby Juju 08/18/2017 Juju you put up such a strong and brave fight!Thank you for bringing so much people together from all over the world, you have inspired, and impacted everyone forever <3

I want to thank everyone, every donor, donation, post, share, advice, phone call, email, question, guidance, doctor, vet tech, caretaker, surgeon, animal rescue groups/organization, this was truly a team effort! Thank you for giving the opportunity to Juju to have another scratch at life! <3
Remaining donations will go towards the next animal in need! Many others to help and the journey won't stop from here! <3====================================
Hello lovely people <3,
Thank you in advance for taking your time to recognize Juju's situation! <3
Juju
has sustained very traumatic impact and needs urgent 
SURGERY(Diaphramatic Hernia) 
or
EUTHANIZATION
.  The vet stated Juju was most likely hit by a car, but because Juju is a stray, there is a high chance she could be born with it, fell out a tree, kicked and just anything before the rescue  Juju's history is unknown.
Juju was
RESCUED
on
July 4th Tuesday 07/04/2017
approximately 9:45PM.
>>>>>>
R.I.P baby Juju 08/18/2017



>>>>>>
08/2017



>>>>>>
08/2017


>>>>>>
Thursday 07/27/2017

(They forgot to give me Juju's report for today and will post it on here shortly after they email it to me.)
Juju was brought back to BCACA for her follow up appointment. Juju has finally gained over 2lbs and she still is awaiting to get spayed/neutered. The vet said it is best for Juju to get spayed/neutered when she undergoes her Diaphramatic Hernia surgery. In her condition is best to do at the same time. They also gave Juju dewormer medication.
Juju's Instagram 07/27/2017 update
INSTAGRAM

>>>>>>
FRIDAY 07/07/2017
UPDATE
>>>>>>Thursday 07/06/2017 
I took Juju to Central Broward Animal Hospital after examination we were sent to Pet Express Animal Hospital where her first
x-rays
were taken, unfortunately her injuries were discovered, and her diagnostic is
BAD:
Diaphragmatic Hernia
: The vet stated Juju's diaphragm has a hole, each breath she struggles to take her organs/intestines are floating in and out of her tiny body which is in the way of her breathing. The longer treatment is delayed, the surgery will be more difficult and risky because of her already weak state.
Vet stated Juju needs liquid IVs to hydrate her (can't drink on her own), oxygen mask to help with breathing and must be
hospitalized
to
stabilized
her to the best condition to begin her
SURGERY
.
Pet Express Animal Hospital quotes:Cost
of the surgery alone by a specialist will cost roughly
$2000 
 roughly
$400
per night Juju will be hospitalized until she is stable to begin her
SURGERY
, other possible pending evaluations and costs. Other costs such as
medications and  continued stabilization after surgery.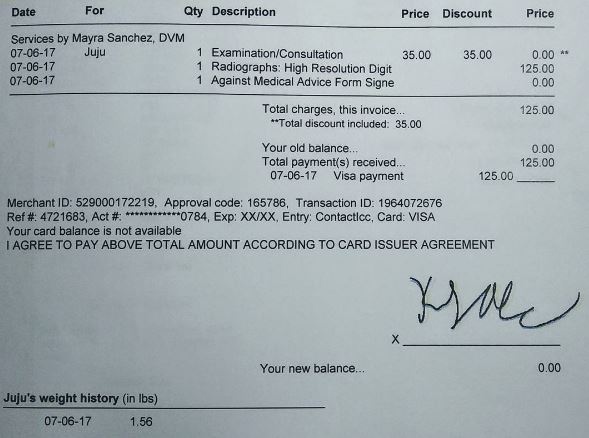 >>>>>>Wednesday 07/05/2017
 I was seeking urgent help for Juju, I first took her to the Humane Society of Broward County and then was sent to Broward County Animal Care & Adoption. On site at Broward County Animal Care & Adoption they registered me as Juju's foster parent and stated I can only
ADOPT
Juju when her health is
100% CLEARED
. They examined Juju & Juju's diagnostic was:
Broward County Animal Care & Adoption (REPORT):-Female -7weeks/2months old -Estimated DOB: May 18th, 2017 -Underweight -Flea Infested -Lethargic -Ocular Discharge
They said, she is a
tough
kitty to have gotten this far, malnourished, weak and high concerns with her struggles with breathing, advised to get Juju urgent veterinarian check up with better equipment to fully diagnose her rescue and recovery.
>
>>>>>>>Meeting & Rescue / Juju's STORY>>>>>>
I am a full-time student, after long hours of studying for final exams, canceling out of many invitational BBQs, last minute I decided I deserved to enjoy July 4th and go out to adventure. Shortly after petting sting rays, visiting bird habitats, reptiles, marine ecosystems, sharks, and watching fireworks with baby alligators and friends. I encounter the best
firework
of the night a furry kitten with much
spark
left in her.
 I happened to stumble upon a baby kitten the night of
July 4th Tuesday 07/04//2017
roughly 9:45PM, a baby kitten popped out of the bushes like a
firework
and came right to me. I decided to name her
Juju
short for "
July
." Immediately, Juju gave me permission to pet her after she came towards me and my friends, I instantly felt her bones and I just knew I couldn't leave her behind. I scanned the bushes and area for any other cat companions, siblings or mama kitty and Juju seemed to be traveling alone.
She had no visible injuries on sight, very frail, boney, inside the nostrils looked slightly bloody and visible
struggles
with breathing. I put her in a box with me to my car, Juju crawled right out the box, she chose to sit right on my shoulder, cuddling my neck and purring all the way home. I found a 24hr CVS location where I bought canned soft food for her, she ate the entire can and went straight to bed that night. 
Every chance I get I try my best to help every critter, animal, in addition to humans, I've experienced rescuing turtles, owls, cats, dogs, fish, deer, birds, I believe every animal deserves a chance just as humans. We must protect, be proactive, be the voice for all animals, nature because they are a vital part of making this beautiful world.
>>>>>>Please share Juju's story, share any links, referrals, advice and guidance here, I will be updating information, videos and pictures of Juju's progress. She doesn't have much time…… <3 When we all rally TOGETHER, unspeakable, unimaginable magic, possibilities and miracles happen <3<3 Thank you for any donations, support and advice in advance <3
http://www.broward.org/animal/Pages/Default.aspx
http://humanebroward.com/
http://www.southfloridawildlifecenter.org/
Organizer