Light the Way is a non-profit organization founded by
Anushka Sikdar
 dedicated to bringing children suffering from cancer, closer to our community. With the help of volunteers and donated fabric,
we create pillows for cancer patients in Mobile County
. Once a month, volunteers visit local hospitals to deliver these pillows and spend time with suffering patients. So far, Light the Way has worked with Key Club, Beta Club, Girl Scout troops and 4-H organizations to help create pillows. Our pillows have gone to over 50 cancer patients locally to help them through a tough time. 
                                                 Some of our pillows 
                          Working with Beta Club to make pillows. 
Anushka Sikdar
(founder) holding newly sewn pillows.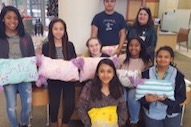 Anushka Sikdar
and Beta Club Members donate pillows at local cancer center ( University of South Alabama Mitchell Cancer Institute).  
     Anushka Sikdar (founder) helping the Kiwanis Club Key Stone Group           make pillows. 
Anushka Sikdar
(founder) and helps from Key Club making pillows.
We need your support in order to purchase supplies to make pillows. Without your donations, we will not be able to create more pillows. Please share this message or donate if you can today. 
sincerely,
Anushka Sikdar