Unite to Fight Kidney Failure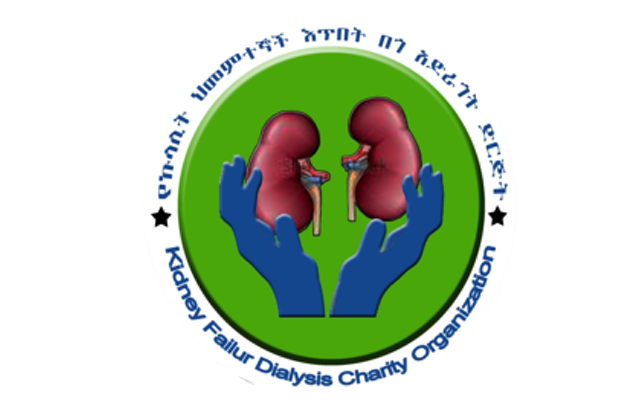 የኩላሊት ህመምተኞች እጥበት በጎ አድራጎት ድርጅት

According to studies done in Ethiopia,
there are more than 2 million
  chronic renal failure patients.
40,000 patients are in need of dialysis treatment immediately, otherwise, they are destined to die.  
However, only fewer than 300 (
less than 0.75%
) patients are capable of paying for their own treatment of dialysis.
One patient needs to spend 
15,000 to Birr 20,000 per month.
Patients who can't afford to pay for the dialysis are forced to wait for the day of his / her death, being bedridden patient in his home. Most patients sell their house and property to pay for the treatment. They become hopeless in the process and have no any other alternative other than to spend all they have and drain the whole livelihood of the entire family.
Establishment of Kidney FailureDialysis Charity Organization
Considering the seriousness of the problem, 43 patients gathered together and established kidney failure dialysis charity organization 5 years ago.
Members of the organization
Out of the
43 patients who are victims of the disease and who founded the kidney failure dialysis charity, only one of them is alive.
However, the organization currently has more than 500 victim members. The members are mostly between the ages of 16-30 years old. Most of the patients are the only worker and provider of their family, as a result, one patient disrupt the life of 5 to 10 members of the family.
Objective of the organization
The main objective of the association is
to give relief for the people who are suffering from the disease
treatment due to financial problem by providing dialysis with a very minimal cost.
To raise awareness among the society
regarding the renal failure and how they can protect themselves with the provision of the necessary information and education.
Implementation strategies
· raising awareness.
· Participating in and organizing fund raising activities
· To educate the society on how they protect themselves through change of attitude and life style.
· Maintain their affected physiology with counseling.
· Working in cooperation with the concerned governmental and non-governmental organization.
· We has reached an agreement in cooperation with Zewditu Memorial Hospital to reduce the average cost of dialysis
for one time from birr 1500 to birr 500 and out of which the patient pays only birr 300 and the charity organization shall cover birr 200. 
Every penny you donate will be help us to save us life.
For more information, please click 
here.
በአንድ ወቅት የተጠና ጥናት እንደሚያሳየው በአገራችን
ከ2 ሚልዮን
በላይ በኩላሊት ህመም ችግር እየተሰቃዩ የሚገኙ ሰዎች አሉ።
ከነዚህም ውስጥ የኩላሊት እጥበት(ዲያሊሲስ)የሚያስፈልጋቸው ሰዎች 40 ሺህ ይደርሳሉ።
ነገር ግን ከ 40 ሺህ ህመምተኞች ውስጥ በራሳቸው ወጪ መታከም የሚችሉት ከ 300 ወይም ከ0.75 % ያነሱ ናቸው።
የኩላሊት እጥበት የሚያስፈልጋቸው ዜጎች ቁጥር ከዕለት ወደ ዕለት እየጨመረ መምጣቱንና እጥበቱ በወር በአማካኝ ከ
15,000 እስከ 20,000 የኢትዮጵያ ብር
የሚጠይቅ በመሆኑ መክፈል የማይችል ታማሚ እቤቱ ተኝቶ የሞቱን ጊዜ መጠባበቅ ምርጫው ሆኗል:
የማኅበሩ አባላት
የችግሩ ተቋዳሾች በሆኑ ሰዎች የተመሠረተው የኩላሊት አጥበት በጎ አድራጎት ድርጅት በአሁኑ ወቅት መስራች ከነበሩት
43 ሰዎች መሃል አንድ ቢቀሩም
በአሁኑ ወቅት ድርጅቱ ከ500 በላይ የሚሆኑ በሽታው የተጠቁ የማህበር አባላት ሲኖሩት ከነዚህም ውስጥ ከ16-30 ዓመት የዕድሜ ክልል ውስጥ የሚገኙ ቤተሰብ የመሠረቱ ናቸው፡፡
የማኅበሩ ዓላማ
የማኅበሩ ዋና ዓላማ በኩላሊት ህመም ውስጥ የሚገኙ ሰዎች ሆነው የህክምና አገልግሎቱን በክፍያ ምክንያት ማግኘት ላልቻሉ ዜጎች ሁሉ አስፈላጊውን አገዛ በማድረግ ካሉበት የህምም ሰቃይ እፎይ ለማሰኘት ነው።
ህብረተሰቡ በሰፊው ስለ ኩላሊት ህመም እና ራሱን ከህመሙ እንዴት መጠበቅ እንደለበት በቂ መረጃ በመስጠት ራሳቸውን የሚከላከሉበትን የግንዛቤ ትምህርት ማስጨበጥ።
የማኅበሩ ተግባራዊ ዕቅዶች
• ከተለያዩ አካላት ጋር በመስራት በአገር ውስጥና በውጪ በመንቀሳቀስ ማህበሩ የራሱን ወጪ የሚሸፍንበትን የገቢ  ምንጮች መፍጠርና ሁኔታዎችን በማመቻቸት ሙሉ በሙሉ የማሸን አጥበቱን /ዲያሊስስ/ ወጪያቸውን በመሸፈን፡፡
• የአቻ ለአቻ ትምህርት ዘዴን በመጠቀም ለ1,000,000 ለሚደርሱ ሰዎች ስለ ኩላሊት ህመም እና ራሱን ከህመሙ እንዴት መጠበቅ እንዳለበት በቂ መረጃ በመስጠት ራሳቸውን የሚከላከሉበትን የግንዛቤ ትምህርት ማስጨበጥ፡፡
• ከዘውዲቱ መታሰቢያ ሆስፒታል ጋር በመተባበር የ አንድ ጊዜ የኩላሊት እጥበት ዋጋን ከ 1,500 ብር ወደ 500 ብር ዝቅ ለማረግ ስምምነት ላይ ደርሰናል።
ከ 500 ብር ታካሚው 300 ብርሲከፍል ቀሪውን 200 የበጎ አድራጎት ድርጅቱ ይሸፍናል። 
 የምትሰጡን ትንሽም ሆነ ብዙ ገንዘብ ነፍስ ለማዳን እጅግ ይጠቅመናል እና በ አንድነት የወገኖቻችንን ነፍስ እንታደግ።
ለተጨማሪ መረጃ
እዚህ ጋር ይጫኑ።
Organizer and beneficiary
Sintayehu Yilma
Beneficiary