Thiago, Our Preemie Warrior
We were a family anxiously awaiting the arrival of our third son. We named him Thiago Emiliano.
On Monday June 8th, due to contractions, I was admitted into the hospital; at only 26 weeks (6 1/2 months). The doctors quickly decided that medication was needed in order to help with the babies lung development since it was clear he would be born soon.
On Tuesday June 13th, at 2:22am, Thiago was born. He weight 1.15 lbs and 13" in length. He was intubated for 2 months. His tube was removed several times, but because he was unable so breathe on his own, he was intubated again.
Although his arrival to this world was completely unexpected, we are very happy that each and every day we see God's miracle through him.
Thiago has spend almost 3 months in the NICU (Newborn Intensive Care Unit) and like anything else, we are faced with a lot of expenses that we did not count on. His health insurance has helped with some expenses but there are other expenses that they will not cover.
The doctors have explained to us that he most go through a series of therapies, motor skills as well as speech; RESCAN which is a very frequent eye exam, each costing $140 and he's on #4. This particular test must be done until his retina has matured, which can sometimes be long after his release from the hospital. If, the eye exams continue to show that his retinas has been affected by the extended time receiving oxygen, we may have to proceed with laser therapies which are at an out of pocket expense of $1,000 per therapy. He has a hernia below his andomen which he will need surgery for, and we are yet to know the cost of the deductible for that.
In addition to all of the above, the doctors have notified us that due to his very premature arrival, his respiratory system is very delicate and may be faced with complications later in life such as asthma and many others.
We had no time to prepare for any of this; and aside from having all these additional expenses we are still missing a lot of things needed for his arrival home, which we hope is in a very near future. We had no time to get the simple things like a crib and an a/c unit since he cannot be exposed to temperature changes for some time.
Like any other good parent, we want our baby safe, healthy and free of risk; attend to all his needs quickly so he can develop like every other child and enjoy his life to the fullest without worries.
Today, he is 5lbs and is wide awake, happy and very active; full of joy and with a family that loves him and wants him home. We believe that this will serve as testimony in his life as well as ours.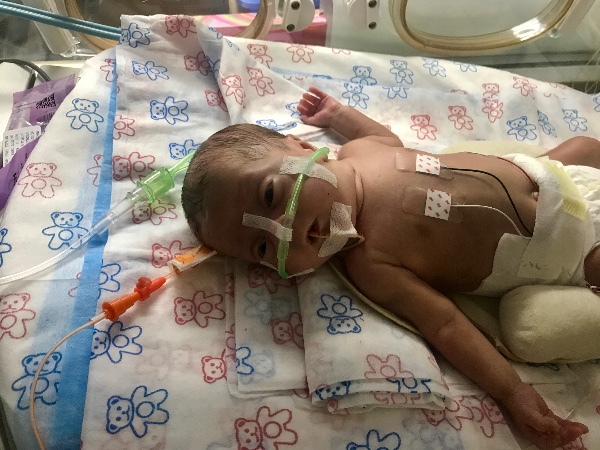 Organizer
Stephanie Sue Gonzalez
Organizer
Belleville, NJ