Excess Skin Removal Surgeries
I am very humbly asking for donations to go towards my excess skin removal surgeries. I used to weigh over 400 lbs and I have dedicated my life for the last 15 months (and counting) to improving my health and fitness. I have lost over 200 lbs and plan to continue. It is impossible to go through a massive weight loss and not have excess skin. Although I would rather have excess skin than be over 400 lbs, it can cause rashes, irritations and discomfort.
Unfortunately, the only area that will potentially be covered by insurance is my front abdominal area. I am working closely with my plastic surgeon to build a case to get the area covered by insurance. I will go back to see him once I hit 170 lbs. We are hoping that will be around August. Our goal is to have my first set of surgeries done in November of this year. Hopefully I will be approved by insurance to cover a portion of this. Even with that surgery being covered, the remainder of my surgeries will total in around $26,000. These surgeries will include my thighs, stomach, back, breasts and arms. I am not 100% sure how my surgeon will break up these procedures, but after each series, I will be off of work for roughly 6-8 weeks - given there are no complications. During this time, I will not receive paid time off. So this money will also go towards my bills and needs of my daughter.
As I take you on my journey, I have an extensive list of people that I would personally like to thank in no particular order. With every small change I made in my life, everything came into place. So many people have been involved in my journey and may not even know how much of an impact they have made in my life.
My work family at Primrose. You guys may not know this, but a big push of motivation started with you guys. In January of 2017, I had my tonsils removed. My heaviest documented weight was 409 lbs. After years of avoiding the scale, seeing the number was absolutely devastating. I was terrified of a routine procedure because I was so heavy. I was genuinely scared that I would die just from getting my tonsils out and having complications. Luckily, I was okay. I had a solid 4 weeks of recovery before I started feeling normal again, and the whole time all I could think about was the fact that I was over 400 lbs. We had an in-service day in February of 2017, and there was a speaker about health and fitness.  His name is Jason Yun and he made me feel like it was time for me to make a difference. Hearing his words were exactly the extra push I needed to get started. I finally decided enough was enough. I stepped on a scale again and I gained 3 more lbs - my highest weight was 412 lbs. I started my journey on February 22, 2017 by limiting my caloric intake and doing workout videos from YouTube. I would work out 30 minutes on my lunch break to Bodyfit by Amy videos. I lost 37 lbs in my first month.
At work, I am surrounded by the most loving, supportive staff and management anyone could imagine. Annelies is the owner and she always goes above and beyond to take care of her staff. She was kind enough to pay for us to have a fitness coach to teach a boot camp 2x/week. Her name was Kristen Burroughs. She is one of the kindest, most giving people I have met. She worked with me to modify exercises and gave endless tips on nutrition. Kristen knew how dedicated I was and never failed to show up. Sometimes it would be just me and her, but she never hesitated to go out of her way for me. She always helped out with Lydia, too and had so much patience. Unfortunately, this journey came to an end in December 2017. In lieu of boot camp, Annelies has generously provided all staff with a free membership to the YMCA in Hilliard. I truly am blessed to work for, and be a part of such an incredible team.
In addition to going to the boot camp 2x a week, I began Orangetheory Fitness. At this time, my coworker, Kelly, was raving about OTF. I was nervous to start such an intense work out and wanted to wait until I lost more weight. Kelly really pushed me to go and I cannot thank her enough for that. She is a huge reason why I felt like I could do this. She was always open to talk to me about weight loss and shared all tips and recipes that she had. She is a very blunt person and any excuse I attempted to use, she would shut it down. There was literally no reason for me to NOT change my life. She helped me realize this.
Primrose also has a lot of families who are AMAZING. I have had so many parents encourage me and compliment me. I even work out with some at OTF! It is amazing to have so many people recognize your hard work. It's indescribable. I've had many parents stop me in passing to congratulate me. Even parents of children I hadn't had in class. I've had previous parents stop in my class room at the end of the day to tell me how proud they were of me. Thank you primrose families for supporting me.
Before I move on to Orangetheory, I really need to give our chef, Joel, a shout out!! He has supported me so much in this journey and has been one of my biggest cheerleaders. He always welcomes me into his kitchen for the 50 trips I take to fill up my water cup! I actually ended up switching to a gallon jug because I drink so much water! I walk in every week giving him an update on my weight. I remember being excited to tell him I lost 15 lbs. Now I get to tell him some insane number over 200! He's always giving me recipe ideas and healthier options on what I should make. And to the rest of the Primrose staff, EVERYTHING you guys say to me never goes unnoticed. Whether it's conversations about my journey, advice or comments/compliments in passing. You guys are all wonderful people and I'm glad that I am fortunate enough to be surrounded by all of you.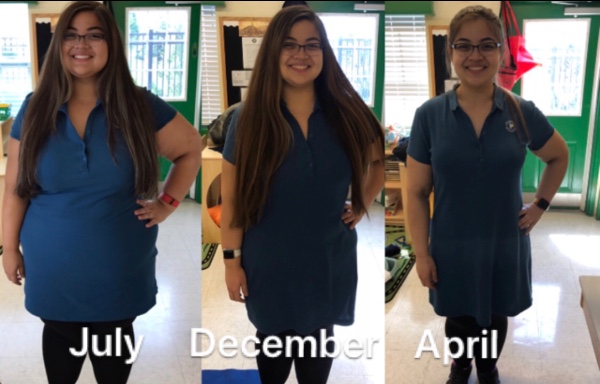 I don't even know where to begin about the OTF staff. I have grown so much and built up so much confidence. I will literally start to tear up, sometimes even cry, when I talk about my coaches. They are the ones who have watched me fight, struggle and grow into who I am. They provide such an encouraging environment. They are the type of people who provide support and will hold your hand every step of the way JUST to see you succeed. I always want to make them proud.
I started OTF at 375 lbs. My first coach was Linda. In a full class of 36 people, Linda went out of her way to ensure my comfort with each station and exercise. She modified a lot of things for me and constantly checked on me to make sure I felt good about what I was doing. I will never forget the compassion she shared with me through this whole journey. I fell in love with with the whole environment OTF provides. Babysitting arrangements changed and I started taking different classes. I sadly left Linda as my regular coach and started classes with Jill and Brandi. These two ladies met the standards Linda set in my head. They still provided me with one on one attention.
Jill would take the Tuesday class I was in and every once in awhile, would be next to me. She nicknamed me "Killer Katelyn." She also always seems to play Bodak Yellow at the PERFECT time when I feel like giving up. Haha! She also has this habit of changing the song in the middle of it and next thing you know, it's silent for 5 seconds and you just hear me screaming some random Gwen Stefani song in the corner. I recently started jogging during the treadmill blocks. I began as a power walker and when that wasn't enough to raise my HR, I switched to the strider. My body was ready for something new, but I'm always nervous. All of my coaches always supported me with options on how to transition. I finally mustered up the courage to give it a try and Jill supported me entirely. She even jogged my final all out with me and that means more than words can say. It has been a struggle adapting to jogging, but she (and John) have given lots of tips and tricks to help my body (MY CALVES!!!!) adjust to the new form of exercise. She's really gone above and beyond what I could even begin to expect from a coach.
Brandi treated me and my daughter like family and she always noticed when I was pushing myself more than usual. When my coaches notice my hard work and pay attention to detail, it really motivates me. Her talent was recognized and she was promoted to be the head coach of the Lewis Center location. As proud of her as I was, I was SO sad to see her go. I actually just visited her a few times recently and it was always a sweet reunion. She was so excited to tell people about me and she brags about me like a proud mother. She is just a genuinely good-hearted person. She is definitely worth the 30 minute drive to Lewis Center!! I was excited to show her how much I have grown and improved. I was fortunate enough to go on a partner workout day (capture the flag) and the owner of these studios, Matt, was my partner. He really motivated me to keep up with him and it was an honor!
In Brandi's place, John began teaching my Tuesday classes. John is HILARIOUS. He has made my classes so much fun. He is the first to notice when I'm not giving my all and he will go out of his way to check on me to make sure I am feeling well. Once that is confirmed, he will call me out to turn on my angry rowing! John always gives me that push that I need. He brings so much energy to my classes. He always hypes me up about lifting heavy, too. He's even seen me starting to gas out and he stood up on my rower and cheered me on to the finish. You can't make these things up! He's also full of great tips like wearing a depends to bed so you don't ACTUALLY have to get up to pee in the middle of the night LOL. I also can't let it go unknown that he is the one who convinced me to join the weight loss challenge at the beginning of the year, even though I didn't think I would win. Look how that turned out! Just goes to show how much he believes in me (0:
Last but not least, Tristan has been such a welcoming coach. It's funny how coaches can bring such different (all good) energies to class. Tristan has a very calm yet encouraging energy. He takes his time to explain exercises and proper form. He focuses on everyone perfecting all aspects. He is always encouraging feedback and asking what he can do to make his classes better - even music requests! Tristan is equally passionate about stretching as he is working out. He is always there helping people learn new stretches, even myself. I actually have started doing 30-60 minutes of deep stretching/yoga and it is just as LIFE CHANGING as Tristan says it is. We also have this unspoken bond due to our mutual obsession with pancakes and nut butters, too. DS NATURALS!! No really, try the vanilla maple frosting almond butter and thank me later.
I feel like all the coaches have grown to be family. It's always hard to explain to people how much I admire them and I wish I could just show them off to everyone because they are truly amazing. I always appreciate when they chat with me before and after classes. Whether it's tips on fitness and nutrition or just listening to me babble about how I suck about waking up or something. They are always there to support and help their members. They all pay attention to detail and correct form and recognize when you might want to take it easy or if you can push yourself more! The entire staff creates such a positive atmosphere full of amazing qualities. This is not just a paycheck for them - they are passionate about fitness and about YOU. They invest a lot of emotions into you. If it was not for Orangetheory, I don't think I would have kept going. I don't think I would have built up this drive. I can honestly say that I KNOW if it were not for Orangetheory, I would not be where I am today. I could do the exact workout at a regular gym and not feel half the energy and encouragement that I do at OTF. People ask me all the time when I will stop since I know how to make up an effective workout and save more money. My answer? I don't know if I ever will - it has become a part of my life's routine. It holds me accountable and I've built a family here.
All of the members at OTF are equally amazing. I take a lot of the same classes and there are a lot of regulars that I work out with. Everyone is always so kind and encouraging! I have never felt uncomfortable working out bc at OTF we are like a family. We all support each other and want to make each other proud. It's fun watching all of us progress together. Thank you for all the love!
Next, I would like to thank my family. Family is family through thick and thin. They have seen me at my best and worst. In the end, they are always here to love and support me. My parents have always been there to pick me up when I fall. When I feel like I've run out of options, they always seem to save the day. They love bragging about me. It makes me feel proud. My siblings and their significant others have always supported me and Lydia. They are always there to help me out. After all we have been through, we have nothing but love. They also always respond with support to my annoying updates to the family group chat. Mom, dad, Marvin, Raegan, Ashley and Derrick - thank you for loving me and Lydia.
I also have come across some of the most amazing friends. My friends are really like family and treat myself and Lydia as such. They have welcomed us in their lives with open arms. They are always there to listen to me vent and provide emotional support. I have also built a trust within them to take care of Lydia. This means a lot to me. I am so picky about who I leave Lydia with and I cannot believe how many amazing people I have met in this world. Thank you for always going above and beyond for us. Madeline, Sarah, Allison, Danielle, Nina and Kyla - thank you for always helping out whenever you can.
My friends and family know me on a whole different level than the rest of the world. They have taken the time to listen to me, understand me (to the best of their ability), and learn who I am as a person. They are the most understanding, considerate, giving people. Not everyone can say they are as connected with their family as I am. And not everyone can say they have found genuine friends like I have. I feel very lucky to have found myself surrounded by amazing people. The secret to my success was having a support system in every aspect of my life. Between family, friends, work and the gym, you have all made me believe I was capable of this.
I would also like to take a second to talk about myself. I hope that my story might help encourage anyone to make a positive change in their life. Especially people who have been in my shoes. I hope my story can make it to the hands of at least one person who can identify with me. Nobody gets to become morbidly obese through happiness. Despite what we tell ourselves as we forcibly accept our unhealthy weight - we aren't actually happy. I have fought through depression and anxiety to get to where I am today. I have overcome many obstacles in life. I had carried burdens, guilt and regret for years. Fighting obesity has truly been that final push to get me out of the funk. Most people complain that working out is such a drag and the thing they don't look forward to in a weight loss journey. Some people say they can't give up certain foods or restrict themselves. Firsthand, I can tell you the mental journey is the hardest. I have been forced to face what had gotten me to be over 400 lbs. I have been forced to think of all the excessive eating I've done. All the comfort I found in food. Why I was even seeking comfort. What I couldn't let go of. What I feared. What I had been through. What I had lost. Regardless of the tragedy, it's all, unfortunately, a part of life. I had to STOP using all of these life events as an excuse to slowly bring myself to death. That's where I was headed. My deathbed. It took me to be over 400 lbs for it to finally hit me. I had to get myself together. I have a daughter. I'm all she has. I couldn't live with the thought of her not having me. She needs me. I need her. I acquired all the strength needed to take back my life to be what Lydia needed in a mother. I have had such amazing friends and family to help me talk about some of these things but for the most part, I had to deal with them myself. I had to face my life's moments myself. I had to finally process them and accept them and learn that I will be ok and move on. I have become a completely different person and in the same breath, become more myself. I have dug myself out of this hole and I have walked out of this with strength, pride and happiness. I decided that I was worth it.
Lastly, I would like to thank my sweet, sweet daughter. If you have ever met Lydia, you know she is full of life (when she is not pretending to be shy) and attitude! She has picked up my sarcasm and developed such an admirable personality. She continues to make me proud every day. I can't believe that I have raised such an amazing little girl. I brag about her all of the time. She is so smart and compassionate. She has so much love in her heart. She is pure and I never want her to lose that. She has grown up watching me do what I thought was best, but in the past year, she has watched me grow into a more positive role model for her. I feel like I have done a relatively fair job at staying strong for her through all the circumstances we have endured. I am so grateful that she has witnessed me stand back up with full force. She has witnessed me take my life back. This is yet another part of life I can teach her through. She has so much patience with me. She is by far my biggest fan. She will root me on and brag about ME. She tells people I go to orange "fairy" and tell them I work really hard and that I am losing weight. She knows this is something I've been so focused on. She will tell me how amazing I am. And I am beyond proud of who I am raising. Lydia and I have gone through a lot together, and it's always Lydia and mommy until the end. She knows this. She knows she's my number one. Lydia gives me hope, gives me purpose. Lydia has saved my life in many ways. She has kept me grounded and responsible even before she was born. When I found out I was pregnant, my outlook on life changed. Now I can't imagine life any other way. If you know anything about me, I do not like leaving Lydia. I work so much, all I ever want is that quality time with her. I have sacrificed so much time away from her and she is understanding. Sometimes she gets sad but I try my best to get her hyped up to go to where she will be babysat. I tell her it's only an hour. In the moment, it breaks my heart but that pushes me more in my workout. When I update people on my progress, they always politely tell me to not give up and to keep going. My reply?? I have sacrificed too much TIME away from Lydia, MONEY I could have been saving and EFFORT into all of my workouts to even begin thinking about losing all of my progress. My time away from Lydia will never be wasted. It will always have a purpose. I promise you, baby girl, this will all be worth it. All of the time and effort we BOTH put into this is worth it. I am doing this for you. You are my motivation. You are who I live for. You are my absolute number one.
For those of you who took the time to read my lengthy post, thank YOU. Thank you for taking an interest in my journey. My story. My life. I am looking at life through a whole new lens that I have never seen.
Please know that I could never find the words to explain how grateful I am for any donations I receive. I will appreciate any effort anyone puts into my fundraiser. Whether it's a donation or sharing my link. I am thankful for you. Thank you for loving me. Thank you for supporting me. Thank you for the huge impact you all have had, and will continue to have, on my life.

Organizer
#1 fundraising platform

More people start fundraisers on GoFundMe than on any other platform. Learn more

GoFundMe Guarantee

In the rare case something isn't right, we will work with you to determine if misuse occurred. Learn more

Expert advice

Contact us with your questions and we'll answer, day or night. Learn more