HOW IT STARTED
At 18, the "flu-like" symptoms started. Chills, dizziness, nausea. stomach aches, swollen glands etc.  I waited for a couple of weeks thinking it was the regular flu, not knowing at that moment in time that I would never wake up healthy again.
I went to the doctor complaining that the symptoms hadn't gone away. The doctor said I probably had mono, gave me nothing for it and sent me on my way.
The symptoms continued to worsen over the next 4 years with no answers from the doctors I visited. I became a walking allergy; allergic to every food, chemical, plant and tree that existed. The fatigue/muscle pain began to worsen, breathing problems began and my stomach felt like it was being shredded apart.
2012 was when my health issues hit a new level.  My doctor believes  this is when the Lyme disease hit my brain / nervous system. Tremors with uncontrollable shaking through my whole body would begin with no warning and I had trouble with swallowing.  I was also hit with confusion. I would be in a very familiar place like my house and suddenly be jolted with sheer panic because I didn't know where I was. 
In my search for an answer, I was misdiagnosed with over 10 diseases. I have seen countless medical doctors, allergists, three naturopathic doctors, two ENTs, and an internist.  I've had biopsies and 5 surgeries.
As I was initially misdiagnosed, the damage from Lyme disease caused me to develop the following:
-Nasal polyps
-Costochondritis
-Cystitis (chronic bladder infection)
-Hashimotos
-Graves' disease
-Under active thyroid with a thyroid nodule
-Mold toxicity
-Chronic migraine
-Nerve damage
-Fibromyalgia
-POTS (Postural Orthostatic Tachycardia Syndrome)
-Chronic fatigue
-Rheumatoid arthritis
-TMJ (Temporomandibular Joint)
-Depression and Anxiety
-Insomnia
I also have 13 coinfections (Bartonella, Babesia, Mychoplasma, Epstein barr virus, etc.) that were transferred to my body when I was infected with Lyme disease.  These co-infections are just as deadly, If not deadlier then the Lyme itself. 
DIAGNOSIS
I was diagnosed with Lyme disease because of my research and determination to find answers.
I first requested  to get tested in 2014 but was refused by my medical and naturopathic doctors because they said we didn't have the disease here in Kamloops, BC . This is completely FALSE  and dangerous misinformation, because Lyme disease does not respect border crossings. I finally convinced my naturopathic doctor at the end of 2015 to test me.  After submitting forms and bloodwork to California which cost over $700,  it was confirmed with the CDC (Centre for Disease Control) that I had late stage Lyme disease (approximately 11 years undiagnosed.)
It is unknown exactly where or when I was infected , but it is suspected to have happened at Kamloops Lake 11 years ago.
TREATMENT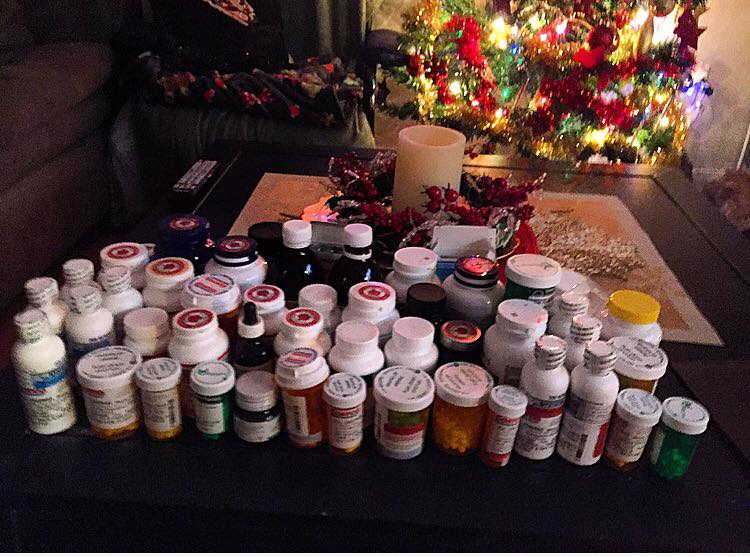 I have been undergoing treatment since January 2016 with no improvement, as advanced stage Lyme disease is extremely difficult to treat. I am on disability with limited income as I am unable to work due to the toll the disease has taken on my body.
To name a few, my average day is a battle of the following "invisible" symptoms;  struggling to breathe, chronic bladder infections, severe nausea, confusion, tremors, excruciating muscle/bone/nerve pain, vision loss, dizziness, kidney and spinal pain, crippling fatigue and depression from fighting this horrific disease.  
You may or may not know that Lyme disease treatment is not covered by our Canadian health care. Medical doctors will turn you away if you have Lyme, as some have been threatened to have their doctor licenses stripped away etc. Therefore, you are forced into seeing Lyme Literate Naturopathic Doctors (LLND).
I was blessed to find a Lyme Literate Functional Medical Doctor (LLMD). The unfortunate part is that neither the physician nor the treatment is covered by medical.
I have to see my LLND every 5 weeks ($350 per visit) and my LLMD every 3 months.(400$+ per visit). The monthly total cost of treatments /supplements (not including appointments) is on average $800 and up.
I have not responded to the treatments at this point so my doctor wants to put me on IV antibiotics 4 days a week for 8 weeks to start. The average daily price for IV antibiotics is between $70-100.
This will be approximately $1280 monthly in addition to the costs above inccured from medications and doctor appointments.
My family has been helping me with the costs but we are now at a standstill as we cannot afford this. This treatment is necessary as the disease has advanced to all of my organs including my heart. The risk of heart related deaths with Lyme disease increases the more advanced your disease is.
Thank you for your prayers and consideration in giving to support my treatments.  It is sincerely appreciated!