Jeevmoksha Eco Yoga Ashram
In 2012 we attended a 30-day long yoga training at the Jeevmoksha Yoga Institute in Rishikesh, India. The experience ended up being very powerful and life-enhancing. Studying with our teacher Acharya Vinay shed much light and clarity on our own life and the world around us. We made friendships with other students that we still cherish today. In fact, it was so empowering that we have been returning back to Jeevmoksha every year since. Over the years we came to realized that there is a HUGE need for a safe place of healing in this world! A place to build a community on a deeper level where we can freely share the tools with others and empower them to 
create a happy, balanced life.
 To address this great need, though, we need your help.

The Short Version of This Project Explained
This campaign is a call-to-action to anyone looking to support a project that will offer a new path in many people's lives. 
The vision is to provide a space for yoga seekers and students from all walks of life to experience this ancient science of life and to propagate health and wellness through the natural disciplines. A sustainable place where anybody and everybody can experience the magical power of healing and rejuvenation with yoga on the physical, mental, emotional and spiritual levels.
Jeevmoksha Mission: 
Bringing people together by removing the barriers of ego and misconceptions
Spreading awareness on health and well being through natural ways of living
Reestablishing the yogic principles
Restoring values of yogic life
Working towards the preservation of nature and natural laws 
Bringing spiritual orientation to those who are searching
Educating people on the need for ecological balance 
Creating awareness about right food and the importance of that right food
Training energetic and spiritually attuned yoga teachers to spread out the message to the world
Further conduct high-quality research in the field of yoga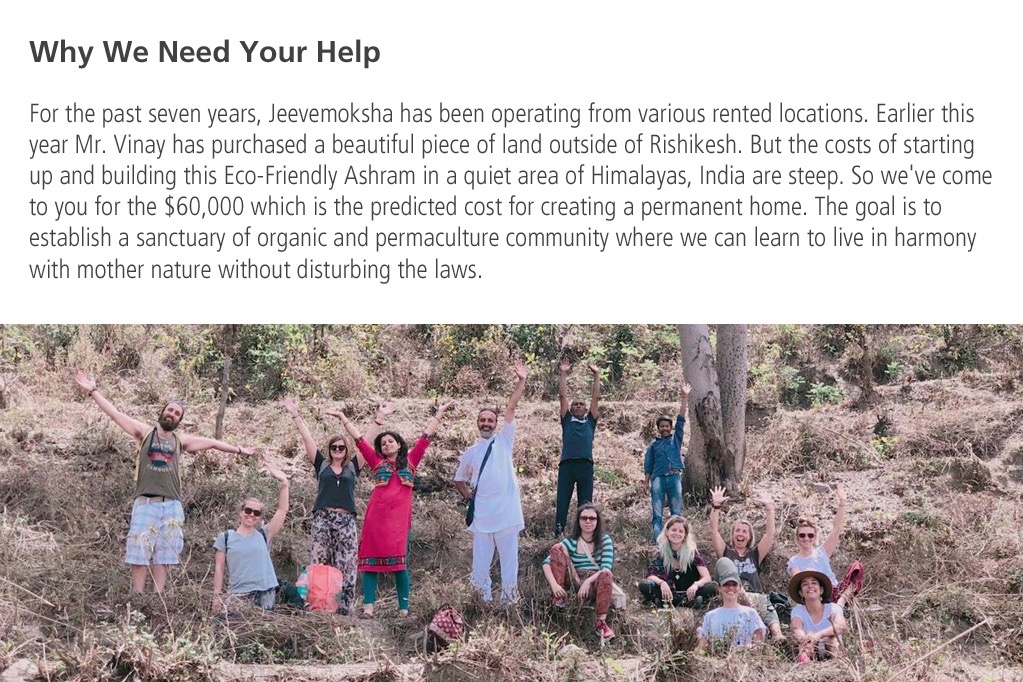 "Attainment of life goals is redefined with the help of ancient teachings of Vedas, so we can grow in humanity and enjoy a life free of diseases, anxieties, worries, stresses, fears and limitations."
The Reward Details
*travel expense to India is not included
Choose the reward level that makes the best sense for you, and we can't wait to deliver it to you in the near future! (Downloadable audio will be delivered within 24 hours of making donation)
Thanks again. We appreciate you! 
With love & light, 
Zuzana, Nikki & Jeevmoksha Family
P.S.  If you like what we're creating but can't contribute right now, you can share this project in your community. Our gratitude will be yours forever.

Fundraising team: Jeevmoksha Family (2)
Zuzana Fajkusova 
Organizer
Raised $1,550 from 9 donations
Vancouver, BC