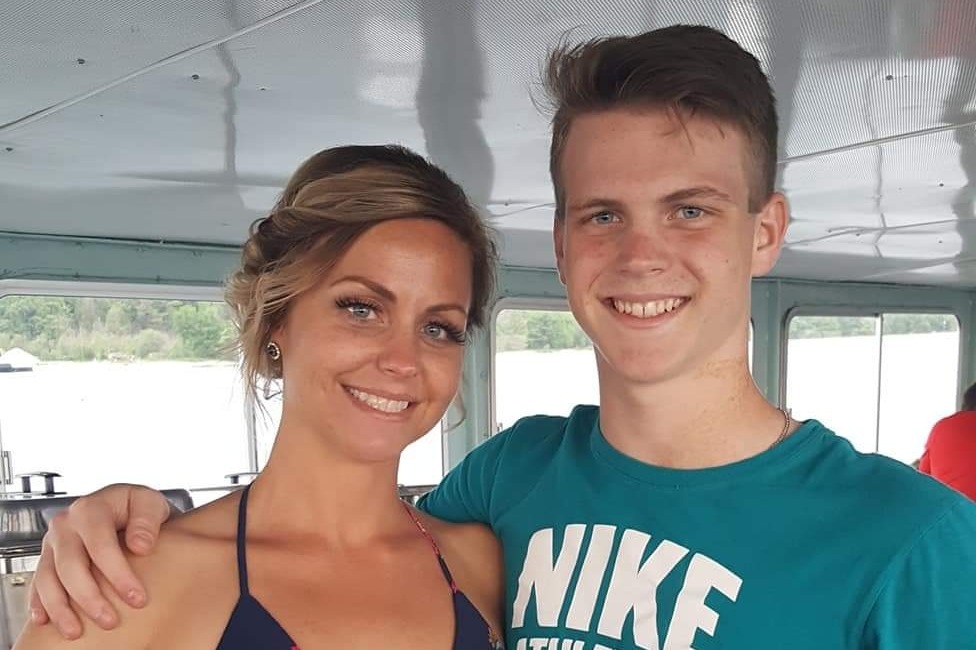 Jayden (Jay) is my younger brother. He is 15 and in his freshmen year at Heritage High. November 2018, shortly after football season ended, Jay started weight training for baseball. December 2018 he fell ill – lack of energy, excessive vomiting, swollen lymph nodes, etc. He was in and out of Covenant for what felt like the whole month. First diagnosis was Mono, they ruled out lymphoma, finally doctors said he had Human Parvovirus. Human Parvovirus was thought to have been contracted from the weight training and poor hygiene (i.e. not washing his hands).
January 2, 2019, we were pretty hopeful to start the New Year off with Jay getting R&R, considering he was diagnosed. Around 6:45 p.m. that evening, our mom (Ellen) got a call from his doctor. Additional blood test results came back and doctor told her that Jay's white blood count was extremely elevated and they needed to get to Hurley that night.
There are many things I will never forget about this night (or this year), but for starters, the fear in my mom's voice when she called me and told me the news she just got from doctor. I instantly went in to pilot mode and tried to calm her, telling her everything was going to be ok, that I would call Melissa (our sister) and we will all go together.
When we got to Hurley the wait for answers seemed like an eternity (we knew why we were there, but Jay did not.) Blood was drawn, tests were ran, and we waited some more. I don't remember her name, but the PA that assessed Jay had a "something's wrong" look written all over her face. While checking him over she asked him some questions and then rested against a sink. I asked her something like "Do you have any suspicions what's wrong?" With folded arms, I heard "Blah –blah – blah, Leukemia. But, blah – blah – blah."
The PA walked out and I swear took all the air in the room with her. After the longest moment of silence Jay asked "Can you die from Leukemia?" I never wanted to run so bad in my life. Take this from him, and run. Thank God for Melissa. She answered "You can die from anything, Jay".
The next day, we got the (long) awaited call from Ellen. It was confirmed that Jay has A.M.L. Leukemia. So there it was. Our 15 year old brother, a freshmen in high school, and the most feared six letter word in the world – Cancer.
Treatment began immediately. A.M.L is more aggressive, so treatment is also. Flash forward to today (April 11) Jay has had four rounds of treatment. He has lost his hair, muscle tone, weight, his perfectly shaped eye brows and lusciously long eye lashes have thinned – as expected. Doctors are saying he is responding positively to treatment, and the "end" could be moved up a few months!
While that is (some of) the best news you can get, post chemo Jay spends days/weeks back at Hurley fighting, due to low blood count, fever, unmanageable pain, etc. Our mom is his sole provider and even though her employer has been understanding of her time away, financial stress is a huge burden. If Jay is feeling good during treatment, Ellen will leave Hurley around 4:30 a.m., drive to Saginaw, work an 8 hour shift, drive back to Hurley and do it all over again the next day if he is "stable" and ok with her leaving.
Together our family, friends, brothers and sisters from their congregation do our best to rally and contribute, helping relieve any stressors we can. But, the road ahead is long and honestly, (so far) unpleasant. All funds raised will help relieve Ellen of (some) financial burden and pay for expenses, easing her mind just a little.
The power of prayer is real. If nothing else, please pray. #jaysbattleisourbattle