MA Royal College of Art funding!
Hello,  I am Jane Corbett, 30 years a maker/artist but heading into the biggest adventure of my career as I have a place to study an MA in Glass and Ceramics at the prestigious Royal College of Art.
I am excited and thrilled to have a won a place and I am now concentrating on the all important fundraising.
I have put together a series of rewards for donors and I very much hope that you will look through them and find something that inspires you to make a donation to help me. Every donation, however small really will make a difference, especially as charitable trusts and foundations that I intend to apply to are more likely to consider making a contribution if they can see that I have already gained some support.
Images (above and below) of some of the £20 reward sculptures, take a little 'Seed of Hope' brick out of my funding wall!)
I am fundraising towards the costs of fees, travel and materials to complete the course.   As the costs are high I am launching this gofundme campaign alongside seeking scholarship/grant support from various organisations and small charitable trusts and foundations, as well as planning a series of summer workshops, open studio, putting all my worldly goods on ebay and working two part time jobs!
£10 reward, 5 hand made painted and stitched cards 
At 56 I feel I have finally found my 'place to be' and am determined to make the most of this rare opportunity to study full time for two years with the most extraordinarily experienced and talented group of tutors and fellow students.
£40 reward, set of 4 reactive glass 'Seed' coasters£60 reward, one of my 'Moss' box framed stitched mixed media pieces
£120 reward one of my glass 'Spore' bowls, each a unique piece
Glass 'Spore' bowl (detail)
I have had so much encouragement and support from fellow makers and friends who have known my work over the years, and more recently from the tutors and friends I made during a foundation at The Glass Hub www.theglasshub.co.uk in Wiltshire last year.
£250 reward three fused glass bowls to your colour choice.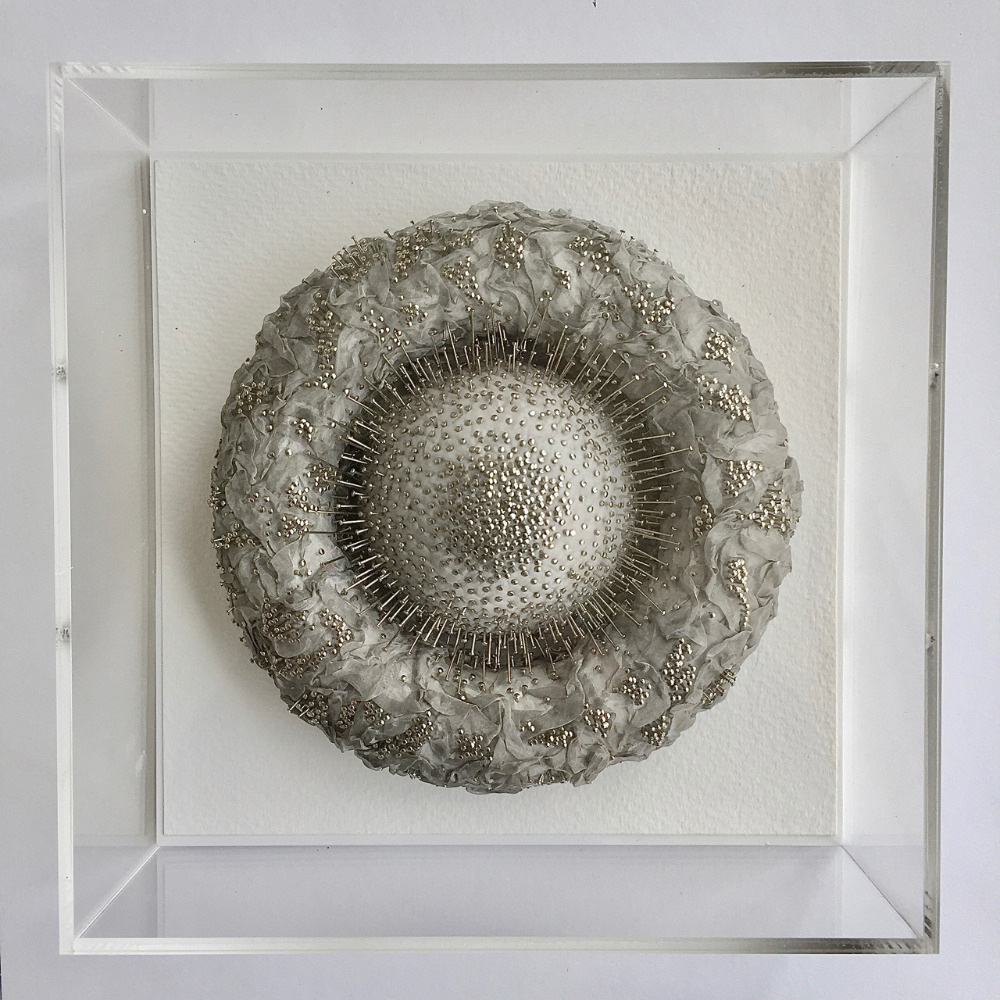 £300 reward my 'Steel Seed' sculpture
Fundraising will continue throughout the course but the most urgent need is to pay the first year of tuition fees due at the start of the course in September this year.
All donations will recieve a personal thank you and cover postage within UK and to Europe.
Any doner of £100 or over will also recieve an invite to a 'thank you' summer studio and garden party!
Happy to discuss a commission, or if you are able to come to my studio in Berkshire you are very welcome to come and choose your reward in person!
Heart felt thanks for taking the time to read my page and for any donation you feel inspired to make, all donations will be recieved from gofundme whether or not I reach my target, so every donation will come to me and be an immediate help!
Jane
Jane Corbett
PS Yes, if you are wondering if it is the same Jane Corbett,  I was indeed a milliner for many years during which time I was delighted make many hats for HRH the Duchess of Cambridge and her mother Mrs Carole Middleton.
Financial breakdown
The annual costs of my full time MA at RCA will include
£9,500 tution
£5,000 travel (comuting by  train from home in Berkshire to London)
£1,800 subsistence (£10 per day)
£1,800 materials (glass and ceramic supplies, with 15% suppliers discount in place)
total £18,000 pa
......x2 years!
I can apply for a student loan of £10,260 pounds that will be paid in six instalments over the two years but that still leaves a huge amount to raise, hence my multi pronged funding campaign!
Jane
Jane Corbett
Organizer
Jane Corbett 
Organizer
Newtown, South East England, United Kingdom