Hello, my name is Ziggy Sanchez. I am the pastor of a church in Edmond, Oklahoma called Winners Church. I would like to take a moment to share the story of an incredible family in our church that are facing some very challenging circumstances.
Three years ago we started Winners Church and the Talley Family (Louis, Nakia, and their children Monte, Eli and at that time a newborn baby boy Gabriel) have been with us from the beginning. Louis is a hard working husband and an awesome father. Nakia is a very strong and extremely motivated mother and student. She is attending college full-time to become a nurse as well as being a full-time mother to three (and now with Imri four) handsome and energetic young boys. She is also the worship leader at our church.
Several weeks ago on October 7, 2014 at 9:48am there was a new addition born into the Talley family, 
Imri "Superman" Isaiah
. He weighed 5lbs 1oz and was 17.25 inches long. He was born at 33 weeks and 3 days gestation (almost seven weeks early). Along with the challenge of having been born premature, baby Imri was also born with down syndrome and clubbed feet.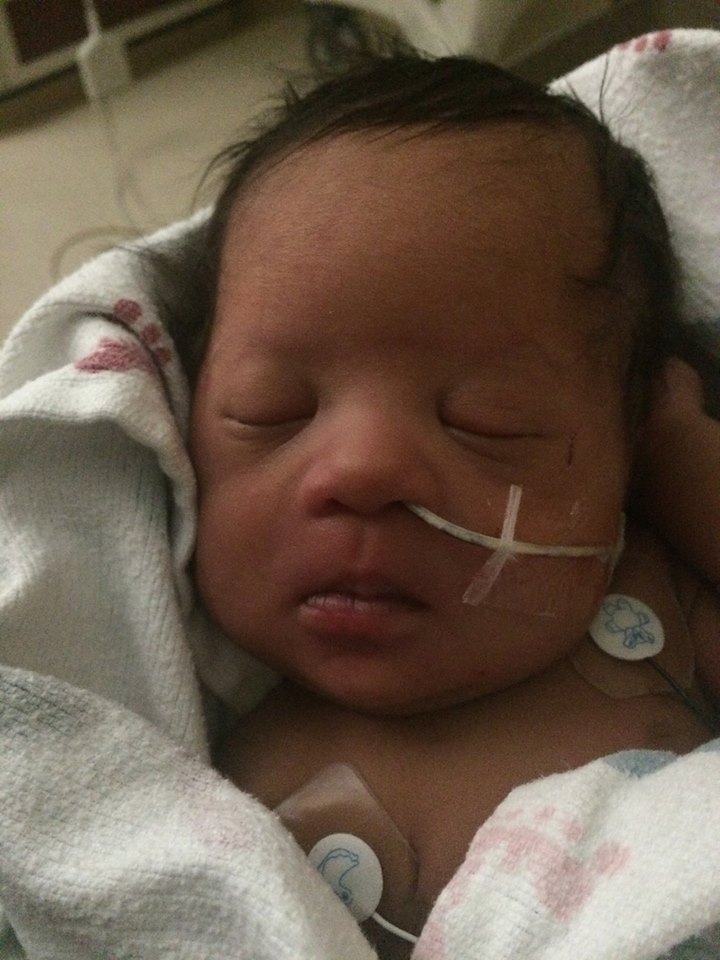 Here is the story as told by Imri's mother Nakia:
"My water broke 7 weeks too soon… They tried to stop him from coming but in less than two hours from getting to the hospital Imri was born via emergency c section, weighing 5 lbs 1 oz and 17.25 inches long. Our sweet miracle continued to defy the odds in the NICU, puzzling all the nurses and doctors. They would say, "He is just amazing. He's acting like a baby two weeks older than his age." Even after mysteriously needing oxygen at the end of his 26 day stay, Superman (baby Imri's nickname) came home with us, with still no heart defects and not a physical marker of Downs.'
"Two weeks to the day of getting him home with us, his health took a turn that I can describe as nothing more than an attack of the enemy. He had been congested for a couple of days and I had been a bit concerned about his breathing. He had an appointment with his pediatrician in a few days so I just kept a close eye on him. With only five minutes before Sunday service, my mother and I took him to the nursery to change his diaper and I realize that something was wrong, I realized that my baby was not breathing. His little chest and stomach were not moving. I said to my mom that something was wrong and I scooped him up; he was a rag doll in my arms. I didn't know what else to do but ran to the sanctuary. My mom grabbed whomever she could and told them to pray. I was already praying and just made it to the beginning of the sanctuary before I laid him down on the floor and praying over him and laying my hands on him. I was begging Jesus to do something, I was begging to Him (Jesus) to let His name be enough. I was praying over my baby's limp body, asking for His name to be enough to let Imri breathe again."
"I told my mom to call 911 and she did. I was still praying over him and at this point I was crying and I could vaguely hear my fellow church members praying all around us. I remember hearing mom tell me that they wanted me to do CPR and I immediately went into action. I was crying and praying and breathing into my son's little mouth over and over. I would rub his small belly and he would take small breaths and stop. I kept doing it, over and over for what seemed like forever, and I remember my Pastor coming up behind me and gently touching Imri's casted leg (he had to have casts for his clubbed feet) and saw the life of God enter into his body. He took the biggest breath I had ever seen him take, his arms raised up and his eyes flew open. I looked into his eyes and he was not there. I could feel fear trying to grip me, but I pushed it down and kept speaking to Imri, willing him to keep taking breaths. Finally the ambulance came and they looked at me and told me, "You did good mom."
"Right now, as I am writing this, my son is on his third week in the PICU. He had to be placed on life support when he made it to the hospital and was on it for a week. There is no feeling to describe watching a machine breathe for your child, for your small baby. He was diagnosed with pneumonia and ended up catching the stomach bug while in there. Right now, he is still fighting congestion and another virus, he is still on a feeding tube and on oxygen, but he is fighting!"
This is why I am asking for your help today.
Nakia's husband Louis has had to take the past two months off of work to take care of his wife and family. He didn't have enough sick time or vacation time accumulated to be able to receive a paycheck for this entire time. In addition to being off of work and without an income for the past two months the hospital bills and other expenses for baby Imri are seemingly becoming insurmountable.
After hearing of baby Imri's  fight family, friends and even strangers have asked, "What can we do to help?" So I decided to turn to gofundme to create the opportunity for everyone to be able to help this wonderful family.
Thank you for taking the time to read this and thank you in advance for your generosity.

Organizer
#1 fundraising platform

More people start fundraisers on GoFundMe than on any other platform. Learn more

GoFundMe Guarantee

In the rare case something isn't right, we will work with you to determine if misuse occurred. Learn more

Expert advice, 24/7

Contact us with your questions and we'll answer, day or night. Learn more