www.hopethruhorses.com
Non-profit CIC Registered No.12107773
£650.00
of your generous donations
covered...
vital veterinary treatment for Gus and Angel. Thank you so much for that much appreciated and needed support.

£550.00 - Immediate project
-  Warmth inside and out is vital. Our purpose is to help people feel freer,  lifted and better in every aspect of who they are...physically, emotionally, mentally and at the deepest level of their soul. 
Simple ideas can be the best -
A hospitably warm and cosily welcoming space undercover for our winter visitors to arrive, refresh, refuel, prepare and unwind has become an absolute necessity.
Hot drinks, a fire and a dry space..everyone deserves that..
Shelter                                  249.00
Heater                                     49.61
Outdoor candles               13.95
Hot water dispenser       23.80
Fairylights                             20.00
Garden storage box         30.00
Signs x 2                                  56.74
Fencing                                 107.00
Total                                        550.10
People and all living creatures deserve the highest quality of life....free of fear, pain and suffering

For fifteen years Hopethruhorses ran as a private organisation which needed to charge our clients in order to keep our wonderful herd healthy and well fed.  As time went by more and more people wanted to access our help but were unable to afford it unless we offered it to them for nothing….without a steady income we could not have maintained our herd or kept going, much as we would have loved to have given all these lovely people our time and expertise free of charge.
Now we have found the solution. As a non-profit we are eligible for funding and donations…with this extra source of income we can happily provide more help to more people. We still need the generosity of our paying clients as to run our projects takes time, effort and resources…we too need an income as without us here alongside the herd there no Hopethruhorses
We raise money to ensure that The Natural Herd Model is accessible to everyone. We offer funded group and individual sessions to all those who are most in need and collaborate with a wide range of other charities, organisations and community groups.  The organizations we link with specialize in working with people from difficult, vulnerable or disadvantaged situations or backgrounds.
Any funds we raise through donations, private referrals, or from any other source are invested straight back into Hopethruhorses to help…
      Distressed and abused horses and ponies who come here to heal…other animals are part of our plan too
      Vulnerable and troubled children and young people find lasting solace and a sense of safety within the herd
      Unhappy, stressed and desperate people from all walks of life find a deep emotional and lasting peace 
      Hopethruhorses promotes awareness of the mental and emotional needs of both animals and people…        preventing psychological damage to animals through mental and emotional neglect and cruelty
And much more….The Horses and Animal welfare
Many of our horses are rescued and come from backgrounds which have left them in poor shape, mentally, emotionally and physically. We want to give them everything they need to help them recover and find a peaceful and healthy place within the herd….to do that we takes money, the more money we have the more we can give these beautiful, graceful, loving beings. Simple as that.
The HopeThruHouse
Longer term plan is to create The HopeThru House Equine Informed Therapeutic Retreat
Offering respite and a welcome retreat for those alone in the community struggling with their mental health
Please do come and see our work for yourself or call us for a chat on 07780 675112. We'd love to meet you..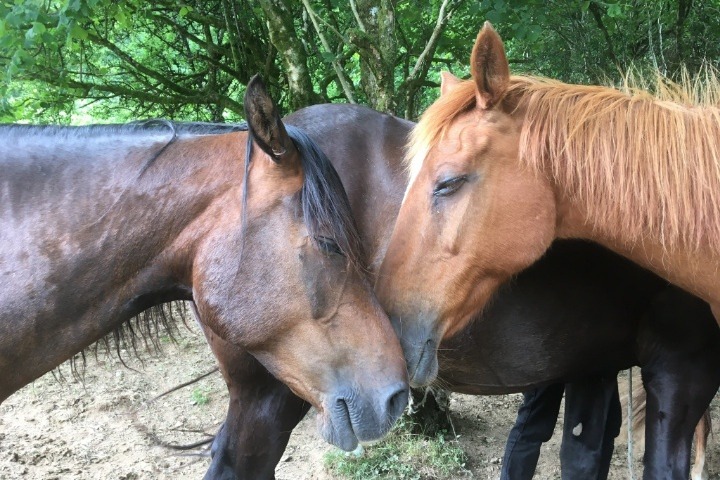 People and all living creatures deserve the highest quality of life....free of fear, pain and suffering
                                                                                             www.hopethruhorses.com