Set The Stage Capital Campaign
It is an exciting time at Holy Name Central Catholic Junior/Senior High School! Our enrollment has increased over the past two years, and we are proud to be the largest Catholic School in the city of Worcester.

Check out our Set the Stage Effort on Facebook

Recently, we have rededicated ourselves to providing the best performing arts program in Central Massachusetts. We have increased the personnel in the music and theater programs and have hired directors who have renewed the enthusiasm and joy in these departments.

See Below for Corporate Donations Listing

Our next step is to improve the theater itself. We have painted the walls, added new curtains, and have cleaned out the backstage area.

Now, we are asking for your help to install new seating, lighting, sound system and carpeting. We are embarking on a capital campaign to raise the sum of $250,000. 

Please help us make the Joseph P. Burke Performing Arts Center reflect the excellence of the student performances within it.

Any donation is greatly appreciated.

Seat Sponsorship Tiers - For donations of $200 to $2499, each contributor will receive their name engraved on a special name plate which will be displayed on the seat arm of their own individually selected seat (for the life of the seat) and a guaranteed ticket in that seat for all Holy Name events.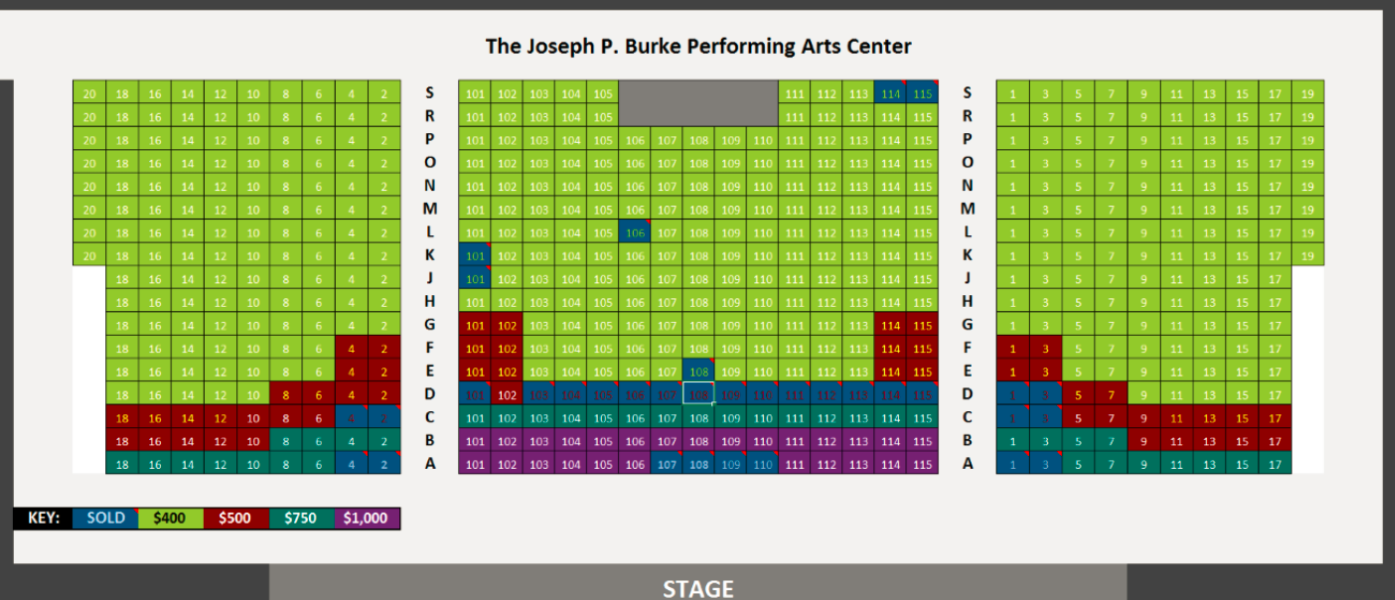 -- Purple = $1,000 Donation per seat
-- Teal = $750 Donation per seat
-- Red = $500 Donation per seat
-- Green (all remaining seats) - $200 Donation per seat


Corporate Donations

$2,500 -- CONDUCTOR LEVEL SPONSORSHIP
Sponsorship benefits include:

Your Name (or Company) displayed on Donor Recognition Plaque in the Lobby (to be permanently displayed).

Your Name (or Company) listed as a Sponsor in all SET THE STAGE Performing Arts Center Event Programs. 

Recognition of Sponsorship via all social media such as Facebook, Twitter, GoFundMe, email newsletter and several others.

Five (5) Complimentary tickets a year.


$5,000 -- DIRECTOR LEVEL SPONSORSHIP
Sponsorship benefits include:

*Everything in the Conductor Level Sponsorship AND:

Company name featured prominently in Annual Report.

Announcement of Sponsorship Level Participation prior to all SET THE STAGE Performing Arts Center events.

Sponsorship Press Release & "Big Check" Photo Opportunity.

Participation in the Employee Discount Program – 25% off all tickets.

Fifteen (15) Complimentary tickets a year. (in lieu of lower level ticket benefit)


$10,000 -- PRODUCER LEVEL SPONSORSHIP
Sponsorship benefits include:

*Everything in the Director Level Sponsorship AND:

Company logo prominently displayed in the Lobby of the Performing Arts Center.

Company logo / ad displayed in all SET THE STAGE Performing Arts Center Event Programs with exposure to thousands of patrons .

Company name & logo with a direct link to your company's website from the SET THE STAGE Performing Arts Center website & Holy Name website.

Recognition of Sponsorship Level in all SET THE STAGE Event Press Release to Worcester Telegram & Gazette, Go Local Worcester and other major media outlets.

Twenty-five (25) Complimentary tickets a year. (in lieu of lower level ticket benefit)


$25,000- Napoleon Level Presenting Sponsor (Limited to One Sponsor)
Sponsorship benefits include:

*Everything in the Producer Level Sponsorship AND:

Company logo prominently displayed directly on the center stage curtain before and after all SET THE STAGE Performing Arts Center Events!

Fifty (50) Complimentary tickets a year. (in lieu of lower level ticket benefit)

Organizer
Susan Hughes
Organizer
Worcester, MA