Hit & Run kitten victim needs help.
On Monday 7/3  morning we received a call from our neighbor that our sweet boy Whiskey was hurt and bloody by the side of the road. She had seen him the day before in the same condition around 7pm, but hadn't realized he had tags and phone numbers.
We rushed him to our vet clinic and were reffered to the specialty center due to his injuries. We can only assume he was hit by a car because he suffered severe trauma to his head and face.

He is currently undergoing a CT scan to better asses his injuries and what procedures and treatments he'll need. For sure he has a broken jaw, but we're not sure in how many pieces and how extensive the repair might be.
He has been seen by an opthalmologist and will probably loose his sight on the right eye. He also has an ulcer on the left and due to facial nerve paralysis, which prevents him from being able to blink and close his eyes on his own, his eyes were sutured shut today to keep them lubricated and protected from further damage.

He is only about 18 months old and we want to give him the best chance possible since he has his whole life ahead of him. He loves people and the staff at the vet specialty center adore him because despite of his injuries and the inmense pain he's probably in, he continues to purr and knead whenever he's petted and loved.

We were given an estimate of $3500 for a few days of hospitalization, the ophtalmologist's procedure, anesthesia, CT scan, radiographs, and the placement of a feeding tube (he's not eating or drinking on his own). We suspect jaw surgery/repair will be even more, but we'll continue to post updates.


Please help us save our sweet boy who even serves as our foster daddy when we have newborn kitty rescues. The picture below is him and Fury. Fury was only with us for about a week before we were able to find him a forever home.
This video shows Whiskey with Peaches and Cream. He cared for these two little ones for many weeks. We got them when they were only about a week old and they had a forever home by the time they turned 8 weeks old.
He is the sweetest boy and his brother (shown getting some love on this next vid) misses him terribly.
Below are Monday's estimate for what has been has been done so far (hospitalization, anesthesia, CT scan, x-rays, feeding tube placement, wire placement for jaw fracture repair, opthalmologist exam) and the opthalmologist report for that day. We will continue to post updates as we receive them.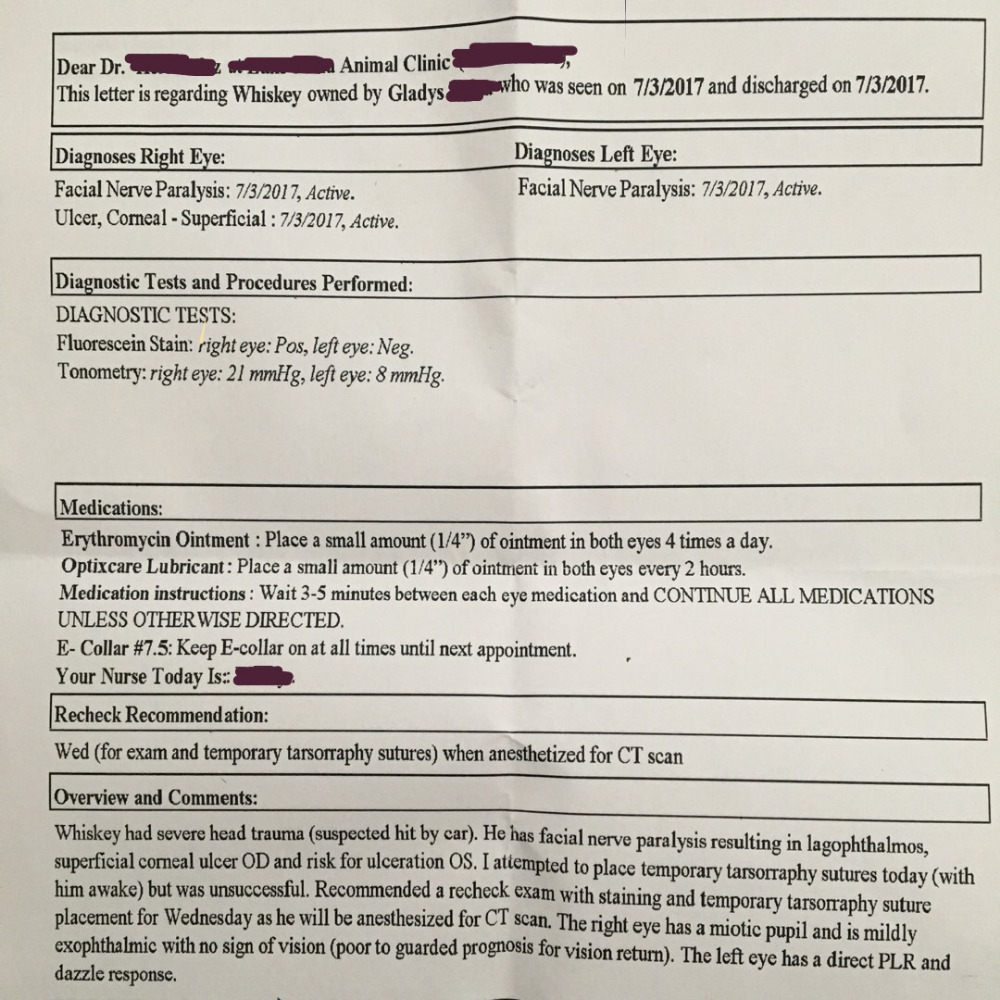 Debbie Mizell/Henry Schein Animal Health 
Organizer and beneficiary