Make a difference for Lao children
Do you believe you can change someone's life? 
      ..........      
I do!!!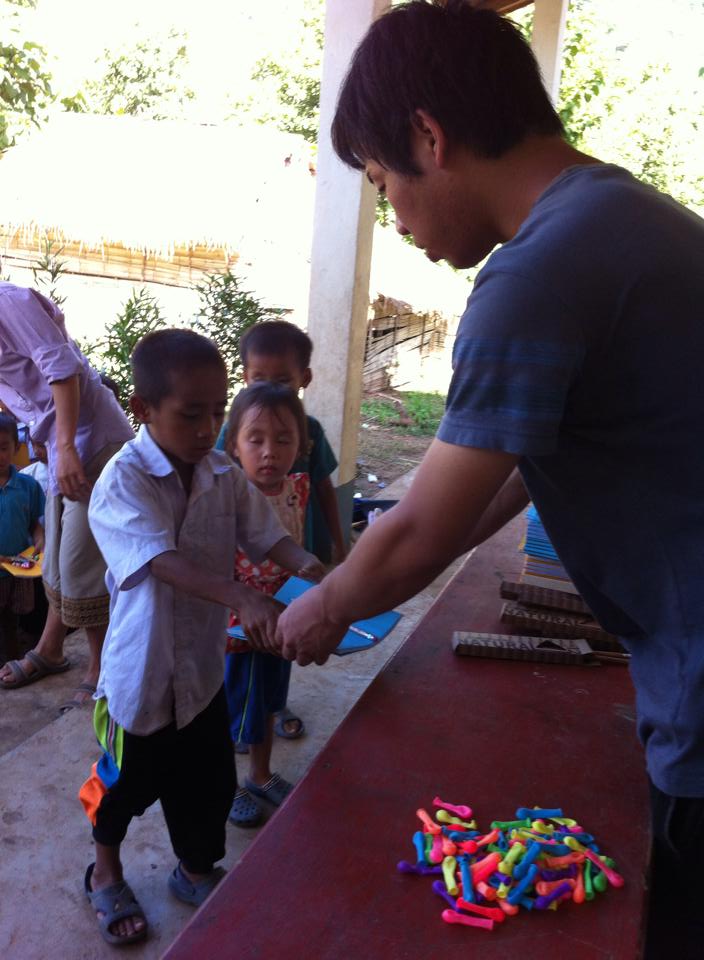 (A friend of mine gave donations to a remote village.)     
     Dear friends,
     My name is Her Vang and I am a 19 year old student from Laos. I am currently studying at UWC Maastricht, the Netherlands. I am from a very poor family which is originally from a tribe in the mountains of Laos called the "Hmong".
      I am running this campaign to raise money to provide opportunities for children in Laos, especially the ones who are in the rural areas and are not privileged to go school and other extra classes. I am doing this because I myself have been in the same situation. During my 14 years of living in the countryside, I experienced and had friends who couldn't go to school because their parents had no decent jobs and could not enroll them into school.  Others dropped out of school because their parents couldn't afford it any longer because they have many siblings so their parents could not give everyone the opportunity, and very often in this case, parents would choose boys over girls. In terms of education, gender inequality is still an obstacle that prevents girls who desperately want to learn from being educated.  I strongly believe that everyone, no matter what race, religion, gender, etc, has the right to go to school when they wish to.
      Four years ago when I moved from the countryside to the city of Luang Prabang, Laos I wanted to learn English but due to my family background it was impossible for me to afford English classes. Nonetheless, with the desire to speak English, I went onto the streets and tourist sites to look for someone to speak to and learn from.  Luckily, I found an American teacher who teaches English to poor children for free in my city, and I was invited to his class. For the next 4 years I went to his class everynight, and continued practicing with many foreign tourists.  10 of my friends and I actually lived with our teacher like a family.  In those 4 years my English improved incredibly, and I have grown and changed so much as a person, and it was a huge transformation phase of my life. The non-profit project that my American teacher runs, not only pays for education and living expenses, but also supports many others through high school, university and extra-curricular classes through his non-profit organization (www.smileproject.us).
      Since leaving my family in the countryside it had always been my biggest dream to study abroad and I often dreamt that I was already there. Many people believed in me and helped me in so many ways to achieve that goal. They are the most amazing and inspiring people, and they made me the person I am today.  I will never forget or take their contributions for granted. In March 2015, I got accepted to UWC Maastricht, the Netherlands on a full scholarship!  All my hard work and the help of others paid off and I am living my dream to the fullest in Maastricht.
      It is true that I worked hard striving for my dream, but if these people hadn't been there to believe in and support me when I was tired and I wanted to give up, I would not be where I am today. With the help that I got, and still get, from these people, I am deeply moved and inspired to pay it forward to my community by running this campaign. I also believe that anyone can be a changemaker in the world whether poor or rich. Guidance and funding is what they need. Family background should not stop anyone from getting to where they want to be. Passions and dreams are what matters the most.
      The money donated to this campaign will be used for schooling and educational equipment including, but not limited to, enrollment fees, school uniforms, shoes, bookbags, notebooks, pens, etc.... Although I am in Europe right now, I have contact with my American teacher and friends back home who will assist with the process.  Photos and other things that the children want to share with you or say to you or show you will be sent to you by email.
      The school year starts in September every year but there are so many children who go to school without the neccessities I plan to offer them to make their study more effective. For example: the children can't afford uniforms, bookbags, or enough notebooks and pens, among other things. When a child does not have a uniform or a bookbag for school, it makes others look down at and tease them.  Consequently, the child ends up not going to school, and going somewhere else, which most of the time is kept secret from the parents. The more funds I get, the more children I can keep in school. 
     I will be back in Laos in this summer and would like to register a minimum of 10 students for the upcoming school year before I return to Europe for my last year at UWC.
      Thank you so much for your generosity and kindness in helping my community to get out of the cycle of poverty and for making a significant and unforgettable impact on their lives. I myself want to thank you for making it possible for me to do good things to help my society, because it means so much to me to have the privilege of studying abroad, experiencing new aspects of life, and getting to know more of the world and myself. If you ever travel through Laos or the Netherlands, please come to visit me and the SMILE Project class. I would love to meet you and thank you in person.
Thank you so much!
Sincerely,
Her Vang
Donations

Organizer
#1 fundraising platform

People have raised more money on GoFundMe than anywhere else. Learn more

GoFundMe Guarantee

In the rare case that something isn't right, we will refund your donation. Learn more

Expert advice, 24/7

Contact us with your questions and we'll answer, day or night. Learn more