AYUDANOS PARA CURAR  A EFRAIN
Hola mi nombre es María Eugenia Caraballo, soy la mamá de Efraín Rodríguez de 14 años de edad, nació en Caracas-Venezuela. Siempre fue un niño muy sano, alegre, le gustaba hacer mucho deporte (jugar futbol, correr en maratones, bailar) y, no sabemos qué ocurrió pero de repente comenzó la terrible pesadilla a partir del mes de Noviembre 2013. Observamos que nuestro niño de apenas 10 años, no tenía fuerzas en su cuerpo, no quería pararse de su cama, en el colegio se quedaba dormido en clases. La noche del 29 de Noviembre, comenzó a sangrar por la nariz lo llevamos de emergencia a un centro clínico donde los doctores presumieron, por sus valores tan bajitos en plaquetas, que era Dengue Hemorrágico. Cada día que transcurría se deterioraba más y los doctores no se explicaban qué ocurría. Le mandaron a realizar muchos exámenes de todos los virus, agentes tóxicos y hasta evaluaciones epidemiológicas.
Todos estos exámenes tan costosos dieron negativos y por último le realizaron una punción medular, para ver por qué no subían sus valores. Tuvieron que practicarle una transfusión sanguínea. No sabíamos qué es lo que le pasaba a nuestro campeón, así es como lo llama su papá, fue hasta 15 días después que nos dieron el diagnóstico de la biopsia de su médula ósea. Fue algo muy triste para toda la familia ya que fue diagnosticado con Hipoplasia Medular. Después de ese día, cambio todo.
Nos habíamos agotado el seguro hospitalario entre hospitalización y exámenes diarios. De allí que nos remitieran al Hospital Dr. Domingo Luciani,  donde hasta el día de hoy es tratado por una excelente hematóloga, desde entonces todo este tiempo ha requerido de muchos cuidados. No puede realizar ninguna actividad física,  no puede ir al cine, ni a la playa, piscina. Tiene que usar tapabocas siempre que salga de casa, alimentación fresca, muy cuidada y exclusiva del hogar, y cumpliendo un estricto régimen de medicamentos:
-          Ciclosporina Neoral en pastillas, toma 400 mg diarios, suministrada gratuitamente por el seguro social venezolano (IVSS) mensualmente. Hasta hace dos meses que dejaron de despachar por la situación país.
-          Ácido fólico (10 mg diarios)
-          Hierro (200 mg diarios)
-          Vitamina "C" (500 mg diarios)
En estos últimos 2 años tuvo una recaída con una neumonía atípica que ameritó hospitalización de 15 días. Como resultado de la cantidad de antibióticos necesarios para su recuperación, sus valores sanguíneos descendieron mucho y se mantienen muy bajos y ahora su diagnóstico ha cambiado negativamente: APLASIA MEDULAR SEVERA, debido a ello cada 15 días promedio, necesita acudir al hospital para realizar transfusión sanguínea e incluso de plaquetas.
Empeñado en no abandonar su escuela no ha podido sin embargo lograr los mejores resultados en los estudios, pues lucha con el cansancio, sueño y falta de concentración, pero con tanto esfuerzo demostrado, los profesores lo incentivan ya que para algunos médicos parece imposible que estudie, pero sin duda es una fuente de voluntad que merece el  respaldo docente que recibe porque aseguran es un niño muy inteligente y aplicado.
La situación en nuestro país se ha agravado muchísimo este año 2017 ya que no llegan los medicamentos ni al Seguro Social y su farmacia de Alto Costo. Estamos desesperados ya que su doctora dice que no puede abandonar este tratamiento, ya que este es un protocolo internacional, se trata de inmunosupresor CICLOSPORINA que ayuda a estimular su médula y a que no se autodestruya su producción sanguínea por parte de su médula ósea. De suspender el tratamiento va directo a una recaída con resultados fatales.
Toda la familia ha realizado investigaciones por Internet en otros países, logrando conseguir el producto médico, pero no contamos con la cantidad de dinero necesario y menos con nuestra moneda venezolana tan devaluada en un mercado que se maneja en dólares.
Una caja de 50 cápsulas de CICLOSPORINA cuesta en Colombia 54$ + envió, es decir:
La caja 50 mg alcanza para 6 días de tratamiento, en tanto que
Una caja de 50 cápsulas de 100 mg alcanza para 12 días.
En los últimos 2 meses nos asoman un nuevo tratamiento muy nuevo para despertar su médula y no llegar hasta el trasplante de médula ósea que acarrea aún más complicaciones.
La nueva posibilidad médica se llama ATGAM (28 ampollas de Lymphocyte Immune Globulin Ante_Thymocyte globuli. Equine ATGAM Sterile Solution 250mg Ampoules), con un costo de 1.800 pesos colombianos cada ampolla.
Estamos desesperados ya que cada día que pasa empeora la situación de mi país y la salud de mi hijo. Es por eso que les pido su ayuda, para volver a ver esa risa inteligente en ese cuerpo ansioso y merecedor de futuro.  Cualquier colaboración que puedan donarnos significará el regreso al mundo de la esperanza, así como de la sonrisa de nuestro muchacho. En nombre de todos, muchísimas gracias hasta por lo poquito que puedan ofrecernos.
Eternamente agradecidos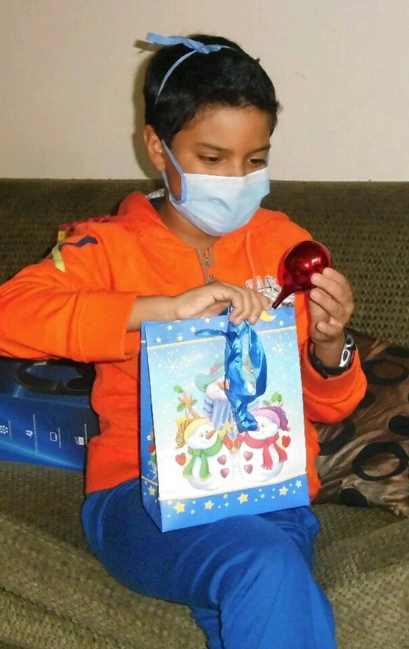 Hello, my name is Maria Eugenia Caraballo, I am the mother of Efrain Rodriguez, a 14 years old boy born in Caracas, Venezuela. As a child he was always healthy, happy and quite fond of sports/soccer, marathons dancing and so on. All of a sudden, we don't know why, this nightmare started! As of November 2013 our 10 years old kid had no strength in his body, was reluctant to get out of bed and fell asleep in school. On November 29th at night Efrain's nose bled profusely. We took him to the Emergency Section of a Clinic nearby where doctors assumed he had Hemorrhagic Dengue on account of his extremely low blood platelet readings. As days went by, he grew worse and physicians failed to explain what the matter was. Instead they ordered a host of test/virus, toxic agents, epidemiology evaluations, etc.
The results of all those expensive exams were negative. Next, doctors agreed on a bone marrow puncture to find out why his blood/cell counts did not rise.
Along with this, doctors ordered a blood transfusion, too. So far we did not have any idea as to what went wrong with our champ (that's the nickname his father made up). Two weeks later the Medical team disclosed their diagnosis based on the bone marrow biopsy.
It was something sad and shocking for the whole family to find out that Efrain suffered from MEDULAR HIPOPLASIA. After that day, everything changed.
We had exhausted the financial resources of our Medical Insurance Policy by paying treatments, blood transfusions and tests. Next, we were sent to the Domingo Luciani Hospital, a Medical Research Center where Efrain is being treated by an excellent hematologist. Ever since then, my son has required a lot of day cares. He can't perform any physical activity. Going to the movies, the beach or swimming pools are simply out of the question! He must not leave home without wearing a sort of dentist mask on his mouth. Wherever he goes he has got to carry fresh, homemade food and stick to a straight medicine schedule.
In these past two years, Efrain had a setback due to an atypical pneumonia which sent him to the hospital for two weeks. Because of the amount of antibiotics necessary to improve his health, his blood /cell count dropped very much. They keep being low to the effect that the now diagnosis turned out to be SEVERE MEDULAR APLASIA.
In other words, now my son must attend the Hospital every 15 days to undergo blood and platelet transfusions.
Though adamant not to quit school, he has not managed to get better grades. Day by day he struggles against fatigue, sleep and lack of concentration. So much so that his efforts have not passed unnoticed to his teachers who urge him to carry on. Doctors, on the contrary, show their skepticism and doubt about going to class. It may not be worth at all.
Nonetheless, Efrain's stamina and willingness to occupy his pupil's desk every day has been rewarded by peers and school teachers alike the latter insist on his being clever and diligent as student the former keep close to him.
The economic situation of Venezuela has gotten so bad now in 2017, that most medicines supplied by the IVSS do not reach the shelves of State drugstores. We are literally desperate. Efrain's current physician says he cannot abandon the treatment for this is an international protocol. We are talking about an Inmunosupressor Ciclosporine which helps stimulate the patient's bone marrow not to stop producing blood cells. Calling off such treatment would bring about a downfall with fatal outcome.
Everybody in our family has asked abroad via Internet. Sometimes we have got the medicine. Yet we lack the sum needed to acquire a higher supply - let alone if the item can only be purchased in US dollars.
During these past two months we have heard of a new treatment to wake up Efrain's bone marrow. That way we would not have to consider the possibility of marrow transplant, something even more complicated and painstaking to say the least.
We are growing more desperate than ever. Every new day the situation of my country gets worse and so does my son's health. That is why I am begging for your help. I'd love to see that intelligent bright smile on that body worthy of future.
Any help or contribution you may donate would bring us back the smiling face of our kind. On behalf of us all, thank you so much for the little you can afford us.
MUCH OBLIGED.

Organizer and beneficiary
#1 fundraising platform

More people start fundraisers on GoFundMe than on any other platform. Learn more

GoFundMe Guarantee

In the rare case something isn't right, we will work with you to determine if misuse occurred. Learn more

Expert advice, 24/7

Contact us with your questions and we'll answer, day or night. Learn more