Fathers Passing Medical Fund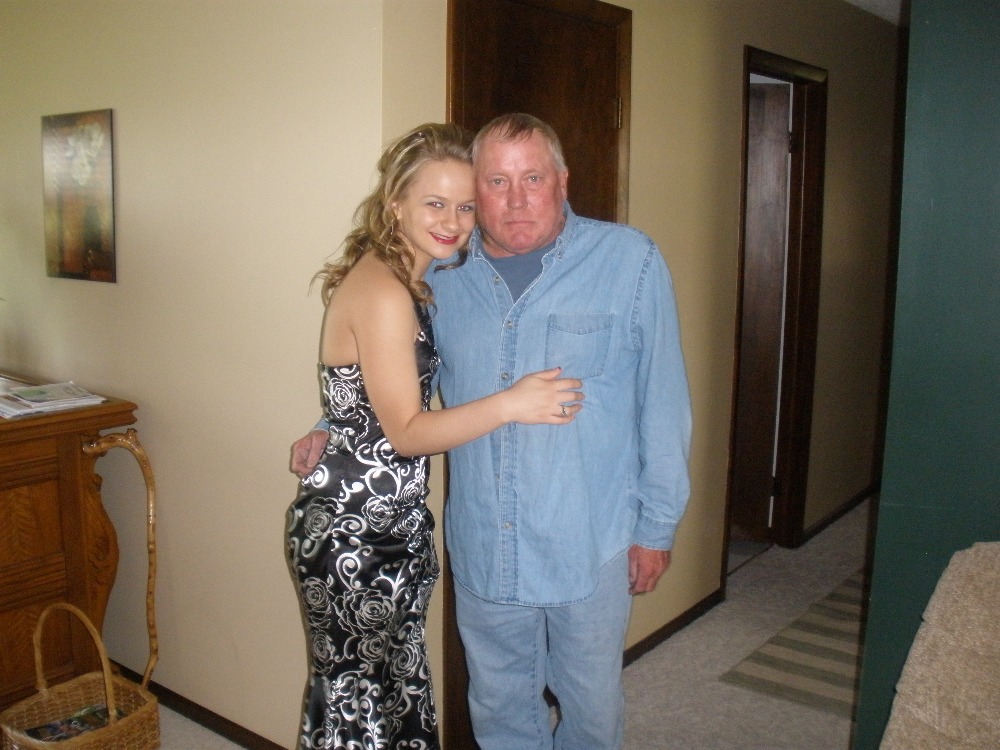 Help for the Kennedy Family
First of all, I would like to send out a sincere thank you to anyone who contributes or even sends their well wishes to our family.
My name is Faye Kennedy and my brother, Phillip and I are making this account to help our mother take care of our father's medical bills. My father, Thomas Kennedy, passed away on January 31st of this year after a 26 year battle of various medical conditions and my mother, Mary, was left behind a widow who is now drowning in medical bills.
My father was an avid Green Bay Packers and NASCAR fan. He never missed a game or a race. He was a hard worker and always took pride in providing for the family. He married my mother and they waited 10 years and paid off their house before having children. They had my brother in 1988, and then me in 1994. He loved collecting hats, especially Green Bay and NASCAR ones, his collection contains hundreds. Over the years he also developed a hobby of gardening and really enjoyed it. He was so proud when he got his first crop of the season and always gave out the veggies and fruits to friends and family.
When my brother, now 26, was only 6 months old, our father was diagnosed with Guilliain-Barre syndrome; this is a rare disorder in which your immune system attacks your nerves. He was left almost paralyzed and hospitalized for some time. Although he recovered for the most part, he never fully recovered; the left side of his face was left paralyzed.
When I was in 6th grade, my father went in for his routine check-up at the doctor's where they thought they heard an irregular heartbeat and sent him to a cardiologist for further testing. They found several blockages in his heart and he was set up for a triple bypass open heart surgery. At this time, they also replaced both carotid arteries in his neck because they were severely blocked at well. This left him off of work for quite some time.
Once he returned to work, a few weeks in, he fell and slipped on ice getting out of a truck, ripping his rotator cuff in half. This required surgery and several months of intensive physical therapy, leaving him off work again for quite some time. He was never allowed to return to work. This took a huge toll on him because he prided himself in providing for his family.
He was born with asthma and was always somewhat short of breath, however throughout the years this worsened until he was diagnosed with emphysema and COPD (Chronic Obstructive Pulmonary Disease). This on top of all his other medical issues was very hard to deal with. He would have anxiety attacks because he couldn't breathe and pass out. Over the last few years, they had been getting worse and worse and more frequent. He finally had to give up gardening and mowing the lawn, because he couldn't stand to be outside because of his severe allergies.
In the last year of his life, I would estimate that he was in and out of the hospital over 20 times. He passed out and hit his head on the dresser in the bedroom; I had to call 911 while holding a towel to his head. He tripped over his oxygen cord at home and hit his face on a baseboard heater a couple weeks after thanksgiving. He got to the point where he couldn't even walk across the room without getting winded, and this added into what I believe was a deep depression.  After losing his job and being confined to the house, he became very unhappy. It was extremely hard to watch, and when I left to go back to college, I became increasingly worried about him. I was an hour and a half away from home and my brother was an hour away.
Because of his lack of movement, his legs swelled and began to tear open. He went to the hospital on Christmas Eve of 2014 to get help with the swelling and never came home. He was having such a hard time breathing that they put him on a ventilator. They tried taking him off the ventilator, but he was making no effort to breathe on his own. After 12 days, they air lifted him to a bigger hospital because they felt like there was nothing else they could do but to send him to a hospital with more resources. Once he arrived, the new hospital found out that he was malnourished and dehydrated. They continually tried to get him off of the ventilator, but he again was not able to breathe on his own. They eventually performed a tracheostomy as another effort to try to improve his breathing capabilities, but he was still unable to come off of the ventilator. The doctors sat us down and gave us the news that there was no chance of recovery.
He was removed from life support on the 27th of January and we stayed with him until he passed. This was the hardest thing my family and I have ever had to do. As you can imagine, the medical bills are astronomical, nothing that any 58 year old woman should have to deal with on her own. We are asking for your help with these medical bills. Our father was a great man, and he will always be missed. I can't describe to you the pain my family has been through, especially our mom. She has been there every step of the way, taking him to doctor's appointments, staying with him in the hospital, driving him places, and taking care of him. It's her turn to be helped and cared for. She is now alone at home because my brother and I are both moved out. Please help in her fight to stay above water and pay off medical bills that are crushing our family.

Organizer
#1 fundraising platform

More people start fundraisers on GoFundMe than on any other platform. Learn more

GoFundMe Guarantee

In the rare case something isn't right, we will work with you to determine if misuse occurred. Learn more

Expert advice, 24/7

Contact us with your questions and we'll answer, day or night. Learn more