Maria Is Dying - Please Help
Meet The Barragan Family
Maria is fighting to live and care for her two young boys. Her husband Benjamin would do anything to be by her side, tending to her and their sons. But he cannot come home to his close- knit family and the job that supported them all. After filing the proper paperwork for permanent residency, Benjamin has been banned from the U.S. for 10 years. The Barragan Family needs our help, and every hour counts.
We are a group of distressed parents, teachers, and friends trying to do something constructive with our sorrow, our outrage, and our fear for Daniel and Cristian's future. Daniel, 9, and Cristian, 11, are our children's schoolmates, our students, our neighbors.  
Maria, a U.S. citizen, has valiantly battled stage 4 breast cancer for a decade, undergoing every treatment enthusiastically because she desperately wants to be there for her children. Benjamin was the rock of the family, working long hours and caring as best he could for the boys and Maria.
Benjamin lived and worked in the U.S. for 20 years. He met and married his wife Maria here; his sons were born here. Last year, he tried to put his U.S. paperwork in order, which meant filing papers from his birth country Mexico. His application for permanent residency was denied. He has not been allowed to re-enter the U.S. since. Appeals for a waiver to come back--even for a short visit--to say goodbye to his wife and make plans for his children's future have also been denied.  
With Benjamin gone, Maria's illness worsened. Her economic support as well as her emotional rock fell out from under her. This month, her doctors said that there is nothing more they can do for her. She only has a few short weeks to live.
Now we are racing on three fronts. We are trying to reunite the Barragan family, appealing again to the U.S. border office to let Benjamin visit so that he can say goodbye to his dying wife and be there for their children. We are working with Benjamin from afar to navigate day-to-day support for Maria and the boys. And, we are raising funds to support Daniel and Cristian's future. Possibly any day now, they will be left with no guardian in the U.S. and their path ahead is not yet clear.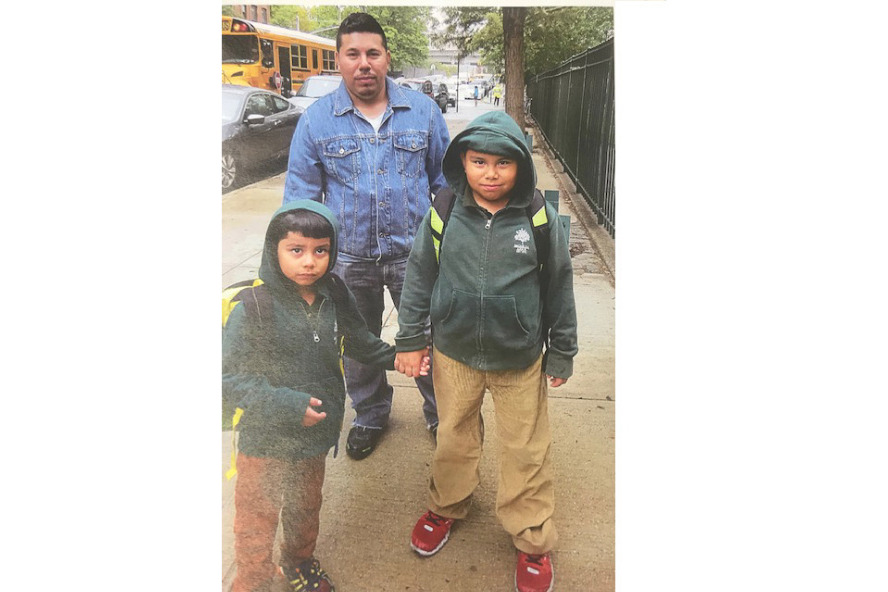 We can't make Daniel and Benjamin's mom better. But we have to do all we can to make sure their future has brighter days ahead. Please, please consider giving what you can. If you can't contribute we understand but please consider spreading this GoFundMe so that it reaches those who are in a position to help financially. And please know that even if you have no one else to tell just reading this story and praying for this family are deeply welcomed.
With Endless Gratitude,
Tamara, Emily, Ivan, Sara, Amy, Liat, Abby, Ursula, Roberto
Emily Prior Tells Maria's Story
Hi my name is Emily Pryor and I am writing to you on behalf of Maria, a mother of two young boys, who is about to be placed on hospice care after 10+ years of battling stage four breast cancer.
During my time as a bilingual elementary school teacher in Brooklyn, I had the privilege to have a student named Daniel Barragan in my class. He was my student for his first and second grade years and throughout that time, I became close with him, his older brother Cristian, and his parents Maria and Benjamin.
When Maria was pregnant with Daniel she was diagnosed with stage four breast cancer. She had already started her chemo treatments and was having serious nausea and vomiting. She thought that it was a result of the chemo, but in fact she was pregnant with her and Benjamin's second son. Doctors originally told her to abort the baby, but ultimately they were too concerned that she would bleed out so she continued with her pregnancy. Maria says that Daniel was a miracle — despite being exposed to chemotherapy treatments, Daniel was born healthy and is a beautiful, thriving, and intelligent boy.
At our first parent teacher conference, Maria she told me between tears that she had been fighting cancer since 2009. She had metastasized stage 4 breast cancer and was continually receiving various chemotherapy treatments, which left her exhausted, physically sick, and too weak to care for her boys. Maria couldn't work due to her illness. 
Luckily she had her husband, Benjamin. Benjamin was born in a small town in Mexico, where he was raised by his grandmother. At the age of sixteen, in search of a better life, Benjamin crossed the border into the United States and began working. A few years later, his grandmother became ill and Benjamin decided to return to Mexico to be with his dying grandmother — the woman who had raised him. When his grandmother had passed, Benjamin returned to the United States as there were no prospects for work or a future for him in Mexico. From that point on, Benjamin lived and worked in New York City. Benjamin and Maria met one night at a party that their mutual friend held at their apartment. Maria recalls Benjamin coming to talk with her, being kind, and at the end of the night asking for her phone number. Maria, who at 14 was forced to marry in Guatemala and gave birth to two daughters (who she had to leave in the care of her mother), had previously had very negative experiences with men - her first husband being physically and verbally abusive. Maria has told me on many occasions how nice Benjamin was to her that first night they met and how nice he always continued to be with her. Maria was diagnosed with cancer and found out she was pregnant with their second son.
When I met Maria, due to her illness, she was unable to work, and Benjamin supported the family by working in the kitchen at a restaurant in Times Square. Although the school the boys went to was in Williamsburg, Brooklyn, Maria and her family lived in public housing over an hour away in Brownsville, NY. Because Maria and Benjamin saw that the quality of the schools in their neighborhood would not give their boys the education they deserved, Benjamin took the boys on the train each and every day over an hour each way to bring them to our school.
Benjamin was there every day to pick the boys up from school and he accompanied Maria to all of her doctors appointments. The boys were also part of a soccer program where the majority of parents would just drop their kids off. Not Benjamin. He came to every single game. The boys never missed a Saturday and their dad was always there. On days when Maria felt well enough she would also come to the games. They were a family that supported one another and they always went the extra step for their sons.
Because Maria's cancer was incurable she and Benjamin felt an urgent need to set up plans for the boys for the time when she would no longer be there. Although Benjamin was the biological father, they were concerned that because Benjamin was undocumented the boys would be taken from him if something happened to her and would end up in foster care.
In February 2018, I got a message from Maria, something horrible had happened. I immediately called Maria and between sobs she told me that when Benjamin had gotten to the border, border control had immediately given him a ban of 10 years for re-entry into the United States. "My husband can't come back, he can't come back," Maria kept repeating. Her family was torn apart in a blink of an eye.
Throughout the rest of 2018 the school community, banded together to try to help Maria and her family. Fellow parents and friends banded together to help pay for the family's basic expenses since Maria was unable to provide for them and a food delivery service was also put into place. Of course none of this could replace Benjamin and his presence. Cristian, the older son, had to take on the responsibility of bringing Daniel to and from school, Maria had to go to all of her appointments alone, there was no income coming into their household, and most importantly their dad and her husband was gone. During this time Maria's cancer also got increasingly worse. Her cancer was metastasizing at a rapid pace and doctors at Memorial Sloan Kettering continued changing her medications in an effort to slow down the disease.
Benjamin attempted to go to the border in Ciudad Juarez with a letter from Maria's doctor pleading for him to be allowed back to see his dying wife and children but he was denied entry. During this time Nydia Velazquez also wrote a letter on Maria and Benjamin's behalf and a news story was done by on ABC news covering the story. Nothing has worked .
Maria has been consumed with depression and anxiety about her husband and still held hope that there was a way for him to be able to return to the states. Through a family contact, my husband and I reached out to NYLAG, who offered to meet with us and Maria and strategize on how to help her. A testimonial was given by Maria and NYLAG got in touch with Senator Gillibrand and asked her to help with the case. Doctors letters were gathered, paperwork was filed, and a very generous parent at the boys school not only offered to become the temporary guardian to the boys, but also offered to be the monetary sponsor for Benjamin if he were allowed re-entry. Throughout this process, NYLAG reminded us that legally there was nothing that could be done, but that with the help of the senator, doctors letters, monetary sponsorship, and a testimonial they believed there was a chance that border control would allow Benjamin re-entry. That's the thing, it ultimately was going to come down to one person having a heart.
About two weeks ago, Maria gave me a call. She told me that she had received very bad news at the doctor. Her cancer had spread to her internal organs, her lungs, her liver, and the chemotherapy was no longer working. She told me the day had come that she never thought would, she was dying and there was nothing medicine could do. A few days later, Maria, from a skin lesion that had burst, began to bleed out in her apartment. She called 911 and they rushed her to the nearest hospital. She lost a significant amount of blood and had to have various transfusions and was transferred to MSK where she stayed for a week. During this week, I had a phone call one day with her doctor. She told me, there is nothing left for us to do, nothing is working. Maria will soon begin to have difficulty breathing and will need to be in in-hospital hospice care. The end is near she told me. .

Fundraising team: Brooklyn Arbor Families (7)
Tamara Gayer 
Organizer
Raised $10,685 from 133 donations
Brooklyn, NY
Ursula Helminski 
Team member
Raised $2,458 from 17 donations
Susan Carrano 
Team member
Raised $825 from 8 donations
Abigail Loomis 
Team member
Raised $485 from 10 donations
Dale Kaplan 
Team member
Raised $30 from 1 donation
#1 fundraising platform

More people start fundraisers on GoFundMe than on any other platform. Learn more

GoFundMe Guarantee

In the rare case something isn't right, we will work with you to determine if misuse occurred. Learn more

Expert advice, 24/7

Contact us with your questions and we'll answer, day or night. Learn more