Helping Branden and Katelyn
UPDATE 1/12/21 8pm
Thank you for all of your prayers! We are continuing to see God's presence in every step of this journey.

The doctor said the surgery went well, and Branden did great.

The left hand was amputated at the mid-forearm just as they had planned. They took extra time to take care of the end of the nerves to help him in recovery and for future use of the nerves.

As for the right side, his thumb and pointer finger were both dead so those were removed. The team of doctors are discussing the possibility of moving one of the remaining three fingers over to the thumb position so he will have a grip. This is very important to be able to keep that hand. By moving that finger, he will have a very functional hand. The concern is still what kind of damage there is in the bones and the health of the tissue where the thumb and index finger attach so they can reattach in that area.

The next surgery could be to take another look at how things are progressing and cleaning out the right side again. The next definite surgery, at some point, is to replace the cadaver with a skin graft.

The doctors are already talking about getting him an electric hand in the future for his left arm. He seemed very optimistic about the use and function of that electric hand. He made sure Katelyn knew he will be hugging her and holding their baby. The doctor also said Branden is a warrior, fighter, and delightful to deal with.

Specific prayers are for the bones to be in good shape and where the thumb/index finger attaches to the hand to be strong and healthy. Please also continue to pray for mental strength every step of the way.

We can't say enough how much we appreciate your continued support and prayers!

UPDATE 1/12/21 1020AM
Branden went back for surgery. Keep the prayers coming! God is good all the time! It will be several hours before we get an update! Thank you all so much for donating to Branden and Katelyn. We will keep everyone updated!





UPDATE 1/11/21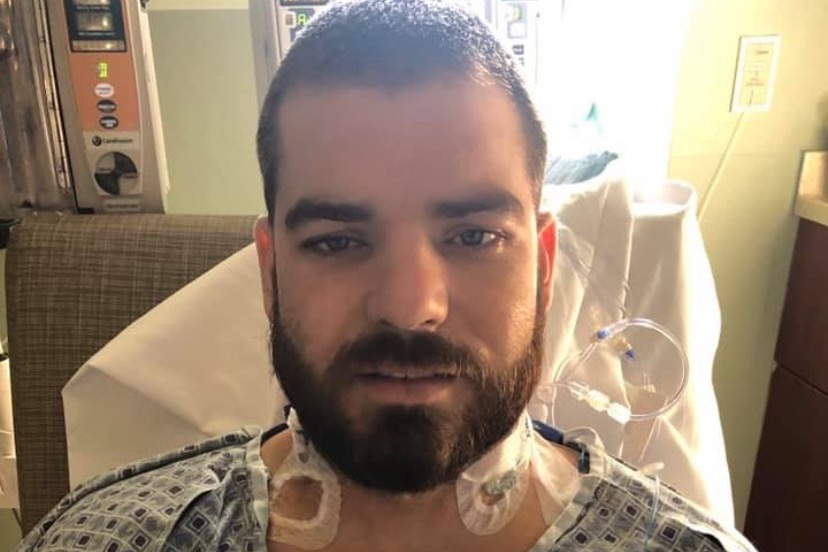 We wanted to thank everyone for their thoughts and prayers and to give an update on Branden. We cannot believe the continued outpouring of love, support, and prayers that have been sent Branden's way.

We have a lot to praise God about beyond the miracle that Branden is still with us. His vitals have continued to stay where the doctors would like to see them. We have been able to see him through FaceTime and to have short conversations with him as he is very tired. He has sat up, moved his arms, and is able to eat.

Branden is still scheduled for surgery tomorrow (January 12th). This will most likely be one of many to come in this marathon of a journey. The plan for tomorrow's surgery is to amputate his left hand from around the mid-forearm down. The doctors are still unsure about his right side because it has some significant muscle damage. However, it does have some sensation and still a lot of good muscle mass with good blood flow.

We will be taking it day by day as we pray for God's will to be done. We also pray that God will heal his right side and keep his vitals and senses all in good condition. We pray that God, being the great Physician, has the final say on Branden's left hand. We also pray for God to guide the doctors and nurses as they care for him and perform procedures.

Again, THANK YOU from the bottom of our hearts for your prayers.



First and foremost we're asking for prayer for Branden Bauer. For those who don't know him, he is an electrical lineman and was severely electrocuted/burned January 8th. He is currently in the ICU at UPMC Mercy. After his surgery Friday, the doctor informed us that they plan to do another surgery Tuesday where they will amputate his left hand and evaluate his right arm/hand. The right side looks worse, but at this point they don't know what it will require.

We praise God that he didn't take away our loving husband/son/brother/friend. We also praise God that Branden's vitals and legs appear to be in good shape, and he is conscious and talking. We pray that the doctors will have God's hand on their hands when doing surgeries and procedures, that the doctors will have to amputate as little as possible including that God could use his miraculous powers to heal his left hand, that the burn doesn't progress to his vitals/nerves/brain, and that God will keep a calm over him and his wife and let them grow closer to God and see his will for them through this accident. We also pray for his family members and his coworkers.

Branden and Katelyn would not normally do this, so the family is doing it for them. There is such an overwhelming amount of people who want to donate money to Branden and Katelyn. We are only asking for prayers but if God puts it on your heart to donate, this is the place to do it. We are so grateful for the many donations that have already been made through food, money, encouraging words and the endless amounts of prayers. We love Branden and Katelyn so much and we believe that God can heal him!
Jennie and Tim Moore Moore 
Organizer
Kayla Bauer 
Organizer
Shippenville, PA
#1 fundraising platform

More people start fundraisers on GoFundMe than on any other platform. Learn more

GoFundMe Guarantee

In the rare case something isn't right, we will work with you to determine if misuse occurred. Learn more

Expert advice, 24/7

Contact us with your questions and we'll answer, day or night. Learn more