Turn Huiling's life around
From Karen (in San Francisco) and Jackie (in Singapore): We're asking for help for our dear friend Huiling. She has lost all quality of living due to severe eczema over the last decade and desperately needs treatment outside of Singapore in order to turn her life situation around.
This is her story. Please consider helping!
Huiling's account:
I have had eczema all my life - as a child and teenager I remember having to endure agonizing itch and ugly rashes on my hands, face, limbs, neck. I had hoped that the condition will improve in adulthood, as it does for many sufferers, but 10 years ago, when I graduated from university and began my first job, the condition nosedived into something so severe that it became nearly life threatening at one point.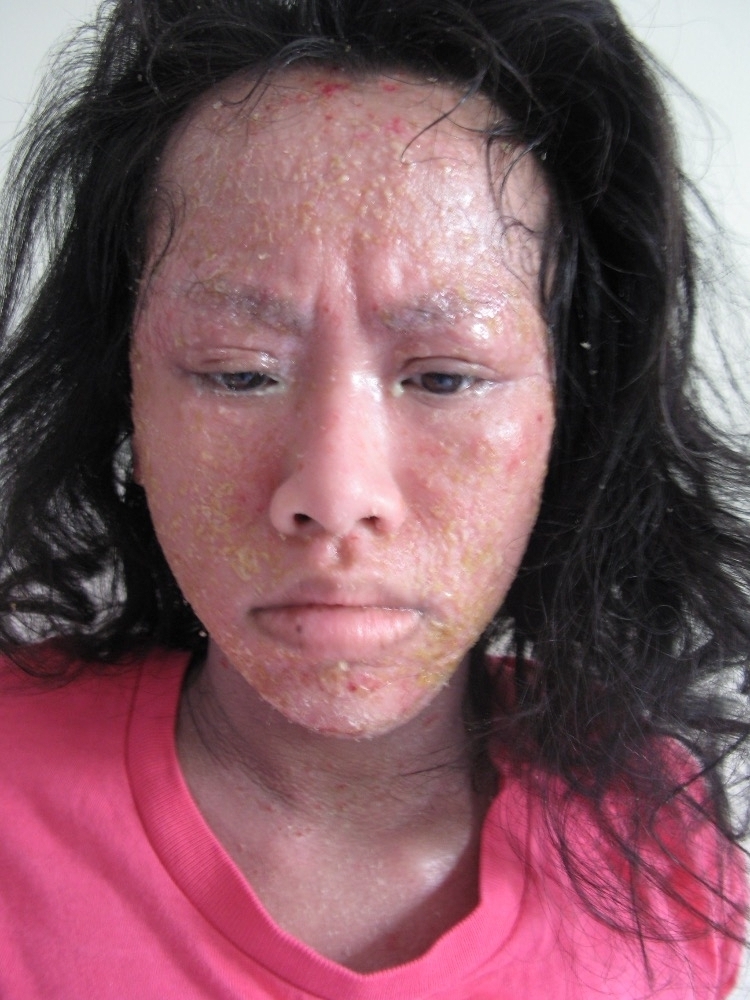 The condition of my skin for most of the past 10 years
The eczema suddenly spread to every inch of skin on my body. The first bad flare-up landed me in hospital for a month, and I had to take 3 months off work. Eventually, I had to quit when my condition worsened to a point that exposure to air-conditioning made it excruciatingly painful, and caused to skin to become angrily inflamed and weepy. The flare-ups became so frequent that I was hospitalized multiple times a year, for a few weeks each time.
I finally decided that conventional treatment with steroids and antibiotics wasn't going to get me better – in fact, overuse of steroids had caused cataracts and osteopenia. My weight plummeted by 20kg in less than 3 months. I was often too weak and in pain to do anything. The skin was always very fragile and hypersensitive. Sometimes it was painful to even wear anything. It was impossible to sleep at night, and sleep often only came when I was absolutely exhausted in the early morning. My fingers were often too swollen and weepy to be of any use - my mom would have to bathe and feed me.
In 2010, I decided to try out a naturopathic treatment that came highly recommended by a friend – apparently many patients with skin disorders had seen great success with it. (Only by my friend's and the therapist's words) At that point, I felt pretty hopeless – conventional treatment seemed only to alleviate symptoms when I was in hospital, only to revert to its dry, weepy, painful state within 2 days of getting discharged. So, though I was mildly skeptical about the naturopathic treatment, I went ahead with it, feeling I had nothing to lose.
It was absolutely nightmarish the effect the first (and only) treatment I went for had on me – the day after the treatment, my skin erupted in pus-filled boils all over: scalp, face, soles of feet, absolutely everywhere. The boils broke easily, and the wounds gave out a sickening rotting stench. My left leg swelled to twice its size around the knee. Needless to say, I was immediately rushed to ER. I remember the doctor saying I would have developed blood poisoning from the widespread infection I was experiencing, had i been brought to them any later. The swollen leg was due to cellulitis (infection of the fascia tissue within the leg) and they would have to cut it open to remove any pus that may be there, or risk amputation or death.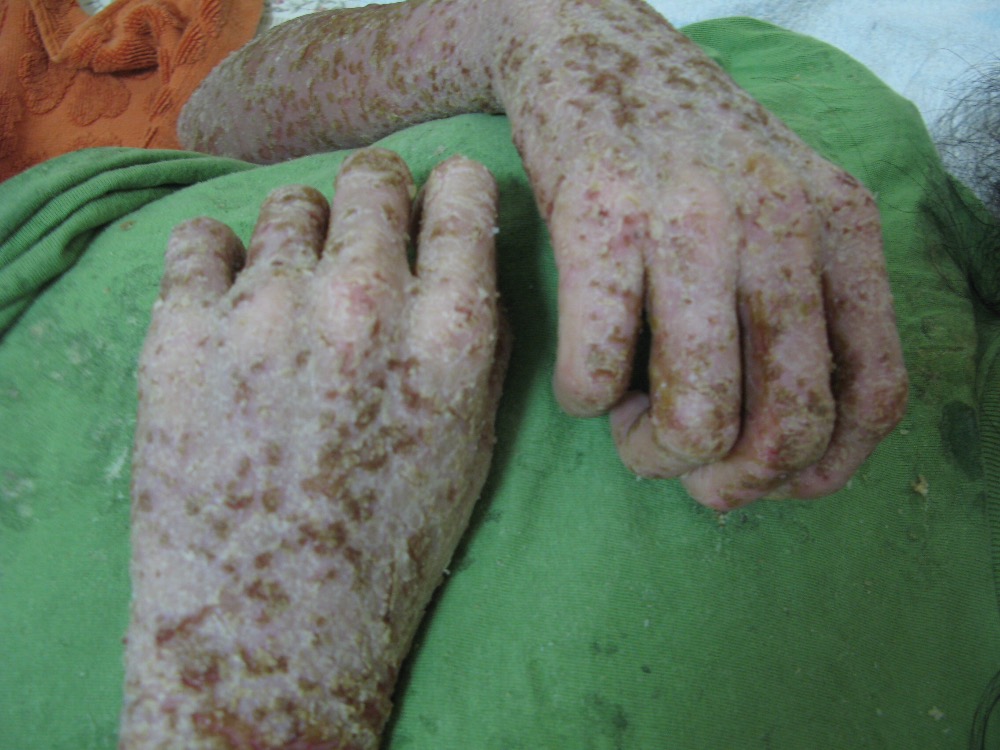 Just one day after the naturopathic treatment - the pus-filled boils had broken and formed tough scabs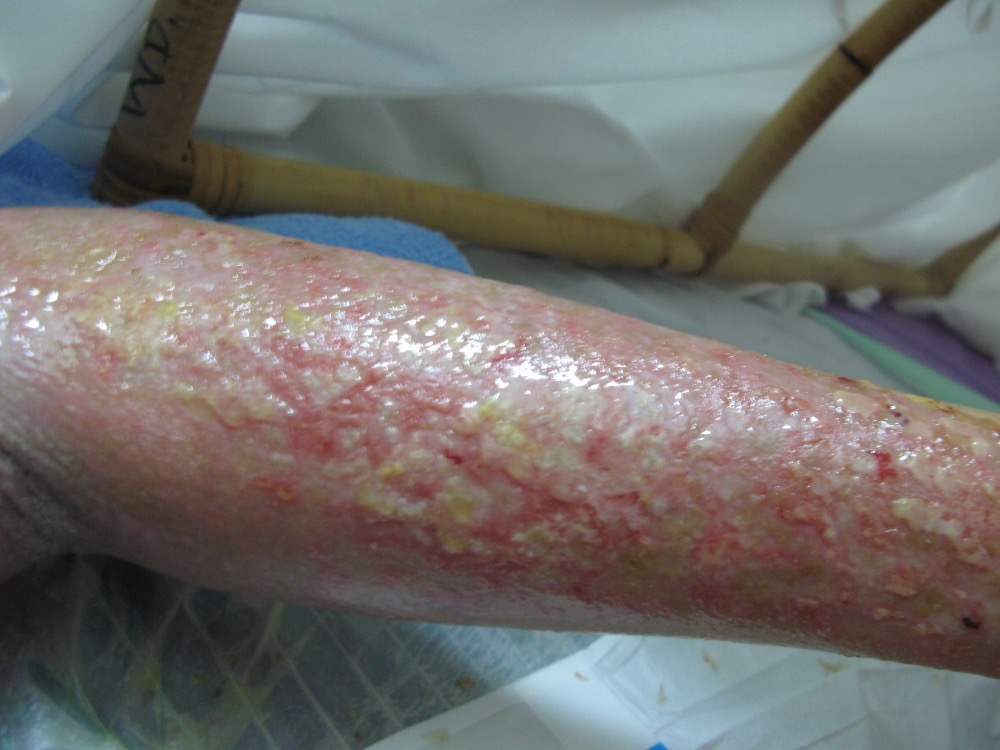 After one week in hospital - the scabs had to be forcefully scrubbed off to facilitate healing. The intensity of pain from that process is one I can vividly remember to this day.
I was pumped full of antibiotics via IV the next few days. The pain I experienced the next few weeks was indescribable. Even on strong painkillers I was constantly in pain, and screamingly so whenever anything came into contact with my skin. I finally got well enough to be discharged more than 2 months later.
Since then, healing has been an uphill struggle. Being critically ill for so long had taken its toll on me physically, mentally and financially. Flare-ups were less frequent but still severe enough to require hospitalization. I relied on conventional treatment, sans the use of steroids. Just a lot of moisturizer and rest, and antibiotics when necessary.
Today, I'm finally well enough to go out for short periods of time without too much pain. Even then, my life is far from normal. I'm hoping to work towards being well enough to find a job again. I still believe that conventional treatment isn't the long-term solution to treating my condition, and that there is something out there than can heal me. I also hope that sharing my story and experiences here can give other disheartened sufferers newfound hope, and encourage them to not give up in their quest to find a cure for themselves.
From Jackie:A SPIRIT CRUSHED
I've known Huiling for over 10 years, and witnessed first hand how spirit-crushing and debilitating this seemingly superficial ailment has been - it's reduced her from an active, fun-loving, outdoorsy individual to someone who was too ill and afraid to step out of the house.
Simple tasks that many of us take for granted are gruelling and painful for her. I've seen her do the necessary preparations to go out - putting on clothes would take a long time because she'd have to gingerly ease herself into them, to avoid having the fabric even lightly brush against any of the numerous open wounds all over her body. More often than not, i've seen her almost successfully put on a piece of clothing, only to quickly rip it off again in agony, and then altogether abandon the idea of going out, too strained to try again. When outside, air-conditioned places (often a comfort for us in hot sunny Singapore) will cause her to shiver uncontrollably, both from the cold (because her skin no longer functioned as an insulating barrier) and pain (from all the open wounds drying up and tightening). There was one point during her illness that her hands were perpetually covered in painfully bright red, oozy wounds, and the fingers had swelled to twice the width. It became impossible for her to hold anything without enduring a large amount of pain. It was saddening to watch how she'd struggle to eat, with shaking hands as she awkwardly holds the utensils so that she'd feel the least pain. Many meals have ended up with her in tears and most of the food untouched.
Needless to say, being to severely ill for so long had taken a huge toll on her mental health. I watched, helpless, as she fell in and out of depression. Sometimes, it seemed that the pain got so bad that she'd be half-muttering and half-screaming incoherent nonsense. She was referred to different psychiatrists and psychologists on the many times she was warded in hospital, but none of them seemed to help. Even her mother became deeply depressed at one point, having to see the suffering her daughter was going through, and not being able to do anything about it.
Over the course of many years we've tried every remedy and treatment that came our way, through recommendations of friends or positive reviews online. None of them offered much solace; in fact, quite a few of them only worked to worsen her condition and land her back in hospital. Yet, Huiling has never quite given up on trying to seek new avenues. She still pushes herself to lead as normal a life as possible, even if it means enduring a load of pain, and suffering the relentless stares of strangers.
CURRENT TREATMENT
Right now, she's undergoing regular Ayurvedic treatment at a local clinic,
Union Yoga Ayurveda
, but it seems only sufficient to keep her condition stable enough to not have to be in hospital, yet not well enough for anything else. It's almost certain that if we stop this treatment, her condition will deteriorate and she'd have to be back to relying on western medicines again. It's evident that that's not a viable long-term solution: prolonged reliance on prescription drugs may lead to resistance to them, and other undesirable side effects. Already she's developed cataracts in both eyes from using too much corticosteroids over the years. Also, her symptoms (severely inflamed skin, oozy wounds) are synonymous with that of steroid withdrawal. We are all hoping that the intensive ayurvedic treatment at the ashram provides the boost of improvement needed to get her back to being near normal again.
WHY SIVANANDA ASHRAM
At the clinic, Huiling had the good fortune to meet a lady who went through a similar ordeal, but is now almost completely free of the illness after seeking a month of intensive Ayurvedic treatment at
Sivananda Ashram
 in Kerala, India. With her help, we have contacted the doctor with information and pictures of Huiling's current condition, and he is confident of curing her with at least a month's stay at the ashram, perhaps longer, or for more than one session.
Treatment costs at the ashram are estimated to be S$600/week, excluding travel and accomodation costs.
MOVING FORWARD
Huiling's condition has seen some improvement over the recent years, and it has been 2 years since she was last in hospital, yet, her quality of life is far from normal. Apart from the frequent, uncontrollable bouts of crippling itch and pain that still prevent her from handling many everyday tasks and the psychological stresses the illness brings with it, she has financial burdens to worry about. Being 'merely' chronically ill with eczema (as opposed to having a disability) meant that it was impossible to get aid from charities or the government. She had exhausted all of her savings on hospital bills and all the failed treatments. She's not from a well-to-do family, and even with the help of friends she often struggles to pay for the next meal, let alone to continue the current treatment she so desperately needs just to stay out of hospital.
We hope to raise enough funds to see Huiling through the current treatment, and hopefully get her well enough to travel to India later this year to undergo the intensive treatment that could drastically improve her condition.
Please share this story if you will, and donate if you can. Any help will be deeply appreciated. Thank you!
Donations

Organizer and beneficiary
#1 fundraising platform

People have raised more money on GoFundMe than anywhere else. Learn more

GoFundMe Guarantee

In the rare case that something isn't right, we will refund your donation. Learn more

Expert advice, 24/7

Contact us with your questions and we'll answer, day or night. Learn more