Help a Young Venezuelan Doctor
When our family met Belen and Guillermo Maggiolo a few months ago, we immediately knew they were very special people. They are highly educated professionals who, with the help of their American-born daughter and friends, moved from Venezuela to the U.S. about a year ago. Since then, they have quickly completed the necessary steps to legally immigrate to the United States. Once they obtained their work permits, they immediately began seeking work opportunities. That is how I met Belen. A few months ago, she joined our farming operation as a valued employee and a treasured friend along with her husband, Guillermo. After meeting Belen, we learned of another daugher who is still in Venezuela. She and her husband, David,  are trying to maintain the farm left behind by her parents. With the economic, medical, and humanitarian crises in Venezuela growing worse by the day, Belen and her family are very worried about Anita's family's future in Venezuela. Anita is a physician who is unable to practice her profession due to lack of medicine, medical supplies, medical equipment, and fuel to travel to a practice location. Belen can best tell you more about her daughter, son-in-law, and precious grandson. Please read Belen's story below.
                                                                                                                                            Marilyn Griffin                                                                               
Hi, we are Guillermo and Belen Maggiolo. We are from Venezuela, a beautiful Caribbean country that, in the last 20 years, has fallen into disaster due to a very bad and corrupt government. This corruption has pushed this once rich oil country into poverty, hunger, a collapsed medical system, very high crime rate and the highest inflation rate in the world currently around 4,000% and climbing each day.
In December 2016, our American-born daughter Alessandra, and her husband Ray, created a GoFundMe campaign to raise funds to bring us here so we could have a better quality of life. With the help of many friends and people from the wonderful community of Floyd County, Virginia, we were able to come to the U.S. in March 2017.  We have already filed our immigration paperwork, gotten our work permits, and found employment.
As we are settling into our new community, we are concerned that our youngest daughter, Anita, is still in Venezuela. She is a doctor who graduated a couple of years ago from medical school, and recently finished her required year of rural health service.
She and her husband, David, have a 15-month-old son, Sammy. You would think that as a doctor she would be able to provide for her family, but unfortunately with the inflation rate so high, her monthly salary (cash plus food stamps) only amounts to $8 US. We have been helping them to survive by sending them money, clothes, and dry food items on a monthly basis. Still, whatever we can send is not enough, so they are forced to go to Colombia to look for most of the dry goods they need. They are allowed to bring only a half dozen of each item through the border back to Venezuela.
Ever since Anita started her rounds as an intern in the University Hospital in Merida, Venezuela, Anita has dreamed of becoming a surgeon. This is almost impossible to achieve in Venezuela, so she is getting ready to take the USMLE (US Medical License Examination) and complete all the other necessary steps to be able to apply for a residency program here in the United States. Most of all, she is hoping to reunite with her family and meet the niece she has only met through photos and videos.  She is hoping for the opportunity to spend time with her parents, sister, and brother-in-law, and for Sammy to have the opportunity to grow and thrive in a safe environment surrounded by his family and all the wonderful people that have become our community family and friends here. 
Below, you will find several links about the dire situation in Venezuela.
Thank you for taking the time to read this. We feel so very grateful for all the help we have received, and we feel even more hopeful that, with your help and our efforts, we can bring our Anita and her family here where they will be able to build a good life and give back to this amazing community ♥️.
                                                                                                                                                    Belen Maggiolo
Anita receives her diploma from medical school.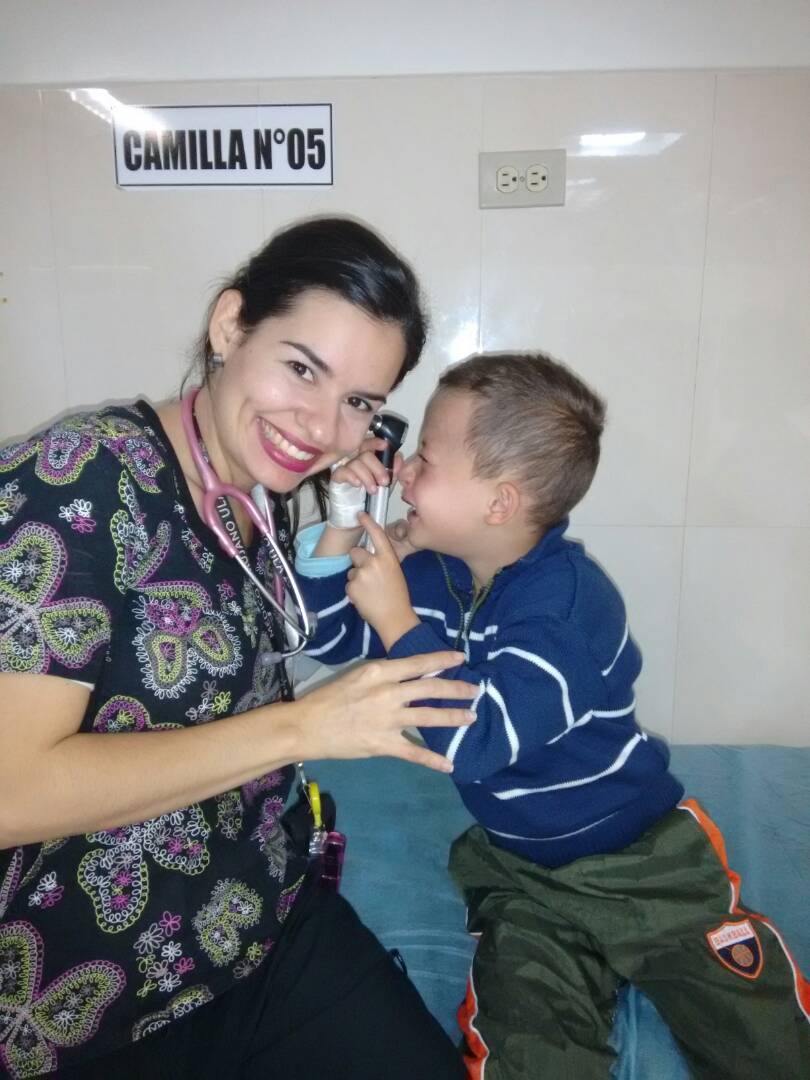 Anita working with children during her rural medical service.
Details about the Donated Funds
Benficiaries of this campaign include:
Ana Caterina Maggiolo Romero de Leon (a.k.a. Anita, Annie)
David Leonardo Leon Torres (Anita's husband)
Samuel Andres Leon Maggiolo (Sammy)
Below is a summary of the major expenses involved with bringing Anita and her family to the United States and helping them to get started on their productive life here.  A special bank account has been established at Skyline National Bank to receive funds from this campaign. Funds from this bank account will be paid by me on behalf of Anita and her family directly to the enitities providing services as indicated in the expenses summary. As funds are used, updates will be posted so that you may see how the funds are being used. Any funds left after paying the expected major expenses listed below will be paid by me to Anita and David upon their arrival to the U.S. so that they may use the funds to cover their initial living expenses.
 Visitor's visas for David and Sammy (Anita already has her visa), 2 @ $160:    $320 to be paid directly to the U.S. Embassy
Air travel for the three of them from their home to Greensboro, NC:    $2014 to be paid directly to the airline carriers. 
Anita's first USMLE exam (There are three exams Anita will need to pass before she can practice medicine in the US. These funds will cover registration for her to take the first exam. Anita has been preparing for the exam for the past few months and expects to be ready to take it around October. Helping her cover this cost will enable her to move  forward with her plan while she looks for employment.):    $1000 to be paid directly to the National Board of Medical Examiners.  
NEWS LINKS ABOUT THE ERODING SITUATION IN VENEZUELACorrupt Venezuelan government buying favor with poor populace:
http://todayvenezuela.com/2018/01/25/electoral-populism-workers-in-venezuela-will-earn-less-than-a-pregnant-woman-with-a-new-protective-bonus/
Why doctors are fleeing Venezuela:
http://todayvenezuela.com/2017/12/12/venezuelas-health-crisis-40-percent-of-new-medical-graduates-have-already-left/
Medical care crisis in Venezuela:
http://www.euronews.com/2018/02/02/venezuela-s-government-in-denial-as-doctors-warn-of-return-to-medical-stone-age-
https://en.wikipedia.org/wiki/Health_care_in_Venezuela
(This Wikipedia article is about health care prior to the current governing regime.)
https://www.npr.org/2018/02/01/582469305/venezuelas-health-care-system-ready-to-collapse-amid-economic-crisis
Humanitarian crisis in Venezuela:
http://todayvenezuela.com/2018/01/19/recent-wave-of-looting-shows-extent-of-hunger-in-venezuela/
http://todayvenezuela.com/2018/01/15/as-crisis-worsens-venezuelans-turn-to-perilous-escape-routes-by-sea/
http://todayvenezuela.com/2017/12/21/venezuela-crisis-farmers-struggle-as-people-go-hungry/
Political oppression in Venezuela:
http://todayvenezuela.com/2018/01/25/venezuelan-secret-police-the-key-to-maduros-oppressive-hold-on-power/
https://www.nytimes.com/2018/01/23/world/americas/venezuela-election-maduro.html?rref=collection%2Ftimestopic%2FVenezuela
http://www.miamiherald.com/news/nation-world/world/americas/venezuela/article196477624.html
Financial crisis and inflation in Venezuela (as evidenced by the cost of eggs):
http://www.latimes.com/world/mexico-americas/la-fg-venezuela-inflation-0531-snap-htmlstory.html
https://www.nytimes.com/2017/12/02/world/americas/venezuela-nicholas-maduro-inflation-hyperinflation.html
http://todayvenezuela.com/2018/01/05/new-monthly-minimum-wage-in-venezuela-barely-enough-to-buy-daily-cup-of-coffee/
http://todayvenezuela.com/2018/01/21/as-venezuelan-oil-production-collapses-latin-america-looks-for-a-new-petroleum-leader/