278
23
Help Save Norman's Leg
$21,129
of $23,000 goal
Raised by
270
people in 6 months
Born November 27, 2018, baby Basset Hound, whom we've affectionately named "Norman," wasn't born with the physical advantages of his six sisters. Every day he struggles to stand, walk, run, play, and even eat.  In his short 16 week-long life, Norman has been struggling with multiple birth defects that could break your heart, but he's determined to live his best life and we are earnestly seeking help to provide that for him. Here is his story, the medical details of which I have updated to reflect his recent consultation and x-rays with his orthopedic surgeon: 
When we were researching "pets for rehoming" online, we came across Norman's litter and learned that one of the seven puppies, the only male, was born with a forearm/paw malformation, likely due, according to his veterinarian at the time (Beaverton Crossroads Vet Services), to the umbilical cord strangulation in utero.  After seeing Norman's little face in photos and learning of his disability, we drove three hours north to meet him. While all the other puppies were spoken for, no one wanted Norman -- no doubt because of the intimidating factors (money, time) of caring for a special needs puppy. The owner of the litter loved Norman, but he couldn't keep him, nor did his remote geographical location afford him access to surgical and rehab specialists that being close to a city could, so all we could see for Norman's future was a shelter/the SPCA, and from there, god only knows. We needed to make sure Norman never saw the inside of a shelter.
We couldn't know that this sweet little boy existed, know that the cards were stacked against him before he drew a breath, and do nothing; so we decided to bring Norman home, along with one of his sisters, and do everything we can to help him have the greatest life possible. When Norman came to our home on January 30, 2019, his malformed leg was raw from tooth marks as his sisters would bite it and chew off the bandages that his owner would wrap around his leg in an effort to protect it. He has two little toe nails growing out of the top of his paw, which he keeps filed because he walks with his paw curled in, toward his stomach. This must be a source of irritation to Norman because I catch him chewing on his sore paw on occasion, which could also account for some of the redness and cuts. We've had terrible weather here in Ontario these past few weeks and it hasn't helped Norman; I've been potty training him and protecting his leg with a sock when we go outside (as depicted in one of the photos), but the sock is grossly insufficient to protecting his leg from the harsh elements. Since he has been here, his leg has been healing but it will always be "naked" which means his skin will always be exposed to the elements.
His litter vet's recommendation was full amputation of the forearm -- the "cheapest and easiest" solution -- which to us was unacceptable. Basset Hounds  are barrel-chested and they carry their weight in the front; supporting his front-end on only one leg for the rest of his life would create a host of other medical issues including osteoarthritis and a life of constant pain. The malformed arm is not completely useless; it has good blood flow and he consciously tries to use it to steady himself. He tries to scratch himself with it, and he reaches for toys with it. The issue with the arm (in addition to the fact that he doesn't have individual toes to offer him stability and proper mechanical mobility) is that at the wrist, where the paw should flip forward and enable Norman to stand on it, it is both rotated and twisted inward, making it impossible for him to stand on the bit of paw that did grow.  
After his consultation on March 18th with Dr. Moens, a top-orthopedic surgeon at the Ontario Veterinary College in Guelph, Ontario, we have learned that Norman's malformed right arm not only reflects an angular limb deformity and the obvious carpal and digit malformations that are clearly visible in the photos, but this arm also has a full congenital shoulder luxation (disjointedness), which accounts for his inability to stabilize himself in spite of the carpal (wrist) deformity. Essentially, his shoulder is sliding around and this is why he can't even walk "peg-legged" with any confident level of support. The weakness of this shoulder makes it impossible to have him fitted for a traditional orthosis brace because his shoulder will not support the weight of one, which is approximately .5 kg in weight. Consequently, Dr. Moens is referring Norman to Janice at PawsAbility in Toronto to fit him for a custom-made light-weight, neoprene sleeves (multiple to accommodate him as his leg grows) with, likely, a carbon-fiber splint or some other kind of weightless material, to train his wrist to flip forward in preparation for surgery. The two surgeries on this arm, which he will have when he's full-grown, will be complicated because there are two major deformities to deal with: the shoulder and the wrist, both of which will undergo a surgical arthrodesis (fusion of the bones) to provide him the best stability possible, hopefully without the need for an additional orthodic device, though this leg is currently 2 cm shorter than the other one, so he may still need an orthodic boot to equalize his height.    
Whereas I originally believed that amputation cannot be the only solution because Norman is compensating for his birth defect by twisting his "good" arm inward to give him stability, I now know that this is not the only reason why Norman's left/fully formed arm is twisting. It's not just that he's compensating by creating a "tripod" so he can balance himself. The x-rays of Norman's "good" arm show an angular limb deformity (a common bone growth abnormality) that, for Norman, is completely uncommon insofar as he has a congenital elbow luxation with a lateral luxation of the radial head. In layman's terms, the radius bone in Norman's arm, which should be growing parallel to the ulna, is turned on a 45 degree angle, and the top of it (the head) doesn't connect to the bottom of the humerus bone to create a normal elbow. His shoulder and wrist on this arm appear normal, but this disconnected radius accounts for why his "good" arm's elbow rotates and sticks out. A reassessment of this arm will take place in September when he is fully grown to create a surgical plan for this arm once his malformed right arm and shoulder are healed.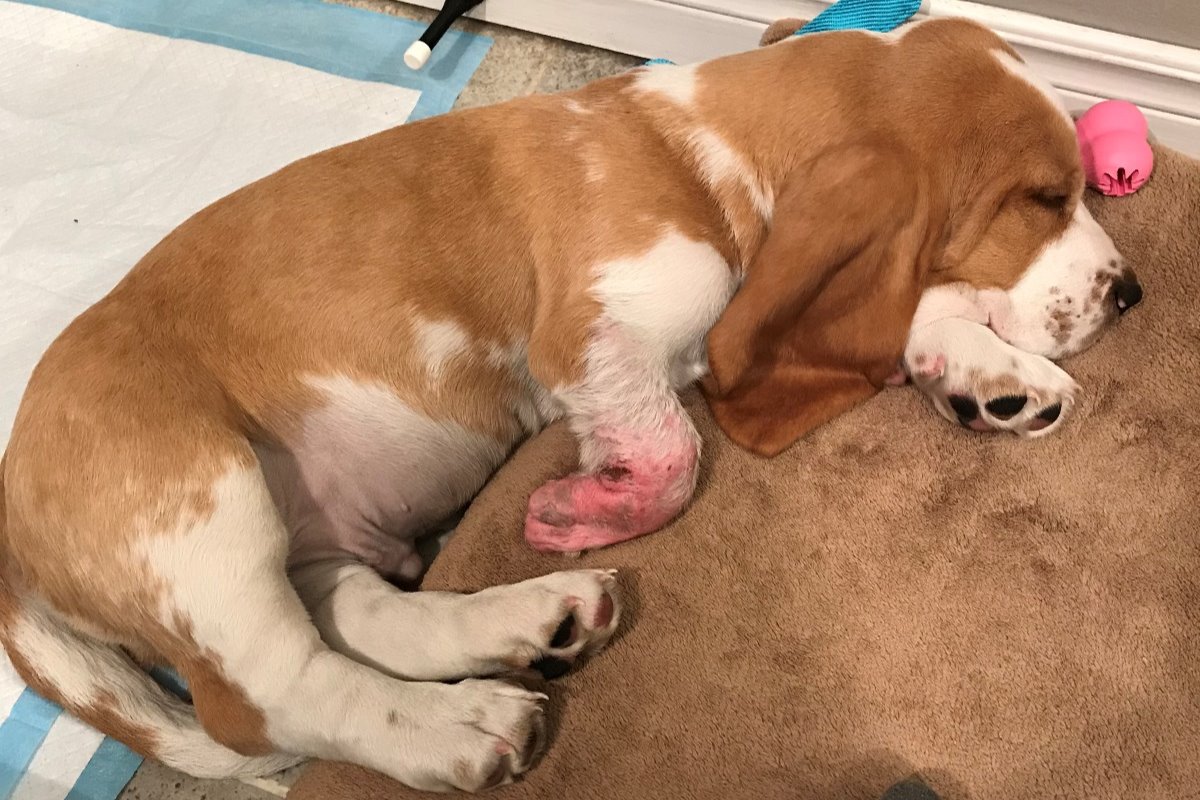 The money raised for Norman through this Go Fund Me campaign will be used (and is being used, since we've already started the process) to pay for the surgical consults, examinations, x-rays, and the best corrective surgical procedures available for Norman (provided by Dr. Noel Moens of the Ontario Veterinary College in Guelph, Ontario), supportive leg braces and boots for both of his front legs to correct his mechanics, protective footwear to shield his malformed foot from the elements as he will never grow protective fur on that paw (all provided by PawsAbility in Toronto, Ontario), pre-and-post op hydrotherapy, physiotherapy, and chiropractic adjustments which we have already begun (provided by pet rehab specialist Dr. Liz Pask of Gilmour Road Veterinary Services in Puslinch, Ontario), required post-op medicines and joint support supplements like omega 3s and 6s as well as glucosamine and MSM when he is an adult to decrease the onset of degenerative bone disease, a house-sitter to keep him stationary while he recovers from surgeries during our working hours, and all post-op consults with Dr. Moens and our primary care veterinarian at Stone Church Animal Hospital.
Because Norman was born with these deformities, pet insurance is not an option as no insurance company covers pre-existing conditions, so as Norman's rescue family, we are financially on our own, which is why we need your help. 
We will be posting all vet bills, progress updates, and day-to-day photos and videos associated with Norman's leg on his Facebook page in the spirit of complete transparency. I will also post his recent x-rays and consult reports to back up the medical information I've provided above. Norman's Facebook handle is @storminnormanbasset . If you don't have Facebook and would like me to email you copies of anything I've received, please send me a message through Go Fund Me with your email address. 
We will see to it that Norman is up-to-date with all his vaccinations (he just received his last set of boosters March 19th) and that he his neutered when the time comes, though we can't neuter him until he is fully grown as Dr. Moens says neutering affects hormones and triggers rapid bone growth, which we don't want for Norman's elbow luxation on the left arm. The shorter that disjointed radius bone remains, the better for him and his surgical outcome.
Norman is the sweetest most soulful-eyed pup I've met since first holding my girl, Gracie, in my arms. He has a "can't stop, won't stop" champion's attitude that teaches me a thing or two about the importance of determination, living in the moment, and knowing he'll always come in last but choosing to run the race anyway.
Please spare even a few dollars to help us give Norman the greatest stability and to give him a chance to have the best quality of life. If you can forward this page to anyone you can, we'd be forever grateful. Finally, if you would like to meet Norman, we would welcome a visit or even a FaceTime video call so that you can see Norman for yourself and understand why this little boy deserves us to advocate for him when he doesn't have the voice to advocate for himself.
Thank you for taking the time to read Norman's story. We hope you'll decide to become a part of his journey.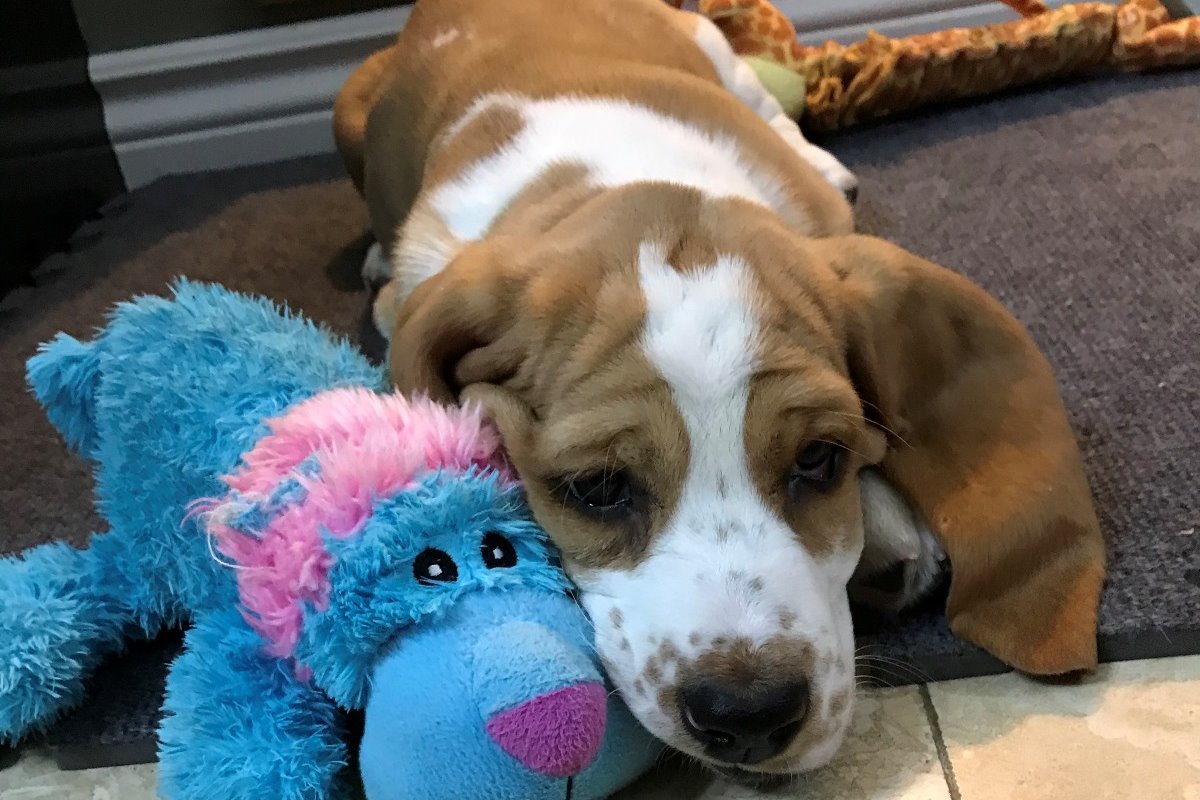 + Read More
Update 1
5 months ago
Share
I have updated Norman's story to reflect the details of his ortho consult with Dr. Moens of the Ontario Veterinary College. I'll post the x-rays and Dr. Moens' report on Norman's FB page @storminnormanbasset when I receive them. Thank you for sharing his story!
+ Read More