The
Areal Moldavian Stray Dog Rescue Shelter
began in 2014 and four years ago our shelter opened its doors in our current rented premises, to take in homeless animals. Day after day we have nurtured newborn puppies and kittens thrown out in the garbage, we have rescued and treated sick animals, we have given shelter to former abandoned home pets who are not adapted to a life on the streets. We tried to help everyone! Now we need your help. Please read the following to understand what has happened to us.
Our beautiful peaceful location nestled deep in a valley with only the noise of birds and passing goats has been ruined. Right next to our shelter not 50m in front of our gates has begun the construction of a recreation centre as the plot was recently sold off.  We had no idea of the horrors about to hit us. Such a neighbourhood is simply unacceptable either for dogs (or for the people who will soon come with their families for vacations). We can't stop the construction !!!
Since building began two weeks ago, a few cabanas and BBQ areas have been built (with more currently underway) and of the 'visitors' who have utilised these facilities, their behaviour has been terrible: shouting, playing loud music, drinking and setting off fireworks and even firearms. The dogs are unsettled with all this noise, scared to death when the fireworks and firearms went off and tried to break out of their aviaries and started fighting amongst themselves. Our poor workers can't get any rest due to these visitors walking in close proximity to the aviaries setting the dogs off barking day and night. The whole situation is an absolute nightmare.  We have worked extremely hard for years to get to where we are now and we are not going to let this finish us.  We are scared and very worried. We have over 265 beautiful dogs depending on us for their lives and their safety.  We are being forced to find a new location and move, through no choice of our own.  It is going to be a huge undertaking as we will have to dismantle our entire shelter and move it and all the animals to a new place. It is of the utmost urgency  we find a plot of land and move as quickly as possible.  All we want is to be away from people, not to disturb anyone, to live in peace, and provide a safe sanctuary for our rescued animals.
Therefore, we beg of you to please help us. For five years we have helped the state, reducing the number of homeless animals on the streets of the city by providing sterilisations and a safe shelter for hundreds of dogs. All this time we have not asked for help from the state either for food for our animals or for their treatment.  
We are here. We are alive, we care for more than 265 rescued dogs and cats! Our dogs do not harm anyone, they live peacefully in our shelter, where they are fed and loved. WE NEED HELP.  
Thank you.
Administration of the Shelter
Debbie O'Connell at the shelter 
Our peaceful exercise aviary
One of our dog aviaries
Front of our shelter aviaries
Jane Sumner with Banderos, one of the rescued dogs
Some of the dog aviaries 
Some of our rescued puppies
Another view of the exercise aviary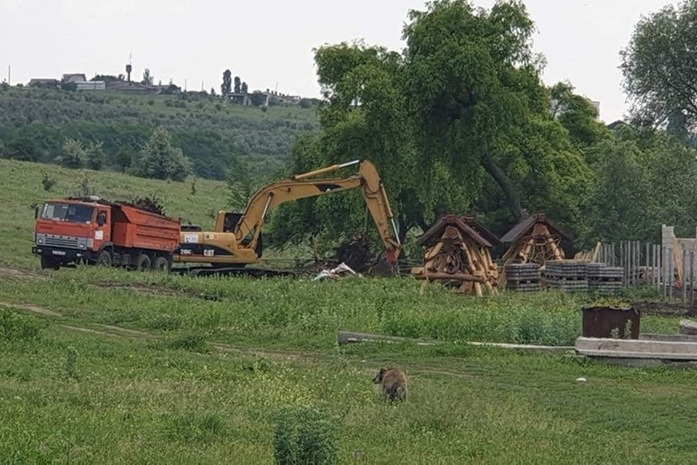 The start of the construction of the leisure facilities right outside of our gates consisting of cabanas and barbecue areas.  More photos to follow.