Help Rylee with her skin disease!
Baby Rylee born June 25, 2017 at Denver Health Hospital and we immediately knew she was born with the deibilitating disease Epidermolysis Bullosa (EB). The Dominant Dystrophic strain is the subtype that runs through our family. She was missing skin on most of her feet and right knee, and they are covered in scary, deep red, open wounds. She came out screaming violently and shaking because of the unbearable pain. With the utilization of Tylenol and our caring touch the pain is at least bearable for our little angel. Unfortunately this disease is rare enough that there aren't many cases diagnosed in the US each year and many practitioners do not know how to treat it.
Our Baby Rylee also has some deformity to her left foot. The foot is much smaller and her foot and ankle are covered in circumferential lesions that will require both specialized wound care as well as OT/PT through the specialists at the Children's Hospital in Aurora. It is to early to know how debilitating these malformations will be but what we do know is it will require MANY specialist visits and the cost of the visits and her wound care supplies could be in the thousands. She is a fighter and with the help of  you and the amazing clinicians we will be working with she will get through this and live as normal a life as possible!
Here are some facts about this devastating disease:
EB is a rare genetic skin disease (affecting only 1 out of 50,000 births). In this condition, there is a defect in the connective tissue of the skin and mucous membranes that causes the skin to be so fragile that the slightest friction, minor injury, heat, rubbing, or scratching causes severe blistering —inside (such as the mouth, stomach, esophagus) and outside the body. These blisters can cause serious, sometimes fatal problems, when they become infected. The systemic and repetitive nature of the blistering leads to blindness, swallowing and breathing difficulties, scarring, infection, disfigurement, disability and dehydration. Ultimately, such devastating effects can produce a high rate of mortality. In fact, 87% of babies born with one of the more severe forms of EB do not live more than 12 months. There is NO cure for this horrific disease. Sufferers of EB have compared the sores with third-degree burns. They live in unthinkable pain.
Dominant Dystrophic EB (DDEB): Blistering may be localized to the hands, feet, elbows and knees or it may be generalized. Common findings include scarring, milia, mucous membrane involvement, and abnormal or absent nails. This type of EB has a prevalence of 2.86 in 1 million live births.
With skin as fragile as butterfly wings, EB patients are dubbed "Butterfly Children." On the outside, physical wounds and limitations brought on by this disorder prevent them from normal daily activities enjoyed by other children. On the inside, their dreams are the same as any child who loves, plays, learns and grows despite the pain and impediment caused by their disease.
Try and imagine...
Having a child with painful wounds similar to burns covering most of his or her body.
Having to wrap each your little infants fingers with Vaseline gauze and then cover it with gauze to prevent the hand from scarring, webbing and contracting.
Having a child who will never know what it's like to run, skip or jump, or to play games with other children because even the slightest physical contact will injure his or her skin.
Having a child who screams out each time it is bathed because the water touching its open wounds creates incredible pain.
Having an active baby with her knees soaked in blood from the normal act of crawling.
These are just the beginning of the struggles that our Baby Rylee will have to deal with throughout her infancy and childhood.
We have a beautiful blended family that consists of myself, Steve; my beautiful wife, Casey; our beautiful daughters Maddy and Alexa; and Mason (who also has EB but has learned to power through it like a champ!!!) who our HUGE sports fanatic son. I am very fortunate to work for the Denver Health Paramedic Division as a Paramedic. Through life and career experience I have some of the essential skills needed to adequately care for baby Rylee. I was fortunate enough to have some 'paid time off' to have some quality time with my beautiful new baby and introduce to Casey some of the care practices required to care for Baby Rylee.
Casey has not had much experience with this disease and is learning quickly the struggles that living with this disease entails. Dressing changes are extremely hard for Casey and Baby Rylee. With each pull of the bandages Baby Rylee screams out in pain and I can see it breaking Casey's heart with each scream. But Casey is a trooper and does the best she can when she can. Unfortunately she has a job does not give any 'paid time off'. Caring for Rylee is going to be a full time job and with Casey not working we will not have the finances that we need to help support the specialist appointments, the full time caregiver status that our Baby Rylee needs, and the needs of our beautiful family.
As parents we need to concentrate on caring for our fragile baby. I pray we can have some relief of some of this financial burden so our sweet Baby Rylee can have the medical supplies and specialist support she needs to help ease that pain and try to keep her blistering under control, healing, and uninfected as much as possible. And we hope she can see as many of the specialists she needs to live the least debilitating life as possible.
Please help us in raising money to help make Baby Rylees days on this Earth as painless as possible, to help us as parents enjoy the days we have with our baby without the worry of how we will pay for her care and medical supplies. Please help us raise awareness about EB and help us raise money for DEBRA (
http://debra.org/
) so we can continue to try and find a cure. All proceeds raised will go to help pay for Baby Rylees care and medical supplies, to help DEBRA find a cure for this unforgiving disease, and/or another EB family in need of support. 
We would like to thank you for taking the time to meet Baby Rylee and start to learn about Epidermolysis Bullosa and how devastating this disease is. Your generosity will not only help Baby Rylee and the rest of our beautiful family but will also help raise awareness and money to hopefully aid in a cure for this disease!
We will Send updates as we can!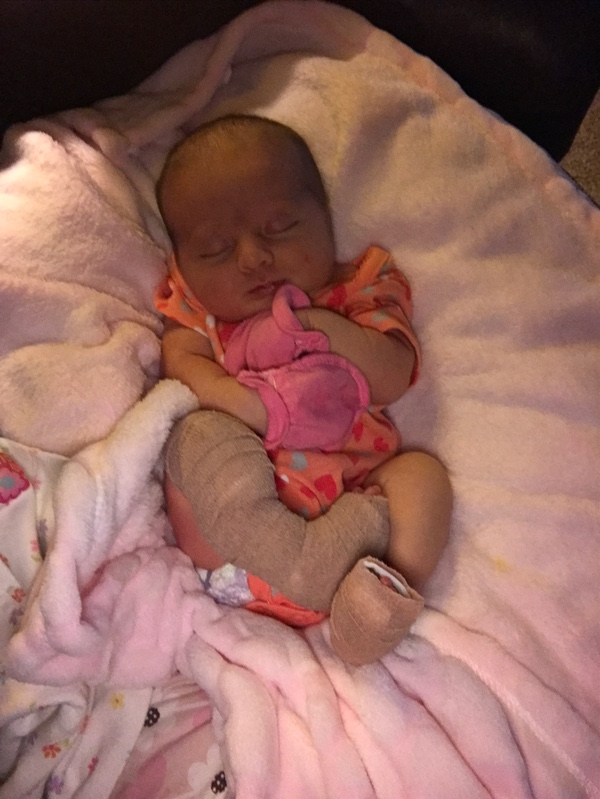 Organizer