Rocky is our 4 year old Pitbull mix. He was adopted as a puppy from a shelter in Abilene, TX in 2017. Rocky is a very loving member of our family. He loves to play tug with his rope, he fetches his ball, and he really loves swimming! Rocky has recently torn his SECOND ACL and is needing to undergo a SECOND TPLO surgery. This is something we have overcome before, however, there are other complications this time. Please read our full story, donate, and share with others! Pictures or our story are at the bottom!

In May 2019, Rocky tore his ACL on his back left leg and had to undergo TPLO surgery on June 26th, 2019. For the first 6 months, his recovery was going well as far as we could tell. In December 2019, we noticed some bumps appearing right on top of his incision scar. Come January 30th, 2020, the bumps grew into what looked like an infection so we made a trip to the vet. The vet noted that it was rather strange for these infections to happen so late in the healing process, especially since the wound had scarred. The vet also noted that Rocky had developed a Grade 1 of 6 systolic heart murmur. They said we shouldn't worry too much since they could barely hear it and since Rocky was so young (3 at the time) and otherwise healthy. They did say they would keep an eye on it during future visits to make sure nothing changed. The vet was hopeful that a round of antibiotics would get rid of any infections. The bumps on his leg reduced and looked much better by our two week follow up with the vet (Feb. 15th, 2020).

After a few weeks, the infections came back and we went back to the vet (March 13th, 2020). They said another round of antibiotics should get rid of any infection remaining. Once again, the infections reduced and looked much better for our 2 week follow up (March 27th, 2020). The vet updated us on Rocky's murmur as well. They said it was still very faint and not much change had been noticed. Unfortunately, the infections came back again right after he finished the antibiotics. We went to the vet to get a culture done of the infections (April 6th, 2020). After we got the results, we were prescribed a specific antibiotic that was known to fight off the specific bacteria present in his leg (April 13th, 2020). This antibiotic worked very well! It cleared up and was looking great. We felt like we were basically at 100% recovery by this point.

Sadly, in Summer 2020, we noticed the bumps and swelling starting to come back and were back in the vet on June 18th, 2020. We discussed that the infections were most likely related to the hardware put in from the TPLO surgery. At this point in the healing process, the hardware was no longer necessary and  could be removed without causing any problems for Rocky. We got a second opinion from another vet and decided this was the best option. 

On July 7th 2020, 375 days after being put in, the hardware was removed with surgery. After this day, all of our problems went away! He recovered very quickly from the surgery. We eased him back in to full activity. Within about a month of surgery (August 2020), he seemed to be fully recovered. We were playing in the backyard. Going on walks and running around our farm. He swam in pools and ponds. He was fixed and a happy man!!! His total recovery lasted about a year and 2 months. The total cost for the two surgeries was over $5000.

Just after Christmas this year, 2020, Rocky tripped during a run and immediately started limping. He wouldn't touch his back right leg to the ground. We had to carry him home and just crated him for the evening. We took him to the vet the next afternoon for an examination (Dec. 30,2020). The vet told us that he was 0% weight-bearing on that back right leg and graded the injury a 5 / 5. Unfortunately, that wasn't the worst news. The vet said Rocky's murmur had increased to a Grade 3 / 6 heart murmur. With his murmur being this serious, they are concerned with putting him under anesthesia. They have referred us to a cardiologist and we will be seen soon. 

We are starting this fundraiser to help pay for the surgery cost of our furry family member, as we do not know the final cost of the testing and surgeries possibly needed. We are very nervous to go through this again on his other leg and with more unknowns present. We've done this once and we can do it again. There is nothing we wouldn't do for our man! The financial burden is great, but we will overcome this again. We appreciate any donations or shares!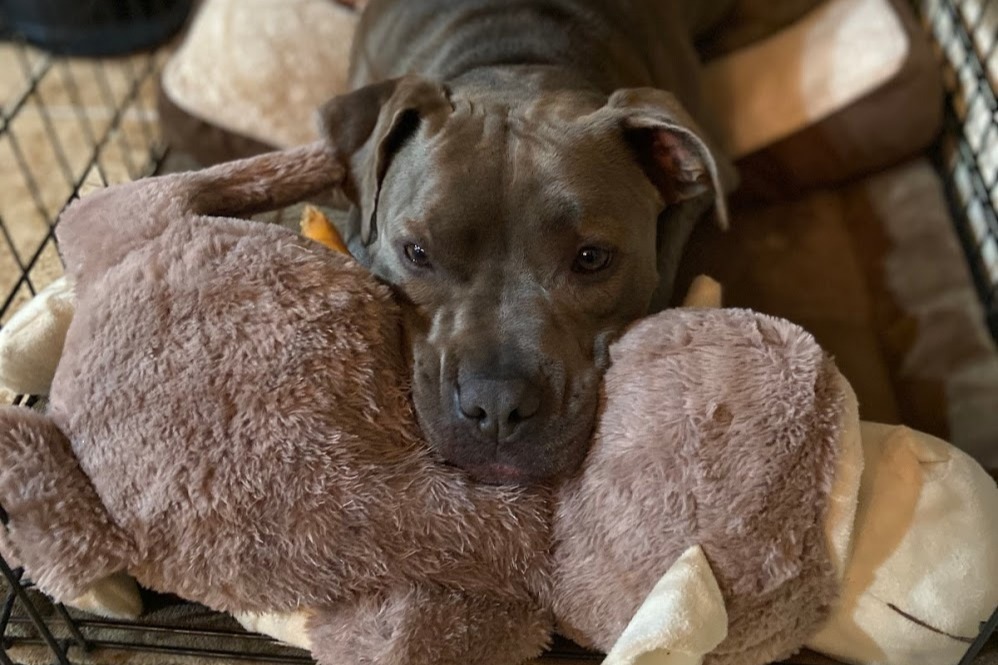 Organizer
#1 fundraising platform

More people start fundraisers on GoFundMe than on any other platform. Learn more

GoFundMe Guarantee

In the rare case something isn't right, we will work with you to determine if misuse occurred. Learn more

Expert advice, 24/7

Contact us with your questions and we'll answer, day or night. Learn more